Tesla's Elon Musk says he'll quit White House role if Trump dumps Paris accord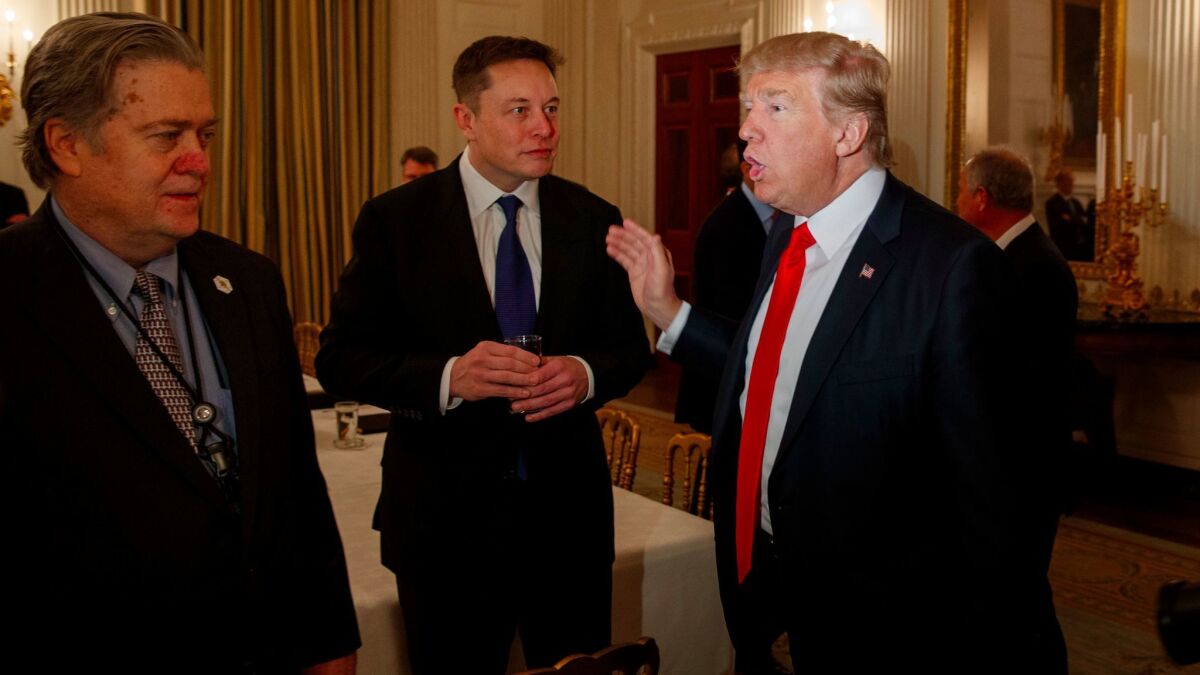 Reporting from San Francisco —
Elon Musk may be just about done with President Trump.
Musk, who heads Tesla and SpaceX, is ready to quit the White House advisory councils he sits on if Trump pulls out of the Paris agreement on climate change.
Musk tweeted Wednesday that "I've done all I can" — as a member of the advisory councils, through White House personnel and directly with the president — to push Trump to stick with the Obama-era agreement.
Asked on Twitter what he plans to do if Trump pulls out, Musk replied he "will have no choice but to depart councils."
Musk sits on two White House advisory councils filled with prominent business executives and other experts — one on economics, the other on manufacturing.
The world's most celebrated advocate of alternative energy, Musk heads electric car company Tesla, which also makes solar panels and battery-based electric power storage units. Also head of space exploration company SpaceX, he often talks about Mars as an alternative location for civilization-building in case humans wreck planet Earth.
Musk was criticized when he agreed to serve on the Trump panels, but he defended his choice this way: "I believe at this time that engaging on critical issues will on balance serve the greater good."
He was a critic of Trump before the election and has continued to publicly disagree with Trump on issues he believes are important, such as the president's attempt to ban travelers from certain majority-Muslim countries from entering the United States.
The criticism carries some risk. Trump is well-known for prizing loyalty and lashing out at those who cross him. Tesla continues to depend on federal subsidies and other government incentives for electric cars and solar panels.
Another Silicon Valley figure, Uber Chief Executive Travis Kalanick, quit Trump's economic advisory panel in February after customers criticized him for accepting the post.
Twitter: @russ1mitchell
ALSO
Does President Trump's 'America first' policy cede U.S. global authority?
Gov. Brown and Democrats say Trump is going 'backwards' if he pulls out of Paris climate pact
Trump is poised to withdraw from Paris climate pact — unless he changes his mind