Toyota to use Nvidia chips for autonomous cars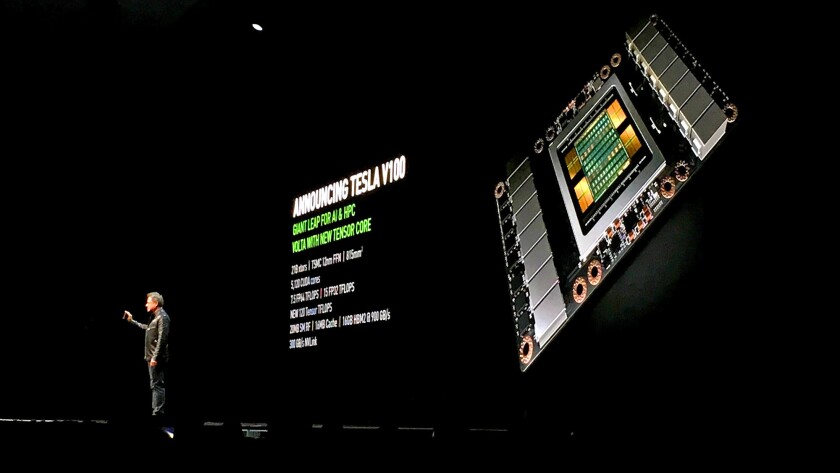 Reporting from San Francisco —
Nvidia, the hot graphics chip company that's moving quickly into new markets, said Toyota would be using its chips and software in the carmaker's autonomous vehicles.
Tesla already uses Nvidia chips to process the artificial intelligence software that guides its Autopilot technology.
Toyota joins Audi, Mercedes, Volvo and other major auto industry players using Nvidia chips for research and production vehicles.
"Now we've got the biggest [auto company] in Japan using our drive platform," said Danny Shapiro, senior director of Nvidia's automotive group.
Toyota is the second-largest automaker in the world, close on the heels of Volkswagen.
The announcement was made Wednesday at Nvidia's annual GPU Technology Conference in San Jose. The company, based in Santa Clara, also announced a faster family of computer processors called the Volta.
The stock market reacted favorably both to the blazingly fast Volta chip and to Nvidia's strong earnings report Tuesday. Shares closed Wednesday at $121.29, up $18.35, or 17.83%, over Tuesday's closing price.
Nvidia shares have nearly tripled over the last year as the company moves beyond its computer game base to provide chips that power artificial intelligence applications in areas that include automobiles and cloud services.
In the auto business, Nvidia is going up against Intel, Qualcomm and other chip makers. Intel recently announced the purchase of Mobileye, which also makes self-drive sensors, chips and software. Last year, Tesla ended its relationship with Mobileye in favor of Nvidia. And Qualcomm bought NXP Semiconductors, betting that its future is in the car market.
Many new cars already are equipped with self-drive features. Autonomous cars are being tested on public highways. Industry executives have said deployment of fully autonomous cars is likely within three to five years.
Twitter: @russ1mitchell
---
Your guide to our new economic reality.
Get our free business newsletter for insights and tips for getting by.
You may occasionally receive promotional content from the Los Angeles Times.