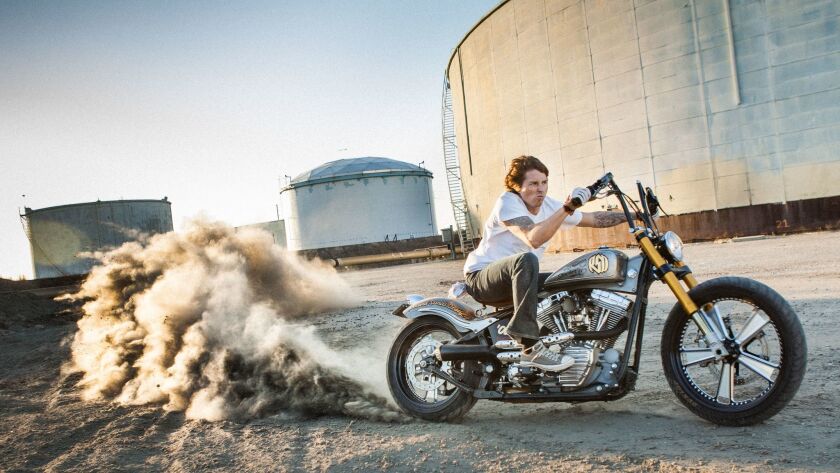 The inaugural Outlier's Guild Custom Motorcycle Show will be held Saturday in Los Angeles' warehouse district.
The one-day affair will showcase local vintage motorcycle culture, uniting bike builders, designers, customizers and riders with the artists and photographers whose work is informed or inspired by two-wheeled machines.
Sponsored by Honda Motorcycles, Roland Sands Designs, Bell Helmets, Hasselblad cameras, Indian Motorcycle and others, the event will be held at the Container Yard in downtown Los Angeles.
Its co-founder said the arrival of the show, which will be a local version of events such as the One Motor Show in Portland, Ore., or the Handbuilt Motorcycle Show in Austin, Texas, is overdue.
"There are so many great shows across the country that celebrate this style of vintage bikes and motorcycle culture," said bike builder Jay LaRossa. "But none are here in Southern California."
Bikes, bikers, biker art
Somewhere between 70 and 100 custom and modified motorcycles will be on display, including about 25 from local moto hero Roland Sands.
It will also include a revival of the "Architects of Inspiration" feature that Sands helped organize in 2008 as part of a Toyota Motors-sponsored national exhibition. That event involved huge canvases, which traveled across the United States, depicting motorcycle-themed artistic expression.
This year's artistic expression will include a life-sized depiction of a flat track race — or at least a moment in a flat track race when things go horribly wrong, Sands said.
It will include five or six Sands-designed Indian flat trackers, ridden by mannequins. Two "riders" are about to experience a violent separation from their machines.
"It's like you're walking into the middle of a flat track race, in the middle of a big Indian crash sequence," Sands said.
Featured designers include:
Roland Sands - Rolands Sands Design

Jay LaRossa - Lossa Engineering

Len Higa - Sleeper Speed Shop

Shinya Kimura

Brian Sloma - Spirit Lake Cycles

Kio Mitsuhiro - Kio's Garage

Kim Boyle

Craig Marleau - Kickstart Garage

Michael "Woolie" Woolaway - Deus

Michel Valle - Alchemy Motorcycles

Dustin Kott - Kott Motorcycles

Aaron Guardado - Suicide Machine Co.

Justin Webster

Samuel Kao - JSK Moto Co.

Ezikiel J. Dacanay - N°37 Garage
Featured photographers include:
Craig "CR" Steyck
Estevan Oriol
Matthew Jones
Dylan Gordon
Dimitri Coste
Todd Blubaugh
Sebastien Zanella
Preston Burroughs
Matt Wignall
Unfortunate timing
The Outlier's show — which organizers hope will become an annual event — was originally headed for a March calendar date, Sands said. Then the Container Yard became available for May 6, and the organizers jumped on it — before realizing that date is also claimed by the Quail Motorcycle Gathering, the West Coast's most important annual motorcycle meetup.
That Monterey Peninsula event, going into its ninth year, is favored among vintage motorcycle riders, restorers and collectors, and includes up to 400 highly valuable bikes, primped and polished to perfection.
Traditionally held in mid-May, this year the weekend show moved into the first week of the month.
Sands stressed that the Outlier's event is a distinctly local gathering, for a younger and less wealthy enthusiast.
"This is a different show, for a different crowd," Sands said. "It's free to get in. I think it will be a little more hip, and a little less old money."
Already a subscriber? Thank you for your support. If you are not, please consider subscribing today. Get full access to our signature journalism for just 99 cents for the first four weeks.
Twitter: @misterfleming
---