A crucial Tesla financial report is coming. Let's go under the tent to see how Elon Musk can boost cash flow
Tesla's mission is clear: "Accelerate the world's transition to sustainable energy." It says so on the company's website.
But to do that, Tesla must prove itself sustainable as an ongoing concern. A lot is riding on the financial results it will report early in November.
Chief Executive Elon Musk has gone out of his way to assure investors that the company has plenty of cash. The company finished June with just $2.24 billion in cash on hand, and had negative $2.4 billion in working capital – current assets minus current liabilities, the money needed to pay bills over the course of a year. Still, Musk told analysts in August he was "highly confident" Tesla will achieve profitability and positive cash flow in the third and fourth quarters.
"We need to become a profitable company," Musk told analysts earlier this year. "It's high time we became profitable. And the truth is, you're not a real company until you are, frankly."
Some investors and analysts worry that Tesla won't be able to pay $1.2 billion in debt that comes due over the next four months. Failure to meet Musk's third-quarter cash and profit goals would only deepen those doubts.
But just as Tesla took extraordinary steps to meet production goals for its compact luxury Model 3 sedan — improvising a makeshift assembly line by building a tent outside the factory when the indoor line broke down, and having workers and executives pull all-nighters — it has also taken some unusual steps that boost its cash flow.
"There are things they can do to artificially boost the bottom line, but many of those things will not be sustainable," said Garrett Nelson, an analyst at CFRA Research, who is doubtful that Tesla will reach profitability in the third quarter.
Analysts' earnings forecasts vary widely: Fourteen estimates tracked by FactSet range from a $1.75-per-share loss to an 88-cent profit in the third quarter. Cash flow and cash on hand, however, are more important measures for Tesla right now.
"It's the No. 1 priority," said Jack Ciesielski, an accounting expert and president of R.G. Associates in Baltimore. "Earnings are great, but you pay bills with cash."
The most sustainable way to boost cash flow, of course, is to drive up sales of the Model 3, introduced in July 2017. Tesla has struggled to do so, but said deliveries reached 55,840 in the third quarter, tripling the second quarter's total of 18,400.
Some of the other ways Tesla can boost cash are less reliable — or might pull money into the present at the cost of investing in the future.
The company declined requests to provide an executive who could speak about the following cash flow issues.
PAY NOW, DRIVE LATER
Raghunath Bansal, a psychiatrist from Fairfield, Calif., ordered a Model 3 online in July and didn't hear back from Tesla for more than a week. He then went online again and changed his payment method from a bank loan to cash. "I got a call back the next day," he said.
Bansal transferred $68,000 to Tesla from his bank account. Then began weeks of delivery dates set and later canceled, to the point where Bansal wondered whether he'd ever get his car. He finally received his Model 3 on Oct. 11.
"It's an amazing car," he said. "But the delivery process and the disorganization at the delivery center was even more amazing."
Whatever the reasons for the delays, Tesla had Bansal's $68,000 for most of the third quarter, in effect an interest-free loan. That boosted cash on hand and increased cash flow for the third quarter. And Bansal's not alone. Tesla owner forums and social media are filled with customers — several of whom spoke with The Times — who paid full price for their cars, in cash, but experienced weeks-long delays in delivery into October. Tesla's third quarter ended Sept. 30.
Anandhi Bharadwaj, an information systems professor in Atlanta, was persuaded to wire $60,000 to Tesla in August but said she didn't receive the title until October. Michaela Bobeva, a dentist in Bellevue, Wash., said she paid $62,000 for a Model 3, two-thirds of it with a bank loan, in September. She rejected the car over what she said was a bad paint job. But Tesla sent her license plates and registration, and Bobeva said she is being billed for loan payments — despite not having the car.
Tesla also collects $2,500 nonrefundable deposits on all car orders. The company notes that most of its customers don't have to pay full price until their car is ready for pickup.
SQUEEZING SUPPLIERS
A more tried-and-true way for a company to boost cash is stretching out payments to suppliers. The Wall Street Journal in August reported that Tesla has been trying to do just that, and has even asked some suppliers for refunds.
The newspaper revealed that the Original Equipment Suppliers Assn. found most suppliers it surveyed believed Tesla posed a financial risk to their companies. At the time, Tesla said that it had strong relationships with suppliers.
Small suppliers have filed numerous liens to recover payments in Alameda County, home of the company's Fremont auto plant, and in other locations.
CASHING IN CREDITS
In California and nine other states, automakers are required to amass zero-emission credits to keep doing business. Those credits can be earned by making low- and zero-emission cars — such as Tesla's electric vehicles — or by buying credits from automakers that have a surplus of them.
Tesla has sold $1.4 billion worth of credits to other automakers since 2010. That money counts as cash and it counts as revenue. And because there's practically no cost associated with accumulating the credits, it drops to the bottom line as pure profit.
Without $139 million worth of ZEV-credit sales, Tesla's $22-million profit in the third quarter of 2016 — only the second quarterly profit recorded since the company went public eight years ago — would have been a $117-million loss.
It's unclear how much ZEV credits will contribute to profit and cash flow in the third quarter. Companies are allowed to bank credit sales without putting them on their financial statements, and use them when they see fit. That makes it difficult to incorporate credits into analysts' earnings projections.
"The disclosure is not great on that," Nelson said.
As other automakers launch and sell more electric cars, they'll generate more ZEV credits on their own and won't need to buy as many — which might depress the demand for, and price of, credits. And if the Trump administration successfully eliminates the ability of states to set their own auto emissions standards, the market could disappear altogether.
CUTTING BACK INVESTMENT
Another way to bolster positive cash flow is to reduce the cash that's flowing out of the company. In the third quarter of 2017, as Model 3 production began to ramp up in earnest, Tesla spent $1.1 billion on capital expenditures to build out assembly lines at its Fremont car factory and its Sparks, Nev., battery plant.
Analysts on average expect Tesla to log only $616 million in capital spending in this year's third quarter, and to trim spending for the full year by 25%, to $2.54 billion.
Some of that reduction reflects the end of one-time investments. (An unknown amount of the money spent in 2017 was wasted in a failed attempt at aggressive automation.) But some cuts could come at the expense of future growth.
Musk has great ambitions to build a semi truck, a pickup truck, a solar roof and more, which will require new factories and untold billions of dollars. He's announced plans to take Tesla into the auto-body repair business and expand its service network to cover all regions in North America within three to six months, according to an Oct. 16 tweet. Expanding the company's charging network will also eat up capital. And Musk's own description of "delivery hell" problems with the Model 3 highlighted the company's under-investment in basic logistics.
Tesla could find alternative financing sources, of course. It is moving forward with plans to build a new Model Y small crossover SUV at a factory in Shanghai, which Musk has said could be funded with bank loans and "local debt" from China.
SELLING VAPORWARE
Since October 2016, anyone who bought a Tesla was offered a $3,000 option on a product that doesn't yet exist. It's called Full Self-Driving — driverless technology that would eventually allow a car to travel on its own from Point A to Point B with no human action required other than entering the destination. That's a great leap beyond the company's Autopilot feature, which requires strict driver attention. When ready, the upgrade would be delivered via over-the-air software. But two years later it still doesn't exist.
Last Thursday, Tesla dropped the Full-Self Driving option from its website. "Was causing too much confusion," Musk said in a tweet. Driverless car development will continue, the company said. Tesla hasn't said how many buyers chose the $3,000 option, and it hasn't announced a policy for refunding the money. Any refunds would reduce cash in the future.
A Tesla spokeswoman noted that while the option no longer appears on the company website, customers can place a special order. The price for future Full Self-Driving remains $3,000.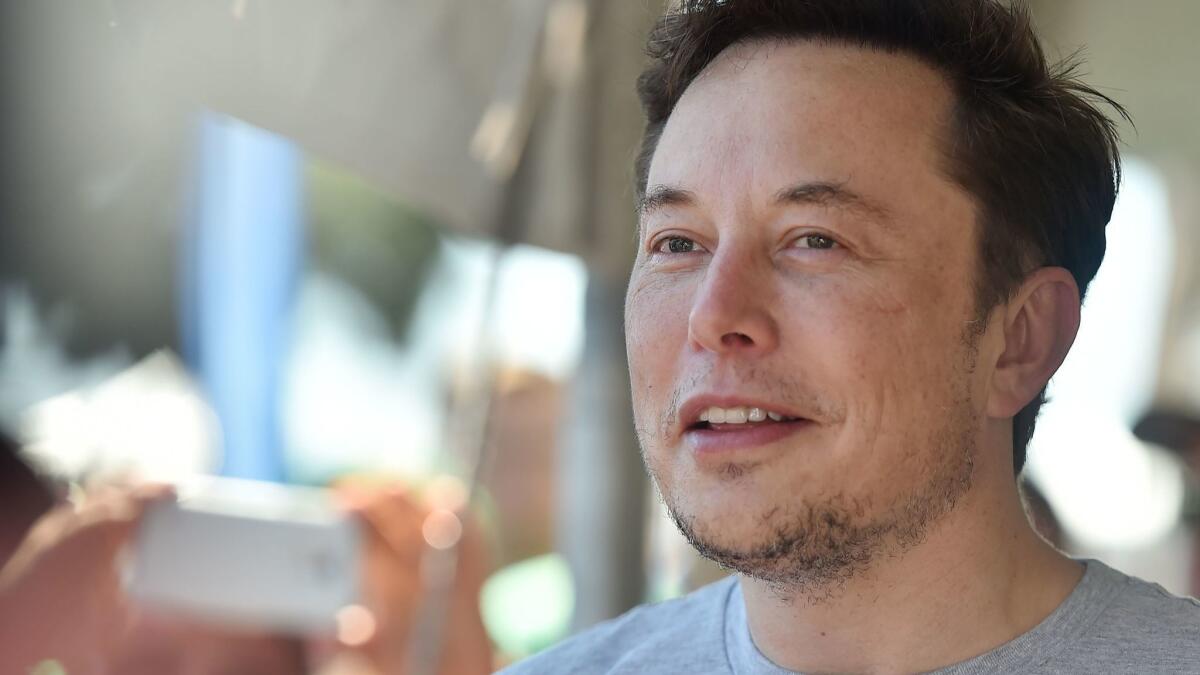 SETTLE NOW, PAY LATER
SolarCity, the solar-panel company purchased by Tesla in 2016, used tax credits from the state of Oregon to finance 14 commercial-scale solar arrays across the state from 2010 to 2014. Musk was then chairman of the company, which was run by Musk's two cousins.
Last month, Tesla settled allegations by Oregon's attorney general that SolarCity had filed false applications with inflated prices to qualify for higher solar energy tax credits. Tesla called the case "a difference of opinion" but settled it for $13 million.
The settlement was signed on Sept. 4, in the third quarter. The negotiated agreement gave Tesla until Oct. 15 to pay up. According to the attorney general's office the company made its payment on Oct. 4 — the fourth quarter.
Payment date is crucial when managing cash-flow reports, said Ciesielski, the accounting expert: "You pay the day after the balance sheet closes, and everything changes in a day."
Twitter: @russ1mitchell
---
UPDATES:
2:30 p.m.: This article was updated with a comment from Tesla about its Full-Self Driving option.
Monday, 4:00 a.m.: This article was updated to clarify the Model 3's sales performance.