Tesla picks a longtime board member to be chairwoman, fueling doubt Elon Musk will be reined in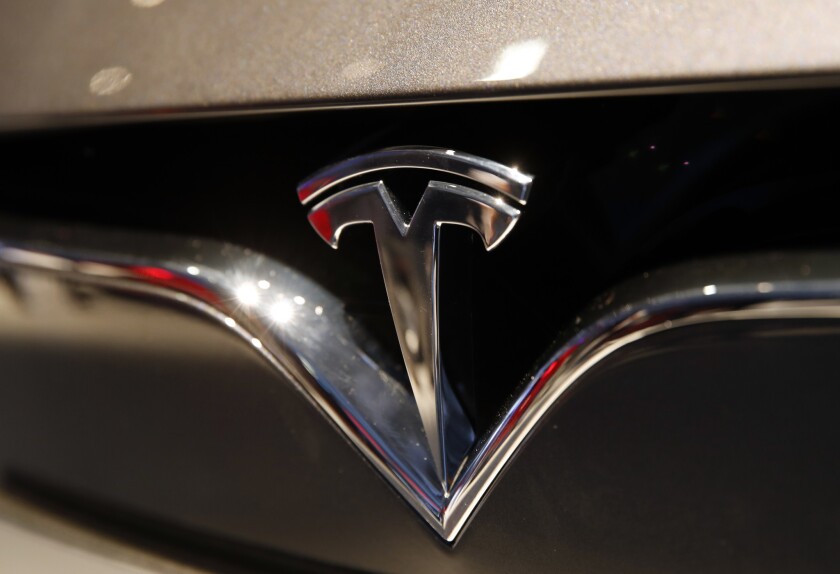 Tesla Inc. appointed a director who has been on its board for years to replace Elon Musk as chair, raising questions as to whether the mercurial chief executive will be restrained after costly run-ins with securities regulators.
Robyn Denholm, 55, will assume her new role immediately. A director since 2014, she'll leave her position as chief financial officer and head of strategy at Australian telecommunications company Telstra Corp. after a six-month notice period.
The appointment marks the end of an era for the 47-year-old company founder who became chairman in April 2004 when he led a $7.5-million initial investment in Tesla. Musk's August tweets about trying to take the company private caused months of chaos and culminated in a settlement with the U.S. Securities and Exchange Commission, which required the company to strengthen the governance of a board long criticized for being too closely aligned with its billionaire leader.
"While Denholm is technically an independent member of the board, she has been part of the Musk team for some time now and that suggests she will not be up to the task of checking Musk's worst instincts," said Stephen Diamond, a professor of law at Santa Clara University who specializes in corporate governance. "And, of course, that was the whole point of the SEC settlement."
Tesla shares rose 0.9% on Thursday to $351.40. They are up 12.9% this year.
Ceding the role of chair was a condition of the accord Musk reached with the SEC in September to settle fraud charges related to his tweets on taking the company private.
In addition to agreeing to a three-year ban from serving in the job, Musk and Tesla agreed that the company would add two new independent directors to the board by late December. The Tesla board is continuing the search to fill those posts.
Denholm, who has had the Telstra chief financial officer job for a little more than a month, said she plans to devote herself full time to Tesla when her obligations to the Melbourne telecommunications company are complete.
"I believe in this company, I believe in its mission and I look forward to helping Elon and the Tesla team achieve sustainable profitability and drive long-term shareholder value," Denholm said in the statement.
Denholm, a citizen of both Australia and the United States, worked previously at Toyota Motor Corp., Sun Microsystems Inc. and Juniper Networks Inc., where she was chief financial and operations officer. At Telstra, besides finance, she oversaw field support, customer service and information technology.
"Robyn has extensive experience in both the tech and auto industries, and she has made significant contributions as a Tesla board member over the past four years in helping us become a profitable company," Musk said in the statement. "I look forward to working even more closely with Robyn as we continue accelerating the advent of sustainable energy."
With a background that spans operations and finance, and deep experience in digital technology, Denholm is in a position to influence Tesla's future course — if Musk confers her with actual power, and if she chooses to take the job beyond a token title with Musk in charge behind the scenes.
Denholm won credit for a successful turnaround at Juniper in 2014 and 2015, where she combined the positions of CFO and chief operating officer, overseeing finance, information technology, corporate facilities, field operations and manufacturing. With Tesla still working to streamline manufacturing, and with delivery and service operations in some disarray, her skills could prove helpful.
She's also served on the board of ABB, a Swiss-based global engineering giant with interests in robotics, automation, heavy electrical equipment and grid-strength power systems.
A self-described automobile enthusiast, Denholm said in an interview with an executive recruiting firm in Australia earlier this year that "I've always had an operational focus."
"I'm incredibly curious as an individual and want to understand how things work," she said. "Any C-level executive needs to understand how a company works and how the pieces fit together."
Denholm's appointment comes as a bit of a surprise after she ruled herself out to Australian media just a month ago. It's not clear what convinced her to give up the CFO job at one of that country's most prominent companies for the high-profile task of chairing Tesla.
Tesla's board, which includes Musk's brother Kimbal, has long come under fire from corporate governance experts for lacking independence and being made up of Musk loyalists.
Several are investors in or directors at SpaceX, the closely held rocket company that Musk also runs. That includes Steve Jurvetson, who's been on a leave of absence for roughly a year after resigning under unclear circumstances from the venture capital firm he co-founded.
Frank Schwope, an analyst with NordLB in Germany, doubts the new chairwoman will influence Musk's behavior.
"She's from Musk's inner circle and is unlikely to put obstacles in the way of decisions," Schwope said. "This exercise, brought on by the SEC deal, was to teach Musk a lesson, and this is an easy way to fulfill the requirement."
One recent example of the behavior that has created skepticism about Musk's willingness to honor the spirit of the SEC settlement was a tweet he sent just days after the deal was announced. He called the agency the Shortseller Enrichment Commission, an allusion to his longstanding complaints that short sellers were the source of much of Tesla's reputational problems.
A union-affiliated investor group and officials representing major pension funds in four states have called on Tesla to go beyond the terms of the SEC settlement to fix its corporate governance issues. In a letter last week, the group called for the creation and release of a plan to refresh the board and for timelines to be set for some members to leave.
It's unclear whether the initiative will gain any traction, but in the meantime the board is moving ahead to fulfill the terms of the SEC settlement.
Directors will create a permanent committee to ensure implementation of the settlement, which include setting up procedures and controls to oversee Musk's communications — including his tweets. Tesla has to employ or designate a securities lawyer to review messages that senior officers send through Twitter and other social media.
Denholm has chaired the audit committee at Tesla. She told an Australian interviewer earlier this year that "an audit chair is a little like evaluating a movie by sitting outside the movie theater. Every now and then somebody is assigned to come out of the theater to update you on the movie plot and to suggest how the plot will develop. In order to make judgment on the movie — the plot, the actors, etc. — you need as much critical detail as possible in a relatively short time compared to those who are operating the company."
Now that she's chairwoman, it's an open question whether Musk and the other executives running the company will invite her in.
Mitchell is a Times staff writer. Hull writes for Bloomberg.
---
UPDATES:
2 p.m.: This article was updated with Tesla shares' closing price.
10:40 a.m.: This article was updated with Times staff reporting.
7:05 a.m.: This article was updated throughout with additional details.
This article was originally published at 5:25 a.m.
---
Get our weekly Business newsletter
Tips for how you and your finances can get through the pandemic.
You may occasionally receive promotional content from the Los Angeles Times.