Tesla's chief financial officer quits as Musk addresses demand questions for its Model 3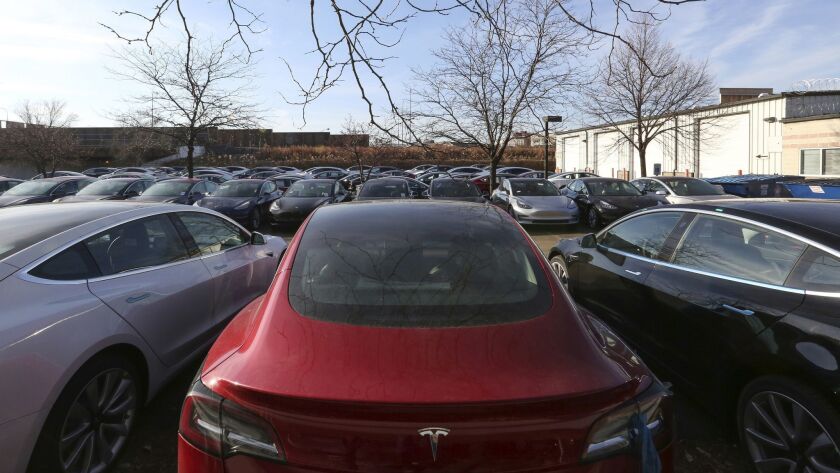 Tesla watchers were rocked by another high-level departure Wednesday when the company's chief financial officer, Deepak Ahuja, announced his retirement at the end of an earnings conference call with analysts.
The news comes as Tesla Inc. is struggling with cash to fund its growth and has cut car prices to address a drop in demand for its high-end Model S and Model X electric vehicles.

For the record:
6:15 p.m. Jan. 30, 2019An earlier version of this story said Tesla had a profit of $255 million in the third quarter. It's profit was $312 million.
The company reported higher cash flow and stalling profit growth after the stock market closed Wednesday. It said its cash in the bank grew from $2.9 billion to $3.6 billion during the fourth quarter. Free cash flow was up a bit too: to $910 million from $881 million in the previous quarter.
The fourth quarter was profitable, but the profit shrank. Net income was $210 million in the fourth quarter, down from $312 million in the third quarter. Revenue rose to $7.2 billion from $6.8 billion in the third quarter, as Model 3 sales rose.
Tesla faces questions about whether enough new Model 3 sedans can be sold to generate substantial profits.
"The demand for the Model 3 is insanely high. The inhibitor is that people don't have the money to buy one," Tesla Chief Executive Elon Musk told analysts on the call.
Dozens of executives have left Tesla over the last year, but Ahuja's departure may be the most notable. He served as CFO from 2008 to 2015, quit, and returned in 2017. Ahuja will be replaced by little-known Zach Kirkhorn, a nine-year Tesla veteran and a vice president in the finance department.
Last summer, Tesla hired Dave Morton, a longtime executive at Seagate, a disk-drive maker, as chief accounting officer. He was seen as Ahuja's eventual replacement. But Morton quit after working less than a month. The company soon lost its head of finance and operations, and in December, its investment relations director quit.
Tesla owed much of its cash-flow improvement to a drastic reduction in capital expenses — which can signal either a reduced need to buy, say, factory robots or a slowdown of investment in future growth. In the last three quarters, capital spending has shrunk from $786 million to $510 million to $324 million.
Musk promised last year that Tesla would be profitable and cash flow would be positive in the future. But then he warned this month that investors should brace for a "tiny" first-quarter profit, if the company is profitable at all.
Tesla's shares closed up $11.31, or 3.8%, to $308.77 on Wednesday, before the earnings report. They fell in after-hours trading, and were down about 5% as of 4:30 p.m. Pacific time.
In a conference call with analysts, Musk said he still plans to build a factory in China this year and begin building a Model Y subcompact next year. Asked where the money would come from, CFO Ahuja said cutting costs and careful spending would do the trick.
Musk was unusually subdued but his usual speculative self. The China factory site remains a bare patch of ground, and no news was offered on loans from Chinese banks that Tesla is hunting for.
Yet, Musk said, the new factory will be building cars at an annual rate of 300,000 vehicles by the end of the year, at an expenditure of $500 million — much less than a typical auto plant normally costs.
Musk said Tesla might build the Model Y at its Nevada battery factory but indicated no one should count on it. "It's not a for-sure thing, but it's quite likely, and it's our default plan," he said.
Asked about the fate of the Tesla semi-truck, which was revealed at an elaborate stage show in Hawthorne in 2016, Ahuja said the company will build the truck for its own use for now. He declined to elaborate.
Musk predicted "exponential" 50% growth in auto production for 2019, "even if there's a global recession, and it could be a lot more than 50%."
Eventually, he said, the company could be selling 700,000 to 800,000 Model 3s worldwide — but he emphasized that's only his guess.
Tesla has been criticized by car owners for service problems with its new Model 3, and the company reported that costs of trying to improve service skyrocketed 50% in the fourth quarter, to $668 million.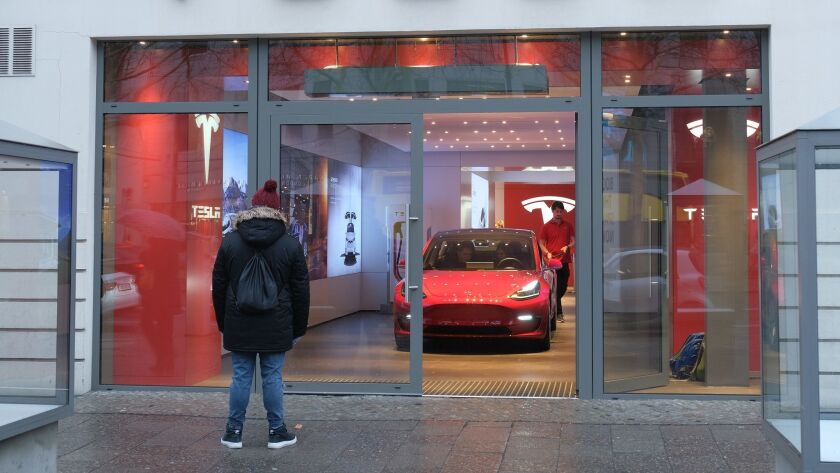 The report comes as Tesla struggles to remain solvent. The company faced "severe threat of death" in 2018, Musk said in November — "single-digit weeks" away from failure.
It's unclear how close to death Tesla is now, but some of Tesla's biggest fans on Wall Street are getting nervous. Adam Jonas, a Morgan Stanley stock analyst, said in a note to investors before the earnings release Wednesday that "the confluence of economic, competitive, regulatory, political and technological forces may potentially challenge [Tesla's] status as a standalone entity."
That could mean a buyout, if a buyer can be found. Musk said he had found a buyer in August for $420 a share, but that claim proved false and Musk settled fraud charges with the Securities and Exchange Commission.
Tesla's most pressing challenge is paying off $920 million in convertible bonds due March 1. The convertible bonds' strike price is about $359.
Cash retention is top of mind at Tesla, which explains this month's layoffs and a 9% cut of the workforce in June. It recently cut production hours for its high-end Model S sedan and Model X sport utility vehicle.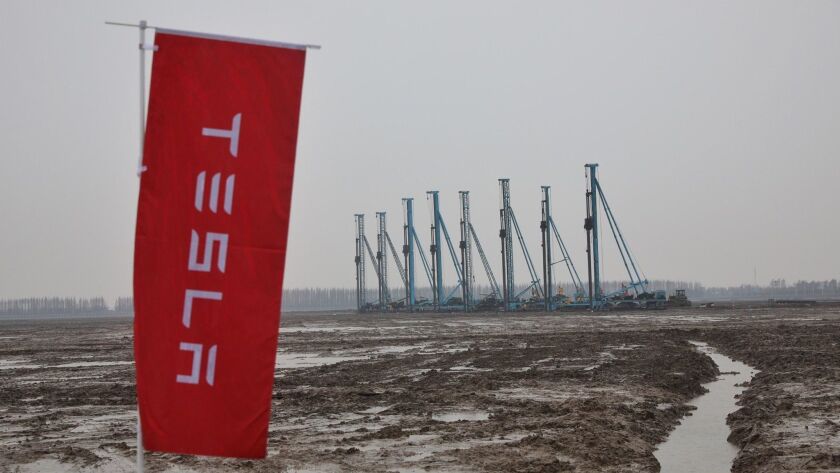 Tesla faces a "demand air pocket," Jonas said. He expects S and X sales will be down this year. The company is cutting prices on all its vehicles as federal incentives are cut in half and competing high-end electric cars from Jaguar, Porsche, Mercedes-Benz, Audi and others try to tempt would-be Tesla buyers.
On Tuesday, Tesla offered an $8,000 discount on S and X cars for customers who let Tesla limit the range of the car's battery pack using custom software. The range for the software-limited Model S, for example, would be cut by 20 miles, to 310. That car cost $96,000 at the end of 2018. Tesla cut that price by $2,000 this month. Tuesday's deal puts the price down to $85,000 — a reduction of $11,000 for 20 miles less range.
Because the batteries themselves wouldn't differ, production costs would stay the same as in the higher-range car. The gross profit margin falls by $11,000 per car. (A Tesla spokesman told The Times that improved efficiencies on the assembly line would help address that problem.)
How much sales might increase because of lower prices, and what effect that would have on profits and cash, will be answered over coming months.
Twitter: @russ1mitchell
---