Tesla reports fourth-quarter and full-year results, says Model 3 on track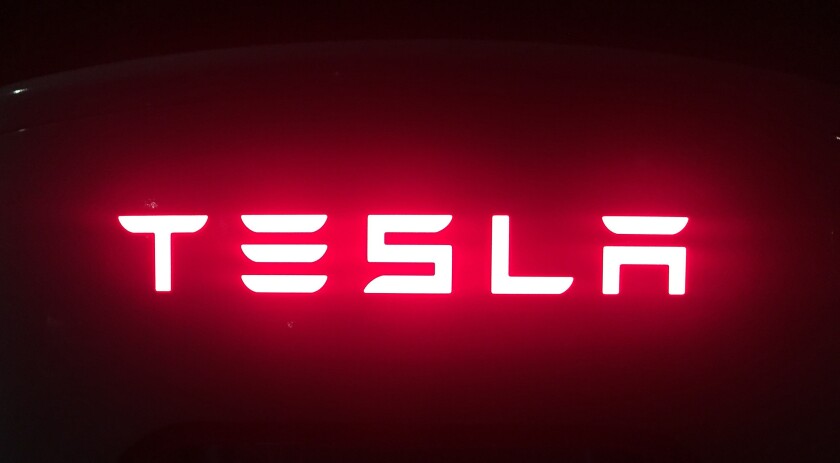 Reporting from San Francisco —
In a closely watched earnings report Wednesday, Tesla Inc. reported fourth-quarter and full-year results and assured investors that it is on schedule to produce its long-awaited mid-market Model 3 electric car.
For the three months ended Dec. 31, the company lost $219.4 million, or 78 cents a share, on $2.3 billion in revenue. In the year-earlier quarter, Tesla lost $320.4 million, or $2.44 a share, on $1.21 billion in revenue.
Annual revenue rose 73% thanks to 76,230 deliveries of the company's Model S and Model X electric luxury vehicles.
For the full year, Tesla said it lost $773 million on $7 billion in revenue, compared with a loss of $887 million on $4.04 billion in revenue in 2015.
Given the company's grand ambitions and billions in capital investments required to achieve them, the losses were expected, although analysts differed widely on just how much the company would lose.
"For Tesla the story is not about today, the story is about tomorrow," said Efraim Levy, analyst at CFRA Research. "It's about the Model 3."
The company also announced the departure of Chief Financial Officer Jason Wheeler, who will be replaced by Tesla's former CFO Deepak Ahuja. Wheeler will be shifting into the world of public policy, Tesla CEO Elon Musk said.
Tesla's earnings results, released after the markets closed, for the first time included SolarCity, the rooftop solar cell company Tesla bought in November. Because the numbers only include performance since the merger, they had little effect on the totals.
The results pushed Tesla's stock up about 3% after hours. During regular trading, shares fell $3.88, or 1.4%, to $273.51. The company's stock has soared 28% since the beginning of the year.
In what might have been the most important news, the company also announced that the new mid-market Model 3 is set for initial production in July and volume production by September. Some investors and analysts were worried the Model 3 might be behind schedule.
"Wall Street news aside, the real spotlight on Tesla remains its long-awaited Model 3," said Michael Harley, executive analyst for Kelley Blue Book. "Musk has to take off his rose-colored glasses and focus on efficiently launching production of its most important vehicle to date. If the company can't meet its output goals of 5,000 units per week by the end of 2017, which is highly optimistic considering the obstacles it has faced with prior model start-ups, the stumble may be the fall that breaks the company's knees."
Tesla said production has begun at its Gigafactory on battery packs for its cars and for electrical storage at homes, businesses and utilities.
And more Gigafactories are on the way. Tesla said it expected to finalize locations "for Gigafactories 3, 4 and possibly 5" soon.
The company intends to produce 500,000 vehicles annually by the end of 2018 and 1 million vehicles by 2020. Small buses, trucks and a small SUV may be added to the mix of products, the company has said.
In a conference call with analysts Wednesday, Musk fielded questions on how Tesla can reduce costs enough to sell Model 3s in the target zone of $35,000 to $45,000, depending on options.
He said the Model 3 was "designed for manufacturing" and is a "considerably simpler car" than the luxury S sedan and X SUV and would have "fewer bells and whistles." For example, it will have one touchscreen instead of two, no retracting door handles and fewer computer chips.
Musk said prices charged to suppliers are going way down after Tesla proved to them it can produce automobiles at volume, and said the Model 3 would be made with more robots than the S and X.
Asked about how the latest attempt by the United Auto Workers to unionize Tesla workers might boost costs, Musk spoke about why a union move doesn't make sense for workers.
Injury rates at Tesla's Fremont, Calif., manufacturing plants are less than half the industry average, Musk said. And Tesla workers "are the highest paid in the industry, if you include the equity, which of course you should include."
Musk said he would be publishing an article online about the union issue within several days. Tesla offers every worker some level of stock options in the company.
One analyst wondered whether Musk, who sits on President Trump's business council, had talked about fuel economy standards and government incentives. He said they were only touched on briefly.
"It would be fine to get rid of incentives and subsidies, but that should apply uniformly to all industries," Musk said.
Tesla had announced a rare profit for the third quarter last October, weeks before shareholders of both companies were to vote to approve the SolarCity merger. Critics said the profit was unsustainable; supporters said the results proved the company could produce positive cash flow on existing capital investments if it had to.
Tesla paid $2.1 billion for SolarCity. Since then, analysts have wondered how SolarCity financial results will be reported.
Cash flow is the key metric on everyone's mind. While the Model 3 and the battery packs are essential to Tesla's success, the cash SolarCity throws off or sucks up will enhance or detract from the entire effort.
However, on Wednesday Tesla said SolarCity results would be folded into its battery pack operations, making the solar unit's contribution to cash flow hard to figure.
Twitter: @russ1mitchell
ALSO
Review: Tesla's newest X is a crazy amazing SUV
Elon Musk has a lot riding on Tesla's Model 3 — what will a unionization effort in California mean?
Elon Musk wants to dig a tunnel to ease L.A. traffic. We have a lot of questions
---
UPDATES:
4:40 p.m. This article was updated with details from Tesla's analyst conference call.
2:50 p.m.: This article was updated with additional figures and analyst quotes.
This article was originally published at 2:20 p.m.
---