No fooling: Time for Elon Musk to explain why bankruptcy's not in the cards for Tesla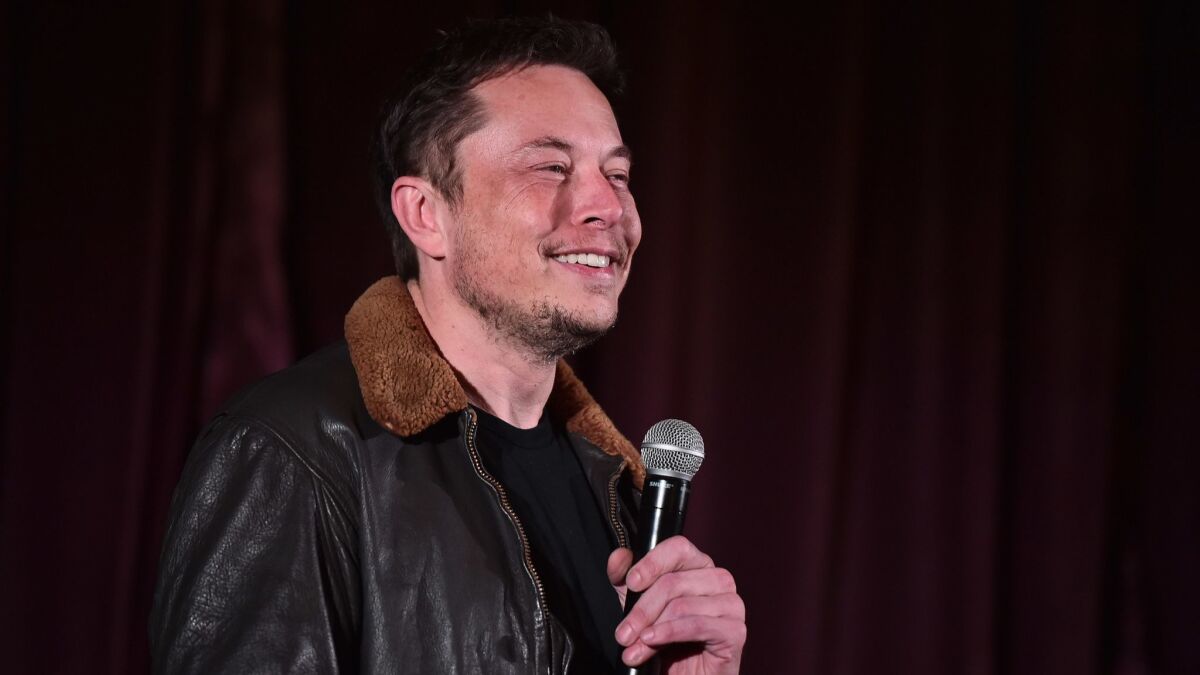 Reporting from San Francisco —
On April 1, Elon Musk tweeted that Tesla was bankrupt. He was just joking. April Fools'!
This week, Musk will be forced to explain why bankruptcy isn't a serious possibility.
He'll be responding to questions from stock analysts about first-quarter financial results to be released Wednesday afternoon. Everyone who closely follows Tesla — bulls, bears, neutral onlookers — expects the results to be abysmal.
Another record quarterly loss is widely anticipated. The consensus estimate among 27 Tesla analysts pegs that figure at slightly deeper than last quarter's record $675-million loss. More crucially, Tesla burned through $396.6 million of cash in the fourth quarter, or more than $4 million a day. Tesla had $3.7 billion in cash on hand at the end of 2017.
Tesla's financial pressures stem from the persistent production problems plaguing the Model 3, which has been long considered the company's make-or-break product line. Tesla was supposed to be cranking out Model 3s at a rate of 400,000 a year by now, each selling for $35,000 or more. Instead, it's struggling to reach an annual production rate of 100,000.
In addition to the cash crunch, the trickle of cars has caused parts to stack up. Musk recently acknowledged the Model 3 production line was automated beyond the company's ability to manage.
Tesla, meanwhile, is adding to its costs by vastly expanding its workforce. Employment mushroomed from 10,161 in 2014 to 37,543 at the end of last year. (That includes most of the 12,243 employees that came on board when Tesla bought the Solar City solar power company in 2016.) And Musk plans to hire 400 new workers a week at the Fremont assembly plant for the next several weeks, which could boost production but at the cost of reducing profit margins.
Tesla's service centers are dealing with Model 3 quality problems that result partly from the ill-conceived automation effort.
On top of all that, a new automated module assembly line, shipped in from Germany, is being completed at the company's Nevada Gigafactory, where Model 3 batteries are made.
When a company is mature and stable, earnings are the main focus for analysts. For a company like Tesla — 14 years old but in many ways still in start-up mode — cash flow is key. Without cash, a company can't survive.
"I want to know how much cash they're burning," said Efraim Levy, stock analyst at CFRA Research. Because of production "inefficiency," Levy said, "they've become more vulnerable to risks created by cash outflows."
Although there are doubters, Levy believes Tesla still has access to stock and bond markets. "The question is how much they need," he said. That in part will determine what any new money will cost the company.
Short sellers — who bet that a company's stock is priced higher than it should be and make money when share prices fall — have boosted their interest in Tesla in recent weeks. In mid-April, according to Nasdaq's latest figures, 30.4% of Tesla's tradable stock had been shorted, up from 22.6% a month earlier.
Some of those short sellers believe Musk will use the earnings call as an opportunity to pump up the introduction of another series of electric cars, the Model Y crossover.
That would deflect attention away from the negativity surrounding first-quarter numbers, said Anton Wahlman, a private investor who said he's taken both long and short positions in Tesla stock. "There's not a lot of happy talk around the numbers, so Musk is preparing something that will distract from all that," Wahlman said.
Spotlighting the Model Y would test whether Musk can continue to create excitement about Tesla's future prospects, an approach that's helped Tesla raise new equity in the past. And taking customer deposits on Model Y reservations could produce tens to hundreds of millions of dollars in immediately usable cash.
(The Model Y would also fulfill another goal set by Musk years ago: to use Models S, 3, X and Y to spell out S3XY. He originally wanted to call the Model 3 the Model E, for obvious reasons, but Ford Motor claimed it had rights to that name.)
Musk is on record saying he doesn't need more capital this year.
"Tesla continues to target a production rate of approximately 5,000 units per week in about three months, laying the groundwork for Q3 to have the long-sought ideal combination of high volume, good gross margin and strong positive operating cash flow," Musk said in an April update of production and deliveries. "As a result, Tesla does not require an equity or debt raise this year, apart from standard credit lines."
The words "as a result" are key, Wahlman said. The company can claim it doesn't need capital this year for the Model 3, but if the need results from a new a line of electric automobiles and a new assembly line, hundreds of millions of dollars in new financing will be required. That could pave the way for Musk to issue new stock this year with proceeds that could be used to prop up the Model 3.
With or without the Model Y, Moody's downgraded Tesla's bond rating in March and said the company will need to raise at least $2 billion this year. The value of Tesla's current bonds took a hit after the downgrade, meaning that if the company succeeded in tapping the bond market again, it would pay a significantly higher interest rate.
Any new equity issue would benefit from a high stock price. Tesla's shares have performed erratically over the last several weeks. They plunged 29% from late February through April 2, after it became clear Musk would not meet his Model 3 production goals for the first quarter. The shares since have bungee-jumped back up. They fell 18 cents, or 0.1%, to $293.45 on Monday.
In an April 13 appearance on "CBS This Morning," Musk scoffed at the idea that his April Fools' joke about bankruptcy was in bad taste. "I mean, it's April Fools', people should, like, lighten up, OK?" he said.
What would bring joy to investors, though, is hearing Wednesday that Musk has the Model 3 line on track to churn out high-quality cars at a high volume.
Twitter: @russ1mitchell
---
UPDATES:
3:55 p.m.: This article has been updated with additional information about Tesla's workforce and stock ownership.
This article was originally published at 11:45 a.m.