Musk's medicine for ailing Tesla: a 'thorough reorganization'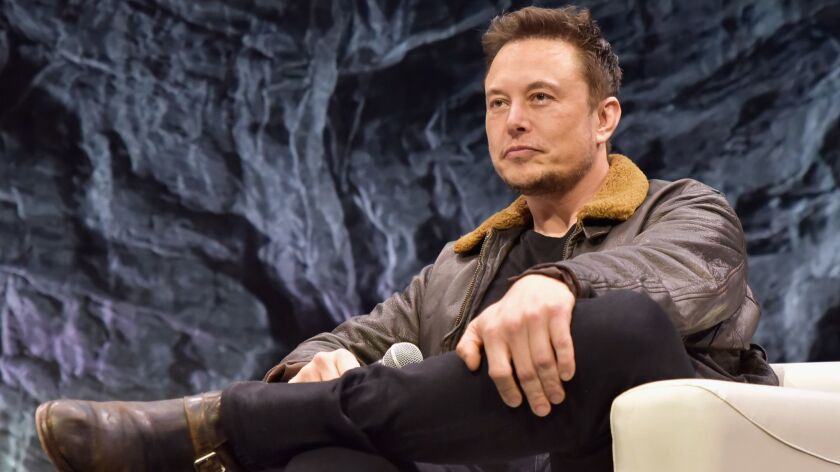 Reporting from San Francisco —
Following another top Tesla executive departure amid production turmoil, Chief Executive Elon Musk said Monday it's time for a "thorough reorganization" at the electric-car maker.
In a memo to employees, Musk said he'll be "flattening the management structure." The goal? "To improve communication, combining functions where sensible and trimming activities that are not vital to the success of our mission."
No details were offered. But the announcement came days after reports that Doug Field, the company's top vehicle and production design executive, was taking a six-week leave of absence. Field was reportedly sidelined this year when Musk announced he would be sleeping at the Fremont, Calif., factory and take direct charge of fixing Model 3 production problems.
At least nine other executives have left Tesla just in 2018, including Jim Keller, vice president of the Autopilot program, and Jon McNeill, head of global sales and service.
Musk told stock analysts in a May 2 earnings call that a reorganization was on the way, but no one pressed him for details. In the question and answer session that followed, Musk cut off two of the analysts in mid-sentence as they asked about other issues Musk said he considered "boring."
In the same call, Musk complained that temporary staffing agencies were providing too many low-performing "barnacles" to the company. Unlike other auto companies, Tesla relies heavily on temporary workers.
The company will continue to hire workers even as some are let go, Musk said in Monday's memo.
"We will continue to hire rapidly in critical hourly and salaried positions to support the Model 3 production ramp and future product development," he said.
When a company says it is flattening management ranks, it usually means it's trimming out layers of middle management. It's a time-honored way to cut costs and shed bureaucracy.
Significant firings or layoffs could help the company reach Musk's goal of posting profits for the third and fourth quarters this year.
A continuous stream of executive departures puts pressure on Musk, but also could make a reorganization easier to pull off, given that some big players with turf to defend aren't around anymore.
Tesla said last week that Field's move is temporary, and that he was taking time to "recharge" and be with his family. "He has not left Tesla."
"Doug, who I regard as one of the world's most talented engineering execs, is focused on vehicle engineering," Musk said in a tweet in April.
In fact, Field was deeply involved in Tesla's aggressive approach to factory automation, which Musk has admitted has caused severe Model 3 production problems.
In a conference call in late 2017, Field told stock analysts "the degree with which we have product development and manufacturing development integrated is unique."
Musk has talked often about leapfrogging other automakers in factory automation. But although the company was supposed to be building 400,000 Model 3s in 2018, at last official count, the annual rate is barely above 100,000.
Another recent departure is Matthew Schwall, Tesla's main contact with government safety regulators on Tesla's Autopilot team. His relationship with government safety regulators was not helped after Musk hung up the phone in a feud with National Transportation Safety Board head Robert Sumwalt, after a Model X driver was killed with Autopilot engaged.
Twitter: @russ1mitchell
---
Your guide to our new economic reality.
Get our free business newsletter for insights and tips for getting by.
You may occasionally receive promotional content from the Los Angeles Times.