Model X: Under the hood of Tesla's SUV strategy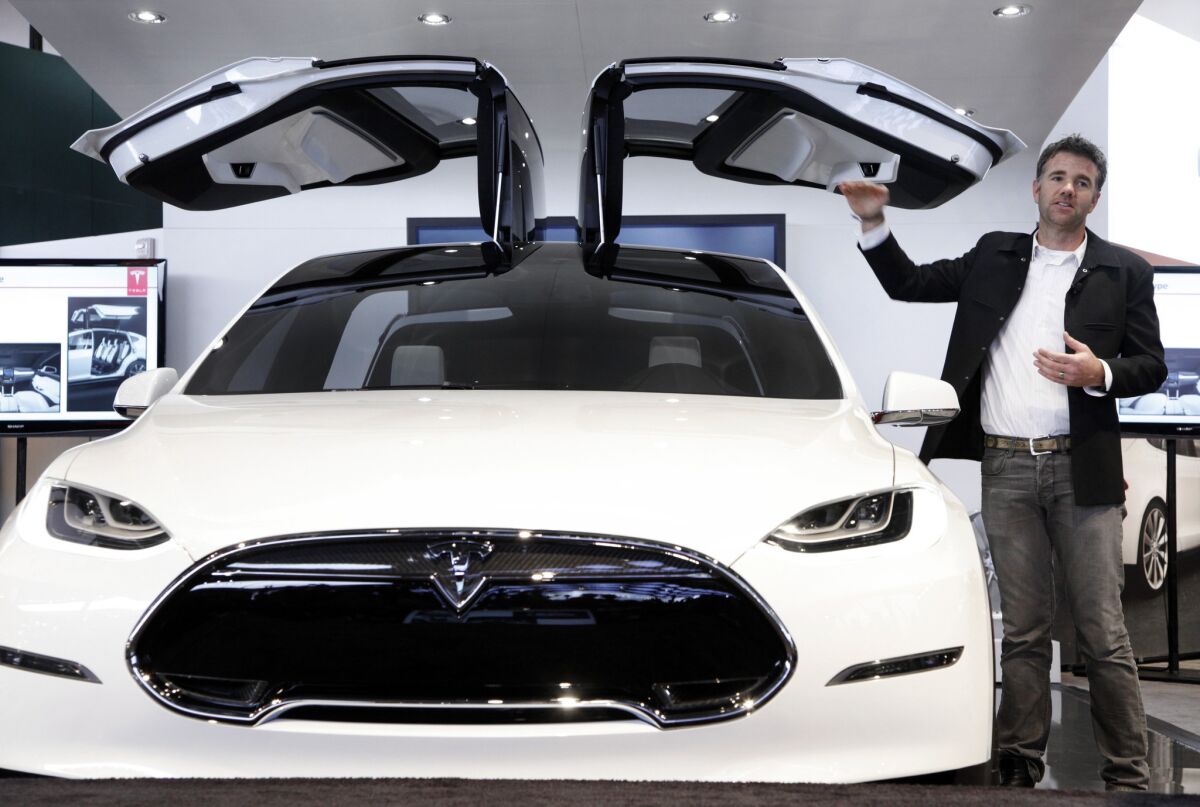 REPORTING FROM FREMONT, CALIF. —
A crowd rushed the entrance of the exhibition hall before Tesla unveiled its long-delayed Model X sport utility, its third vehicle in the quest to make electric cars mainstream.
In the crush were Barry and Lori Smith, a retired couple from Dallas who had plunked down a $40,000 deposit two years ago to secure the high-end Signature version of the electric crossover — to be, as she put it, "part of the future."
The second the doors cracked open, Barry raced ahead of his wife.
"I've never seen him with so much adrenaline," Lori Smith said. "He's like a kid in a candy store."
Tesla needs that excitement from its faithful to translate into big sales for another luxury model — another step, promises Chief Executive Elon Musk, toward the development of affordable electric cars for the masses.
Taking the stage Tuesday night, Musk eschewed his usual soaring rhetoric in favor of a microscopically detailed recitation of the vehicle's features.
The driver, for instance, has no need to touch the signature "falcon doors," which open overhead.
"It will triangulate my position," Musk said. "It will open the front door without touching. When you sit down, it will close the door."
The electric powertrain will propel the X from zero to 60 mph in just 3.2 seconds on the fastest model, astonishingly quick for a large crossover weighing 5,441 pounds. Top speed is 155, the company said. Dual electric motors, one on each axle, provide all-wheel-drive grip.
SIGN UP for the free California Inc. business newsletter >>
The Model X will have a range of 250 miles between charging sessions, similar to the company's Model S sedan. Unlike the sedan, the X can tow 5,000 pounds.
The SUV will sell for a bit more than the current Model S sport sedan, which starts at about $70,000 and can run well past $100,000 with options.
The Model X, designed at Tesla's studio in Hawthorne, will fit seven adults in three rows of seats, the automaker said. It will use Tesla's flat battery pack, positioned on the underside of the vehicle. That clears space in the cabin and also allows for a second trunk under the hood.
These initial sales — expected to be just a handful — mark the first time the Palo Alto car company will have two models on the market at the same time. The company already sells the Model S electric sports sedan and also is developing the Model 3, a compact electric car. (Its first car, the Roadster sports car, was discontinued before the Model S was released.)
Analysts said that was an important milestone for the company, which has yet to turn a profit, as it drives to increase its sales volume and benefit from economies of scale.
According to the Tesla Motors Club blog, the company already has nearly 32,000 orders for the vehicle.
The crossover is noteworthy for its distinctive "falcon wing" doors that fold up rather than swing out. The tricky design will make the Model X stand out in a crowded luxury SUV market as long as they work correctly, said Anton Wahlman, an independent analyst and investor in Palo Alto.
"They are in uncharted territory," he said.
At the unveiling in Fremont, about a mile from Telsa's factory, the cult of Tesla crowded into an industrial space for the elaborate debut, long in the making.
"We flew in for the day," Barry Smith said. "It's a little bit crazy."
Tesla originally said it would start manufacturing the Model X at the end of 2013, with sales to begin last year, but the program is behind schedule. Part of the delay was because Tesla could not use many of the same parts for both the X and the S, Musk said.
"As a luxury crossover, the Tesla Model X is in one of the fastest-growing segments of the North American market, so it is well-positioned to add volume for a manufacturer that needs additional volume and economies of scale," said Jack Nerad, an analyst at auto price information company Kelley Blue Book.
The new vehicle greatly expands Tesla's market and could help it break out of the male-oriented customer base that supported its first car — the discontinued Roadster sports car — and the Model S, said Dan Dolev, an analyst at Jefferies Equity Research.
"Tesla now has a family car," Dolev said. "I think that will appeal to a lot of moms who are driving their children around."
Americans purchased only 82,000 high-end luxury sedans last year, just 0.7% of the U.S. auto market, according to Kelley Blue Book. But consumers purchased nearly 400,000 mid-size luxury SUVs — the segment that Model X matches — last year, accounting for 2.4% of auto sales.
Almost 30% of the people trading out of Tesla Model S cars for a new vehicle are purchasing sport utility vehicles, according to an analysis of transaction data by car shopping company Edmunds.com.
"Tesla can capture those Model S owners who either want something larger or would like an SUV to add to their personal fleet," said Jessica Caldwell, an Edmunds.com analyst.
Tesla expects sales to grow now that it has entries in what amounts to about 3% of the U.S. auto market. The electric car company expects to deliver about 50,000 vehicles this year — including sales in overseas markets. Dolev said all but about 4,000 will be Model S cars. Wahlman said Tesla won't get beyond producing more than 1,000 crossovers this year.
See the most-read stories this hour >>
But Tesla anticipates that production will ramp up quickly next year. It projects manufacturing roughly 85,000 to 90,000 Model X and S vehicles next year. Analysts will be looking at the mix of vehicle sales to see if the Model X eats into sales of the flagship Model S.
"My fear is that one plus one does not equal two," Wahlman said.
Dolev said he's less concerned about potential sales cannibalization than Tesla's ability to nearly double its production without harming quality.
"Making the cars, that's the key," Dolev said. "I am not worried about the demand."
This is especially important for Tesla's aspiration to become a major automaker rather than a niche brand for the wealthy, environmentally concerned consumer.
Tesla engineers are busy working on the Model 3, which Musk describes as "our smaller and lower cost sedan," that will go into production "in about two years." Musk will reveal the look of the car in March, and Tesla will begin taking orders then.
Musk said the Model 3, which is expected to sell for about $35,000, has to wait until Tesla's giant "gigafactory" battery manufacturing plant under construction near Reno is fully operational.
Tesla is counting on the battery manufacturing cost reductions and efficiencies that it expects from the plant to help keep down the cost of the lower-priced sedan.
The automaker also will begin to see greater competition in the electric car market from traditional automakers such as Chevrolet and Nissan as well as the luxury brands. Chevrolet plans to bring out its electric Bolt compact car with a range of about 200 miles in late 2016 or early 2017. Nissan is working on a new version of its Leaf EV that will have a similar range.
Audi plans to challenge Tesla's dominance in the luxury electric vehicle market with a sport utility vehicle, introducing a concept version of the e-tron quattro model at the Frankfurt,
Germany, auto show this year.
And Mercedes-Benz plans to abandon the electric powertrain it buys from Tesla for its electric B-Class car for a new system with a range of about 300 miles. The vehicle's current range is less than 100 miles.
Follow me on Twitter (@LATimesJerry), Facebook and Google+.
ALSO:
Volkswagen dealers paralyzed by emissions scandal
Porsche unveils all-electric Tesla-fighting sports car
2016 Toyota Tacoma stays quiet and comfy on and off pavement
---