Some early owners of Tesla's Model 3 are reporting quality problems. Do buyers care?
Reporting from San Francisco —
Mark Schey of Morristown, N.J., stepped into his garage a few mornings ago eager to hop inside his shiny new car — the much desired and currently rare Tesla Model 3 electric sedan. The one with the 15-inch touchscreen on the bare-bones dash.
He flashed his electronic key card to unlatch the door, but nothing happened. He tried the iPhone app, but that didn't work either.
There was no way to open the doors. There's not even a backup metal key.
Schey figured he'd need to jump the 12-volt battery needed to power the doors open from the outside. But the hood was locked shut, too.
It turns out there's a wafer-thin plastic cap flush with the front bumper covering a hole the size of a silver dollar. The Tesla technician sent to Schey's home reached his fingers in and pulled out two thin cables. He clamped the cables to a portable battery and switched on the juice. The hood popped open.
That's how you jump-start the most high-tech, cutting-edge automobile on the market today.
And Schey couldn't be happier.
"The Tesla service people were great," he said. "I see this as growing pains."
Whether there are tens of thousands of patient and forgiving customers like Schey or only a few early adopters who look at the Model 3 as a fussy but desirable new tech toy may determine how much leeway Tesla has as it struggles with snail's-pace production on its Fremont assembly line and faces early criticism over a variety of quality problems.
Tesla started making the Model 3 last July. Chief Executive Elon Musk at one time forecast the company would achieve a rate of 5,000 per week by the end of 2017, or 260,000 a year. From the car's introduction in July through December, however, only 2,685 Model 3s were manufactured.
The assembly line and the company's battery factory in Nevada remain mired in what Musk has called "production hell." According to Tesla, the company is turning out about 1,000 Model 3s a week.
The manufacturing woes appear to be causing a wide variety of quality issues in early versions of the Model 3. Online Tesla forums are rife with comments from some of those lucky enough to have the car in hand. They're griping about dead batteries, leaking tail lamps, protruding headlights, door rattles, and body panels that don't line up — and in many cases, they've got photos to back it up.
In a statement to The Times, the company said: "Tesla's customer satisfaction scores for Model 3 vehicle quality and condition are at an all-time high of 94% — the best scores we've received from customers for quality and condition ever, across all of our vehicles, during early ownership. In the rare case a customer does have an issue, we take it very seriously, working closely with each owner to proactively address it."
While people on the waiting list complain about persistent delays that could stretch more than a year, many Model 3 owners say they're thrilled with their cars and are taking the quality issues in stride.
"All my Teslas have been early editions, and unlike some, I expect there to be bumps in the road, door handles that don't work," a Napa County resident who identified himself by the username "roblab" said on the Tesla Motors Club forum. "I expect that Tesla will fix them to my satisfaction. I expect there to be problems at Service Centers and Superchargers. And it's no problem."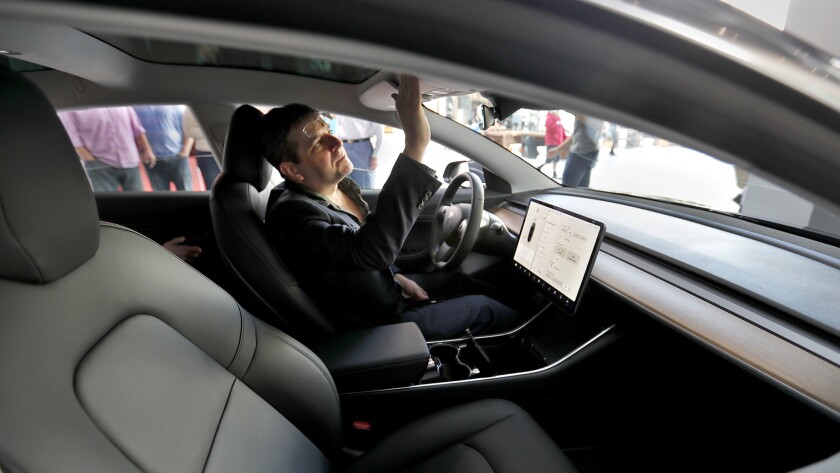 It's not possible to determine yet how pervasive the quality problems are — and they may be difficult to quantify in the future. J.D. Power, the preeminent automobile quality research group, would like to include Tesla in its rankings, but "Tesla has not granted J.D. Power access to owner's information so that a large enough sample of Tesla models can be included in the Vehicle Dependability Study," said David Amodeo, a J.D. Power executive.
All the major automakers participate in the J.D. Power quality surveys. In the most recent ranking, released Wednesday, Lexus, Porsche and Buick came out on top. Tesla cars were not rated.
Consumer Reports ranks reliability through surveys of subscribers. In October, it predicted "average" quality for the Model 3, due to improvements Tesla had made in the Model S, but didn't yet have data from Model 3 owners. That's the latest information available, a spokesman said.
Professional reviews are mostly glowing, especially about how the car rides and drives. Still, investors in Tesla's highflying stock will be watching to see if quality issues continue, and, if so, what effect they might have on sales.
But the enthusiasm of early adopters complicates earnings forecasts, said Efraim Levy, analyst at CFRA. "Tesla buyers are a patient bunch," he said. "Not just for the quality, but for the delivery."
For them, he said, misaligned body panels and electrical snafus are often overlooked because Tesla offers cutting-edge technology not available in other cars, such as over-the-air software updates to fix computer glitches and add new features. Schey, in fact, reported his car was fixed on Friday with a software update.
Parvis Ghajar of Calabasas told The Times he was a bit disappointed in his Model 3.
"The car is extremely noisy at speeds about 50 to 60 miles per hour," he said. Ghajar also owns a Model S, which he likes, but said "this one is not as aerodynamic; it's definitely more noisy inside because of the wind."
He hasn't complained to Tesla "because there's not much to be done about it." His wife is the car's main driver and "she's happy," he said. "She's comparing it to her Mini. If you're asking about my own experience, I might have bought something different."
Tesla said he was one of the first non-employees to buy a car and that the company continues to refine the vehicles as it ramps up production.
But noise isn't the only complaint from owners on the Tesla Motors Club site; others pick apart the appearance, mainly the poor fit of body panels.
In one thread, titled "Sunk-in hood," a Bethesda, Md., man with the username "Norge" said "the hood is significantly lower than the fenders. around half a centimeter." He showed pictures, and others chimed in to report the same defect.
Tesla offered to replace the hood, he said, "But it would be delivered in black primer and sent to a local Tesla-certified body shop for painting here in Maryland. This is when you start [to] feel like you have bought a used car and wonder what implications this would have on resale." He decided to keep the hood he's got.
In addition to a sunken hood, a San Jose man said on the message board that a parking brake error keeps popping up, the driver side interior trim was not assembled correctly, and both headlight housings are protruding from the body panels, when they're supposed to be flush.
Quality complaints are expected with any new car. But longtime automotive engineer Sandy Munro, whose firm tore down a Model 3 for a detailed inspection, said the quality problems are like "something we've never seen before, not since like the '70s or something." That's when a poor record of quality among Detroit automakers helped create a receptive U.S. market for Toyota, Honda and other Japanese car companies.
Munro is no Tesla foe. "I don't want any U.S. companies to fail, especially one that is associated with national pride," he said. Munro runs a manufacturing consulting company, Munro & Associates, outside Detroit. It contracts with manufacturers of cars, airplanes, washing machines and other products in North America, Europe and China.
Auto companies hire Munro to tear down new cars and find manufacturing and design defects. The results are fed back into the production process for improvement or to get a closer look at the competition. Munro's tear-down client is confidential, but he said it's not Tesla. He prefers not to reveal how he got the car.
Before the tear-down began, Munro identified several surface problems with the new Model 3, with a video posted on YouTube.
"The way they did the gaps on this car are like, you can see them from Mars," he says in the video. "This thing is a miserable job."
Tesla found short-cut fixes to problems he said traditional auto manufacturers would never allow.
"They stuck an extra piece of cat's paw in here," he says, pointing out the rubber-like material that seals the glass when the window rolls up to keep out the rain. "You're not supposed to just glue on another piece. Usually you take whatever's wrong and pull it out, put another one in. I never saw that before."
The front doors rattled when closed. There were big gaps between body panels with the trunk lid closed — not just too wide, but uneven.
"Look over here, I can barely get my fingernail in" on one side of the trunk seam, but "over here I can almost put my thumb in…I can't imagine how they released this. It's just a surprise, a really big surprise for me."
After the video was shot, Munro said, he found other problems, including "wires to nowhere" and rear-door insulation that was installed backward. "I'd never seen that before," he said.
Quality problems, however, don't seem to be souring Model 3 owners and deposit holders on the forums.
Stephen Page, 68, a retiree living in Glendale, drives a Toyota Yaris and can't wait to get his Model 3, no matter what. He camped out in March 2016 for an early spot on the Model 3 waiting list, putting down the requisite $1,000 refundable deposit. He's got a Tesla hat and a Tesla shirt.
"I've been waiting two years," he said. "I'm very anxious to get my car. I'm not rich. The car I'm buying is about $64,000. My wife said it's my birthday and Christmas present for the next 10 years."
Quality problems don't dissuade him, he said. "Because they'll fix it. My friend tells me they're better at fixing things than putting them out."
The last time Tesla reported the number of deposit holders was in July 2017, when it said 455,000 people were signed up. No updates have been offered since.
If the quality problems prove widespread and don't get fixed at the manufacturing sites, that list could start shrinking as potential customers ask for their $1,000 back.
"You'll get those first customers," said engineer Munro. "These guys are like fanatics. But that's not going to last long. If more and more of these issues keep popping up, you can kiss your market share goodbye."
Some deposit holders are demanding refunds already, less because of quality problems, more because the widely promoted "mass market" affordable $35,000 Model 3 is nowhere in sight.
The company said in a recent shareholder letter that it will focus on higher profit margin vehicles. Although the company still advertises the $35,000 price on its website, a Model 3 can't be had for less than $49,000 and, with the Autopilot self-drive system and other options, can easily exceed $60,000. After its earnings announcement and analyst conference call on Feb. 7, Tesla adjusted its delivery timeline for the $35,000 model, pushing it to late 2018 or early 2019.
David Melgar, a software programmer in Raleigh, N.C., is a big fan of Tesla and Musk's vision of a sustainable energy future. He even bought stock in Tesla, at $30 a share. It closed Friday at $335.49 on the Nasdaq stock exchange, rebounding like the rest of the markets from a dip down to $310.42 on Feb. 9. But he said he feels duped by hype about a mass-market car.
"If they had taken deposits and said it's for a $49,000 car, that's totally honest, that's not disingenuous," he said. "I hope Elon will think twice about pissing off his customer base by treating them with disdain and making it all about the money."
A Seattle man who goes by the screen name "206er" said he asked for a refund last week after his place in line got bumped from early 2018 to early 2019. With a wife, one child, and another on the way, he said, he can't afford much more than the $35,000 base price that was advertised.
"I really wanted this car to work out for our family," he said in an email to The Times. "But the delays mean that we won't be able to join the Tesla family anytime soon." He declined to reveal his name.
Tesla and Musk, of course, would like to satisfy market demand as soon as possible. In the recent conference call with analysts, Musk forecast an annual run rate of 260,000 Model 3s by the end of July.
He's sticking by his forecast of a million cars a year by the end of 2020, at which point Musk said traditional automobile manufactures should take notice.
"Actually they are quite good at manufacturing, but they just don't realize just how much potential there is for improvement," Musk said. "It's way more than they think."
Twitter: @russ1mitchell
---