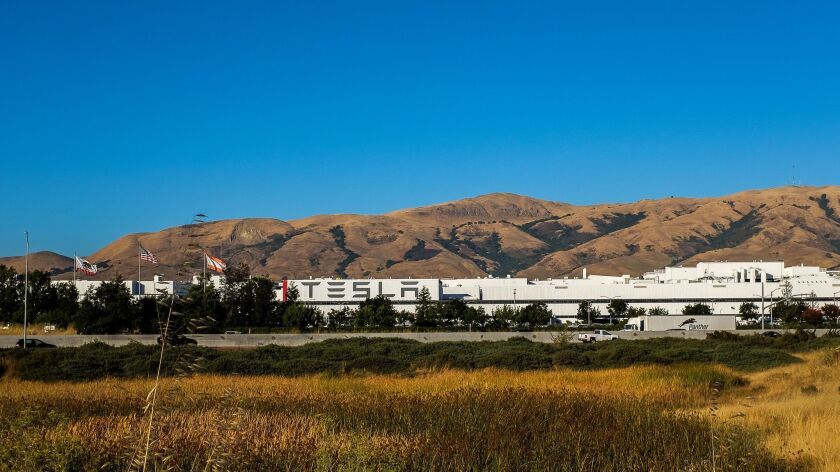 Reporting from San Francisco —
The most eye-popping moment in Tesla's earnings call with analysts Wednesday was not when Chief Executive Elon Musk apologized to the analysts he dissed on a previous call in May. It was not the fact that Tesla posted a $717-million loss for the quarter, or cut down on its cash burn.
The real surprise came when Musk and his chief financial officer, Deepak Ahuja, indicated the company won't ever need to raise capital from another sale of stock, and can fund its growth mainly through internally generated cash and proceeds from Chinese debt.
"We will not be raising equity at any point," Musk said. "At least that's — I have no expectation of doing so, do not plan to do so."
Ahuja added: "We're executing on an operating plan that keeps us sufficiently self-funded, despite our [capital expenditure] needs and our debt maturing, and still keep a very healthy balance on our balance sheet."
The statements go a big step beyond Musk's previous position that Tesla wouldn't need new equity funding in 2018. And they may reflect the reality of Tesla's complicated relationship with Wall Street, where the company is one of the most shorted stocks. Including its 2010 initial public offering, Tesla has raised $3.9 billion from stock sales.
Funding growth out of Tesla's cash flow, however, presents a daunting challenge. Just in the second quarter, which ended June 30, operating cash flow was negative, with $130 million flying out the door.
The company will need to turn that number positive — and fast.
Musk said Tesla will do that by becoming more efficient and building and selling a lot more Model 3 sedans. Tesla said it built 28,578 Model 3s in the second quarter. On Wednesday, the company said it will produce 50,000 to 55,000 Model 3s in the current quarter.
Economies of scale and greater efficiency will boost profits on each car — and operating cash flow — as production builds, Musk said. Up to now, Tesla has lost money on each Model 3 it built.
The efficiency gains Tesla has made recently, though, largely reflect its correction of early Model 3 production mistakes at its Fremont, Calif., automobile plant. Musk and his team installed legions of robots in places where human hands still work better than machines, such as running wires behind a dashboard. Sections of the system needed to be pulled out and replaced. A new assembly line was built on a parking lot, covered by a high-end tent.
Similar problems plagued operations at Tesla's battery plant in Nevada, where robotic systems couldn't be made to work and new equipment, with new software, had to be flown in from Germany. Battery packs were assembled by hand in the meantime.
Musk said Wednesday he learned a lesson: "Start simple and get fancy later. Fancy's going to bite you in the ass."
Tesla Chief Technical Officer J.B. Straubel said efficiency will come with "a more thoughtful and focused way to apply automation to the actual issues that matter most."
A car and battery plant that Tesla plans to open in China in three years might cost as little as $2 billion, Musk said; the Nevada factory's price tag was $5 billion. No detail was offered but Tesla executives said they might start production there in tents before permanent structures are built.
Tesla has yet to receive final go-ahead on the plant from Chinese officials. But Michael Dunne, chief executive of the China-centric consulting firm ZoZo Go, said, "There's plenty of Chinese money ready to back a Tesla China venture."
Some analysts came away from the conference call feeling better about Tesla's prospects. Efraim Levy of CFRA Research had already raised his stock recommendation a day earlier from "sell" to "hold."
"The tone of the call was a little more upbeat," Levy said.
But he still sees challenges ahead and believes Tesla will need to raise substantial debt to supplement cash flow, even if the company executes perfectly on the Model 3 plan.
If Tesla used cash to pay off all the debts it owes through June 30, 2019, its cash reserve would fall from $2.7 billion to $300 million. The bills don't all come due at once, of course, but that calculation indicates "less than zero room for error," said investor and Tesla critic Anton Wahlman.
Because Tesla has been unprofitable and cash-flow negative every year since it went public in 2010, it has relied on borrowed money and stock sales to make good on its liabilities, which include payments to suppliers. Tesla holds $9.5 billion in long-term debt.
Tesla's bonds are rated as junk by Moody's, so debt would be expensive, assuming a bond issue were possible. That makes it all the more crucial that the company generate cash from operations.
Four times on his call with analysts Musk mentioned that some "force majeure" — a major, unforseeable event — could upset Tesla's plans. "If there's not a big force majeure event, I feel comfortable achieving a GAAP income positive and cash flow positive quarter after quarter from here on out," Musk said at one point. He mentioned as potential risks a major recession, a major earthquake or a severe supply chain interruption.
Another possibility: an investigation of Tesla by the Securities and Exchange Commission. Rumors of such an investigation have been swirling, unverified, for months. James Albertine, an analyst with Consumer Edge Research, asked Musk on the conference call if he could "verify for us whether or not there is a notice from a regulator that would prevent you from raising outside capital?" The SEC issues a "Wells notice" to a company when it plans to file an enforcement action.
Musk avoided the question, but when Albertine asked again, the Tesla CEO said, "I'm not sure what you're talking about, but there is no notice from a regulator."
Musk did not say whether the SEC is investigating the company.
Twitter: @russ1mitchell
---