Lawsuit calls Tesla factory a hotbed of racism; Tesla calls lawsuit a 'hotbed of misinformation'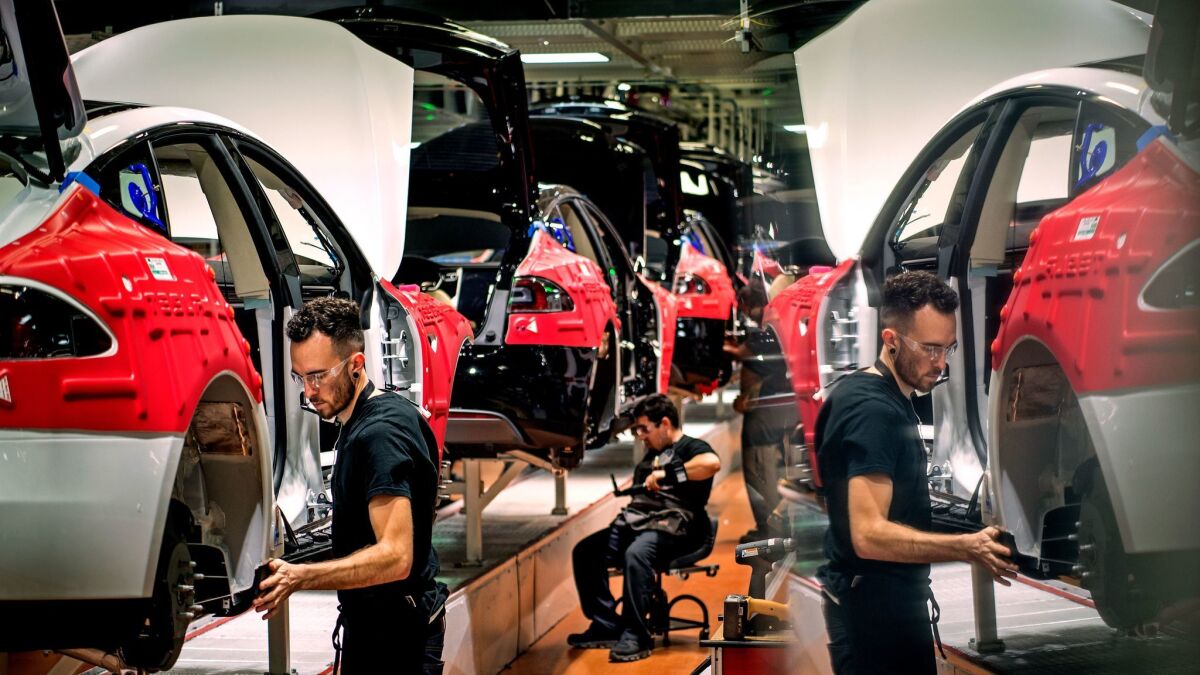 A new lawsuit alleges that Tesla Inc.'s Fremont, Calif., factory is a "hotbed for racist behavior."
In the lawsuit, filed Monday in state court, former assembly worker Marcus Vaughn, who said he was fired from the electric-car maker for "not having a positive attitude," alleges that supervisors and co-workers called him the N-word, but his written complaint to human resources about it was not investigated.
In a statement posted on its website Nov. 14 and titled "Hotbed of Misinformation," Tesla said it fired three employees after an investigation by the company "identified a number of conflicting accusations and counter-accusations between several African-American and Hispanic individuals, alleging use of racial language, including the 'n-word' and 'w-word,' towards each other and a threat of violence."
The company statement said that Vaughn was employed by an agency and that he wasn't fired but rather his six-month contract had expired.
Vaughn's lawsuit seeks certification as a class action, to bring in current and former Tesla factory workers who are African American.
"Although Tesla stands out as a groundbreaking company at the forefront of the electric car revolution, its standard operating procedure at the Tesla factory is pre-civil rights era race discrimination," the lawsuit says. "Race harassment has continued at the Tesla factory, and became more widespread, because despite their knowledge of the harassment, defendants have done nothing that could be reasonably expected to stop it."
Vaughn's legal action is the third lawsuit filed this year by black workers alleging that racial slurs were used against them and that the company ignored their complaints. It is the first such suit to seek class-action status.
Vaughn said in the suit that shortly after he started working at Tesla in April, supervisors and co-workers began targeting him for harassment on the basis of his race. The N-word was used against him "on a regular basis," and he witnessed the use of the slur toward other black employees, he said. He said he was fired in October.
His legal complaint included a May 31 memo it said Tesla Chief Executive Elon Musk emailed to employees. The memo appeared to push back against minority workers' grievances.
"Part of not being a huge jerk is considering how someone might feel who is part of [a] historically less represented group," the memo said. "Sometimes these things happen unintentionally, in which case you should apologize. In fairness, if someone is a jerk to you, but sincerely apologizes, it is important to be thick-skinned and accept that apology."
Vaughn's lawsuit took issue with the purported response from the Tesla chief to problems in the workplace.
"In light of CEO Musk's message to employees that racist epithets can be directed 'unintentionally' and that it is 'important to be thick-skinned,' it is not surprising that the Tesla factory has become a hotbed for racist behavior," the suit said.
Vaughn is seeking unspecified general and punitive damages under California anti-discrimination law.
Baron writes for the San Jose Mercury News/McClatchy.