Musk blames glitches on early Model S cars; one report says Tesla reliability improves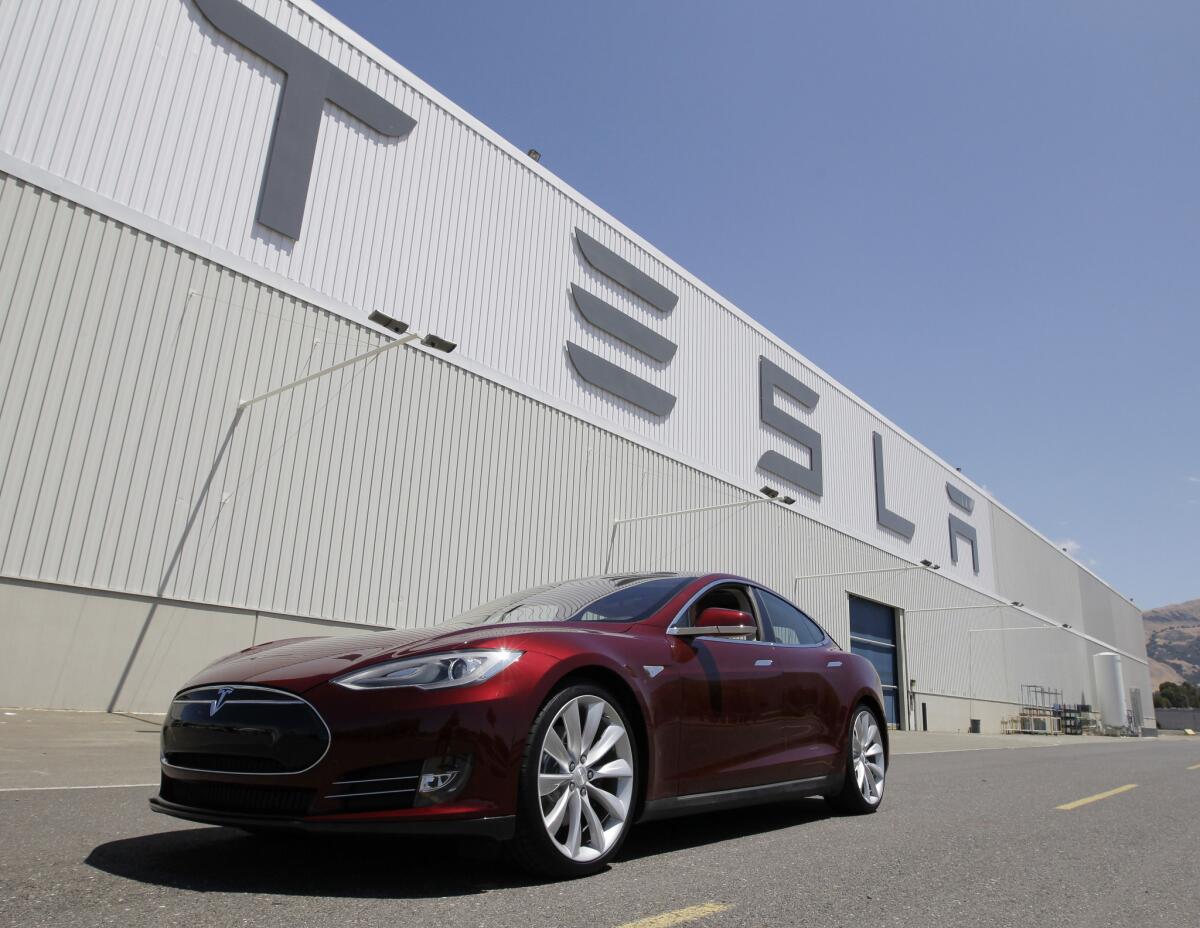 Consumer Reports might have withdrawn its endorsement of Tesla Motors' Model S electric sports sedan because of reliability issues, but another service says the car's dependability is starting to improve.
TrueDelta.com, a private, membership-based auto reliability tracking service, said its data indicate that Model S reliability has improved about 20% in the past year.
Elon Musk, Tesla's chief executive, noted on Twitter Wednesday afternoon that, "Consumer Reports reliability survey includes a lot of early production cars. Already addressed in new cars."
But the Model S is still three to four times less reliable than the typical new vehicle, said Michael Karesh, who runs the TrueDelta website.
Karesh suspects that Consumer Reports has seen a recent increase in complaints because of how it conducts its research: asking owners to report problems that they consider serious.
"If an owner is very enthusiastic about their car, or receives outstanding service from their dealer, they are less likely to report a problem on the CR survey," Karesh said.
"I think what has shifted is owner expectations, not the number of flaws," he said. "The early adopters tend to be very forgiving of glitches. As you expand the consumer base you get people who have less tolerance for problems."
Owners do give Tesla high marks for customer service for getting problems fixed, Karesh said.
Musk also addressed that in his Twitter remarks. "Tesla gets top rating of any company in service. Most important, CR says 97% of owners expect their next car to be a Tesla (the acid test)," he wrote.
Consumer Reports said Tuesday that the Tesla Model S has worse-than-average reliability and pulled its recommendation for the vehicle.
Consumer Reports said Model S owners reported "an array of detailed and complicated maladies" with the drivetrain, power equipment, charging equipment and giant iPad-like center console. They also complained about body and sunroof squeaks, rattles and leaks.
TrueDelta's analysis is based on owners reporting specific problems they have had fixed on their vehicles. But the survey population is much smaller; it has data from about 100 owners while Consumer Reports received survey responses from 1,400 owners.
J.D. Power, the automotive research firm, also publishes reliability data, but has not developed a big enough population of vehicles yet to issue a Tesla assessment, spokesman John Tews said.
Tesla's stock fell for a second day after the Consumer Reports downgrade. It closed down $2.94, or 1.4%, at $210.09 on Wednesday after falling 7% on Tuesday.
The negative publicity could hurt Model S sales, said Brian Johnson, an analyst with Barclays Research.
"Tesla has sold cars without any publicity, and has instead relied on 'word of mouth' recommendations. Issues with reliability may challenge the appeal," Johnson wrote in a report to investors Wednesday.
He said he expected the Palo Alto electric car company to address the reliability issues and noted that other luxury cars also have failed to make the Consumer Reports recommended list, yet are still selling.
Updated 5:39 p.m.: This story has been updated twice with Tesla's closing stock price and Elon Musk's comments.
For more automotive news, follow me on Twitter (@LATimesJerry) and Facebook.