Tesla touts Autopilot's safety record, though experts allege data shenanigans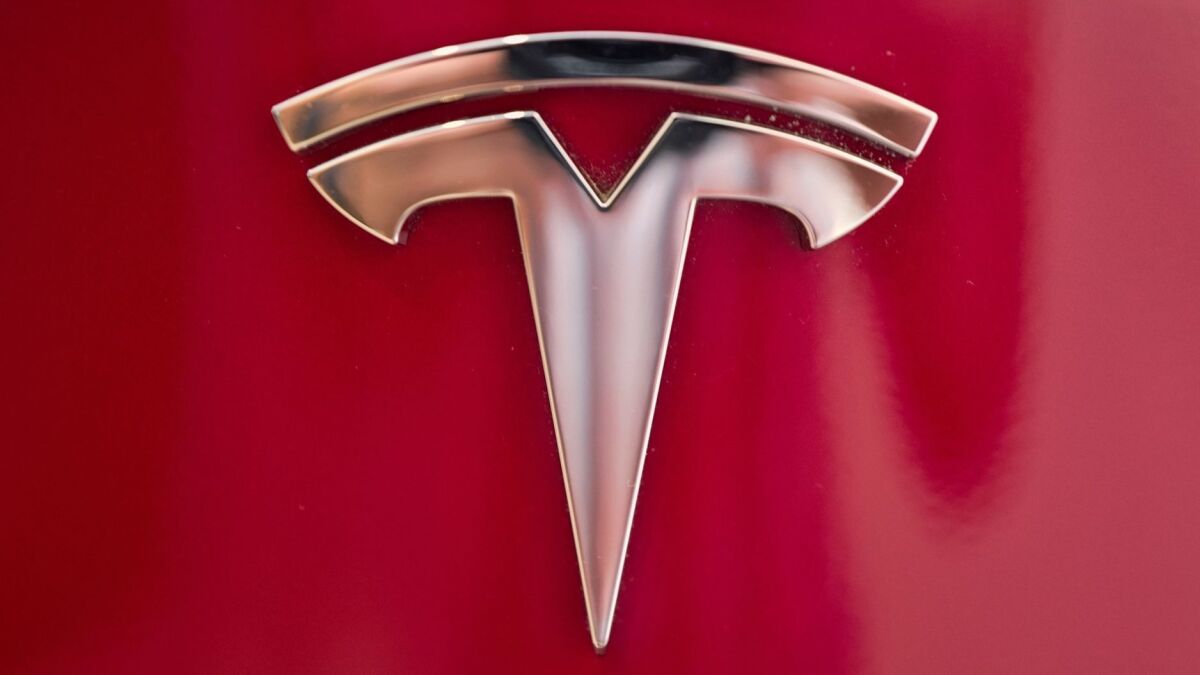 As attention this week kept swirling around Tesla Inc. Chief Executive Elon Musk's tweets and their fallout, the electric-car maker unveiled information on another topic: its vehicles' safety.
In its first quarterly report on the issue, Tesla said that last quarter it recorded one crash or near miss for every 1.92 million miles driven in its vehicles, and an even lower rate — one per 3.34 million miles — when its semiautonomous Autopilot feature was engaged. Both rates are vastly better than the most recent National Highway Traffic Safety Administration data showing one auto crash for every 492,000 miles driven in the United States overall, the company implied.
Statisticians, however, have said Tesla's evaluation of its data is flawed. The automaker compares its own cars and their drivers with all cars and drivers on U.S. highways, and the two groups are not directly comparable.
The Tesla sample size is small: The Palo Alto company has sold well under half a million vehicles worldwide. Meanwhile, U.S. roads have 271 million passenger vehicles in total. Autopilot is recommended for use mainly on limited-access highways, but the total accident figures cover all roads and conditions. Tesla drivers have higher incomes than average and have much newer cars than average, which could skew results.
Nidhi Kalra, who has a doctorate in robotics from Carnegie Mellon University, researched the subject for Rand Corp. before taking a job as senior technology policy advisor with Sen. Kamala Harris (D-Calif.). Kalra told the Los Angeles Times this year that, statistically, "when it comes to injuries and fatalities, we won't be able to know [the answers] until we've had hundreds of millions or billions of miles" of driving history.
Driverless-car laws must be established in the face of uncertainty, Kalra said. Banning the cars until the answer is clear would mean never deploying them, even though they may prove to be far safer than human drivers. But she emphasized that statistics about safety should be used honestly and accurately to reach the best policy decisions.
Musk has grown agitated over news coverage of crashes of Tesla cars using Autopilot. The feature does not render the vehicles autonomous; rather, human drivers are supposed to keep their hands on the wheel and eyes on the road, ready to steer or brake.
After a Tesla Model S sedan in Autopilot mode hit a stopped fire truck this spring in Utah and the car's driver suffered a broken ankle, Musk tweeted that: "It's super messed up that a Tesla crash resulting in a broken ankle is front page news and the [approximately] 40,000 people who died in US auto accidents alone in past year get almost no coverage."
The sedan speeded up in the seconds before smashing into the fire truck, and the driver hit the brakes a fraction of a second before impact, according to a police report.
On two separate occasions — one in 2016 and one in March — Tesla vehicles in Autopilot mode had crashes that left their drivers dead.
In May, a pair of consumer advocacy groups asked federal regulators to investigate Tesla's promotional claims about Autopilot's safety and capability. The Center for Auto Safety and Consumer Watchdog accused the company of misleading people into thinking they could rely on the car to drive itself.
Early Friday, Tesla tapped the brakes on the autonomous features of its latest software update, called Version 9.
Those features are intended to let autonomous technology take over a vehicle to pass cars on highways and to handle highway entrances and exits.
Musk said in a nearly 1 a.m. tweet that the software update is being released widely now, but that the newest Autopilot functions will undergo a few more weeks of testing.
"Extremely difficult to achieve a general solution for self-driving that works well everywhere," Musk tweeted.
Shares of Tesla Inc. slid 7.1% to $261.95 on Friday. The stock soared Monday on the news that Musk and the Securities and Exchange Commission had agreed to settle a fraud suit in a way that allowed Musk to keep his CEO role, then slid in the following days; the shares fell 1.1% for the week.
Musk fired off more than a dozen tweets targeting the SEC and short sellers Thursday. He mocked the regulator, referring to it as the "Shortseller Enrichment Commission" and sarcastically quipping that it was "doing incredible work."
The tweets could imperil the settlement deal Musk and the SEC struck last week, which isn't final. The deal — which would settle allegations stemming from Musk's August tweets about his plan to take Tesla private — bars Musk from serving as Tesla chairman for three years. As part of the deal, the company also has to implement procedures and controls to oversee Musk's communications, including his social media missives.
The settlement is subject to the approval of District Judge Alison Nathan in New York. She has ordered the SEC and Tesla to send her a joint statement justifying their agreement, due Thursday.
The Associated Press and Bloomberg were used in compiling this report.
Twitter: @russ1mitchell
---