U.S. sales of the Tesla Model 3 plunge 74% in January, according to outside estimate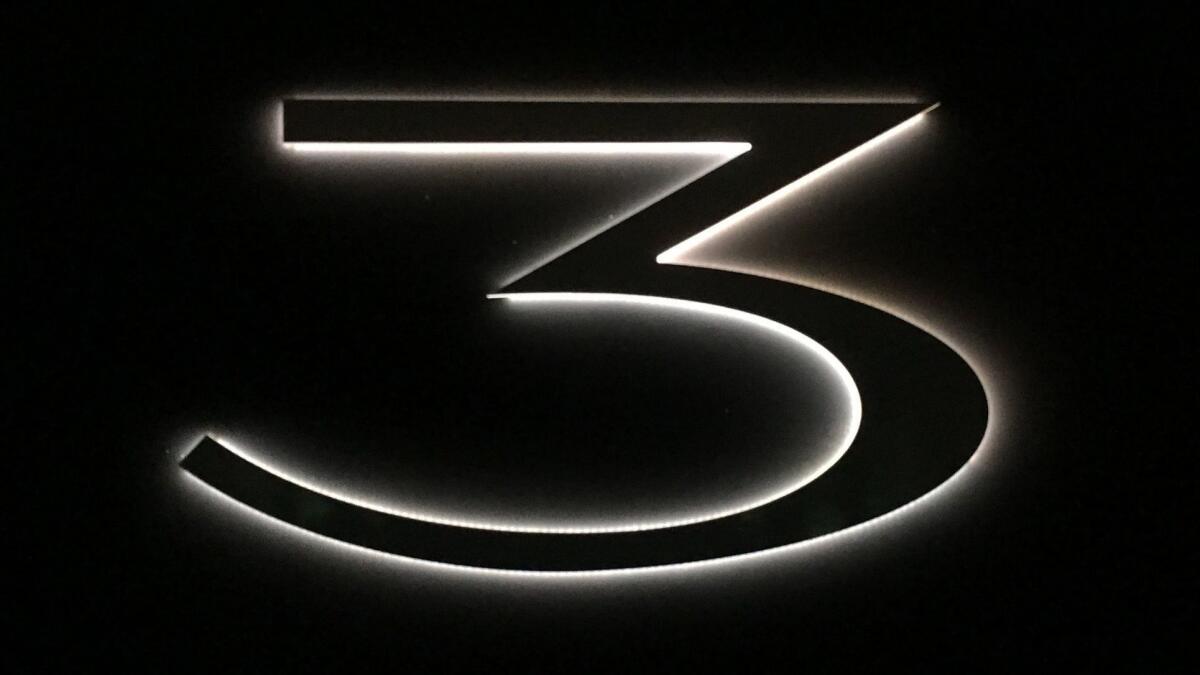 U.S. sales of the Tesla Model 3 plunged 74% in January compared with December, according to a consumer website, lending credence to rumors that sales of the vehicle have fallen off a cliff.
The California-based carmaker sold 6,500 Model 3s in the U.S. in January, compared with 25,250 the month before and 1,875 in January 2018, according to InsideEVs.
Tesla reports sales results quarterly, not monthly. Its next official report is due in April. InsideEVs is directed at electric-vehicle enthusiasts, and one of few organizations that publishes monthly estimates on Tesla sales. "Our track record is nearly spot. This is something we spend a ridiculous amount of time on," said Executive Editor Steven Loveday. Musk himself has tweeted InsideEVs estimates to followers.
Tesla's future as a going concern depends on healthy Model 3 sales growth. The company sold about 145,000 of them last year, and said it plans to substantially increase that figure this year.
A Tesla spokesman said in response to the sales estimate that the carmaker is focusing on Europe and China right now. He referred to information from the company's conference call with stock analysts on Wednesday, when Chief Executive Elon Musk and soon-to-retire Chief Financial Officer Deepak Ahuja were questioned about a sales slowdown.
Musk blamed the weather and the decline in the federal tax incentive for electric-vehicle acquisitions.
"Most people do not buy a new car in the middle of a blizzard. So, January and February tend to be seasonally low and then it picks up significantly around the early to mid-March time frame." And, he said, the $7,500 federal tax incentive was cut in half on Tesla cars starting Jan. 1, which had a "pull forward" effect on sales.
In fact, January is typically the slowest month for auto sales, and other electric carmakers suffered sales declines in January, according to InsideEVs.
The Chevrolet Bolt EV sold 1,175 cars in January 2018; 1,412 in December; and an estimated 925 last month.
While fairly steady, those numbers are low compared with the Model 3, which even with a 75% slump remains the bestselling electric car in the U.S. by far.
Still, the drop-off comes as Tesla has suddenly shifted to Europe and China for Model 3 sales, raising questions about the remaining strength of U.S. demand.
On the call, Musk said all Model 3s now manufactured at its sole assembly plant, located in Fremont, Calif., are destined for Europe and China.
"Our whole focus is, OK, how do we get those cars made, get them on a ship as fast as possible," Musk told analysts Wednesday. "… It's very important to get those cars, especially to China, as soon as possible. We hope the trade negotiations go well, but it's not clear. But we need to get them there while there's sort of a de facto — sort of a truce on the tariff war."
One issue behind the change of market focus could be the car's price, which has made it a more of a luxury buy instead of a middle-market sedan as conceived.
Famously trumpeted as a $35,000 car, the cheapest Model 3 sells in the mid-$40,000s. The average selling price is near $60,000 with options, and similarly equipped cars will soon be available in Europe and China, the company said. Musk himself said last year the company is not yet able to build a profitable car at the lower price.
But despite the price issues and sales decline, Musk said he guesses global demand for the Model 3 at some point will fall between 700,000 and 800,000 a year. InsideEVs said Tesla in January sold 875 units of the Model S and 950 of the Model X in the U.S.
Musk once proclaimed there was "zero doubt" Tesla would be manufacturing 10,000 cars a week by the end of 2018. It has yet to crack 5,000 a week on a sustained basis, though it's getting close. The company also once claimed it had on hand more than 420,000 Model 3 reservations, which require a $1,000 down payment.
Asked about the reservations Wednesday, Ahuja said "reservations are not relevant for us. We are really focused on orders. Now we do have a large reservations backlog still, which tells us that a lot of customers are still waiting for those cars. But I don't think it's appropriate to share the reservations number."
Musk added, "Reservations is just like preorders. It's like — you have, like, some video game come out, it's like a preorder number. Then that, like, stops being important once you start shipping the game or product."
Musk did note surveys showing that customer satisfaction with Tesla cars remains high. All three models have drawn enthusiastic reviews in the automotive media but also have scored poorly in quality rankings.
Tesla on Wednesday reported a quarterly profit, the first quarter-to-quarter consecutive profit in its history. Profit was smaller in the most recent quarter, while Model 3 sales rose to a record high.
Twitter: @russ1mitchell
---
UPDATES:
February 2, 10:42 p.m. – This story was updated with a quote from InsideEVs.