Musk blames a trailer shortage for Tesla's Model 3 delivery delays. Auto haulers are dubious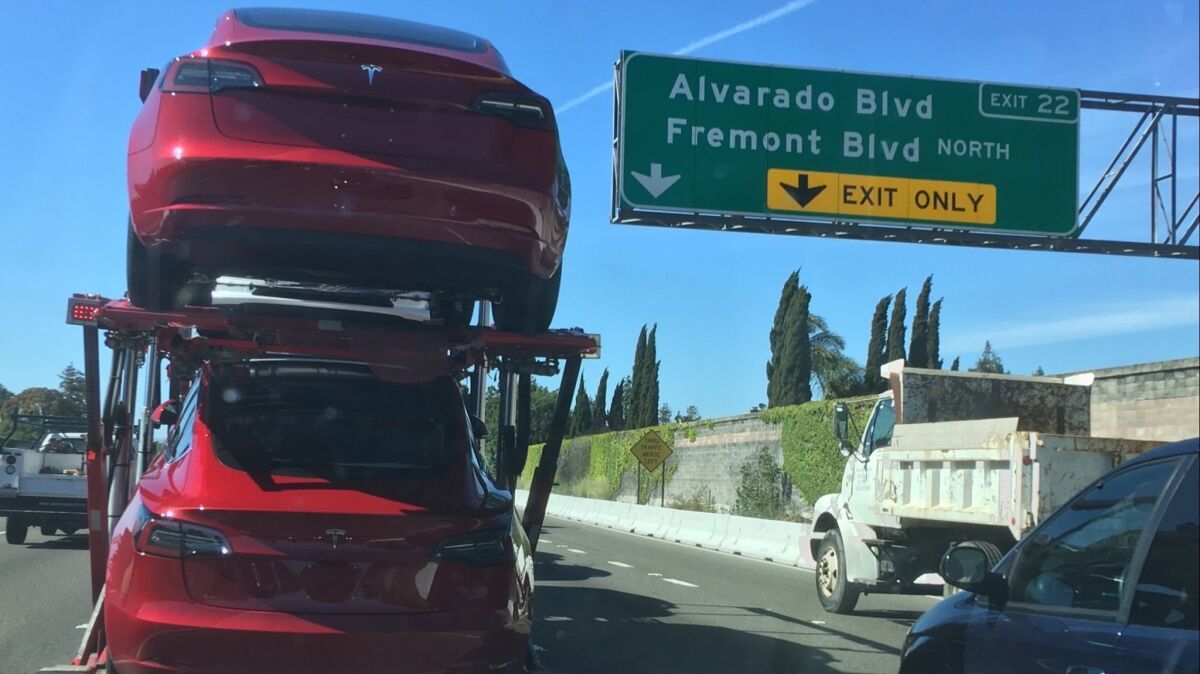 Elon Musk says an "extreme shortage" of car carrier trailers is partly to blame for Tesla's delivery woes. And in typical Musk fashion, the answer is for Tesla to build its own trailers.
That has trucking industry executives and analysts scratching their heads.
"There's no shortage that I know of," said Guy Young. As general manager of the Auto Haulers Assn. of America, he would know. "There's a general shortage of drivers, but we've got a lot of members with drivers and car carriers who could supply what they need."
Antti Lindstrom, a trucking analyst for IHS Markit, is flummoxed too. "I have never heard of a situation like that," he said. "In my experience there is always some available capacity that can be harvested" — especially, he said, for a well-known company with a $50-billion market value. "It's confusing. It doesn't sound real to me."
Many Tesla buyers complain they've paid full price for one of the company's new Model 3 vehicles but haven't received them, or had planned deliveries canceled. The auto haulers' Young said the problem more likely lies with Tesla's own logistics operation.
"It's like anything else," he said. "If you don't start planning ahead of time, building relationships, it can get a little difficult."
Tesla declined to discuss trailer shortages, or details of any plans to build its own, with The Times.
It's the build-your-own part that puzzles Frank Maly, a trucking analyst at ACT Research.
"If they're talking about building [trailers] from the ground up, that would be a surprise to me," he said.
First, the National Highway Traffic Safety Administration has a long checklist of regulatory information that must be submitted and processed for a new commercial trailer to be used on public highways. Also, materials, tooling, an assembly line and trained employees would be needed to build them.
It's possible, though, to build a system inside a regular enclosed semi-trailer known as a "dry van" to hold about eight cars without necessitating government approval, Maly said. It's called an "upfit" and it's used by several automakers, he said.
Musk, the chief executive of Tesla and SpaceX, "makes cars, he makes rockets, so there's a fighting chance they could get that up," Maly said. "But then the challenge is, where do you get the dry vans?"
With the U.S. economy humming, new dry vans also are in high demand. "If you ordered one today, you might get it in April," Maly said.
Logistics isn't the only challenge Tesla is attempting to solve by taking matters into its own hands. Facing a shortage of body parts to repair Teslas involved in car crashes — some owners have waited months to get their cars back from such fixes — the company this year began opening its own "light collision repair" body shops. So far, there are nine, including one in Van Nuys.
On Sept. 16 Musk tweeted that Tesla "is bringing most collision repairs in-house" because delays at third-party body shops are "driving Tesla owners (and us) crazy."
He followed with a burst of tweets. "Having all parts in stock & not waiting for insurance approval" would make "a world of difference," one said. In another he said he'd reduce body work turnaround time to "under an hour."
Asked about the speed claims, Giovanna Tanzillo, co-owner of Uptown Body & Fender in Oakland, said: "I do not know how that is possible. I'd be interested in knowing more myself."
A basic bumper replacement takes at least 24 hours, she said; "You can't rush it" without sacrificing quality. A new door could be hung in an hour, but the vast majority of jobs would take far longer, Tanzillo said.
Having Tesla parts in-house could speed the process, she said. It also helps that Teslas come in only a few colors. A body panel could be painted in an hour, Tanzillo said, but most cars get faded by the sun, which means a paint job requires blending and matching. A high-quality job would take hours.
Uptown used to work on Tesla cars, "but we do work on them now only when parts are not necessary," Tanzillo said. "We can't get parts. When we can, they won't ship them to us. They have us pick them up. They want to control everything. There are plenty of other models out there."
Tesla declined to comment about Musk's claims or body shop expansion plans.
Twitter: @russ1mitchell