Toyota and Mazda announce a big new factory in Alabama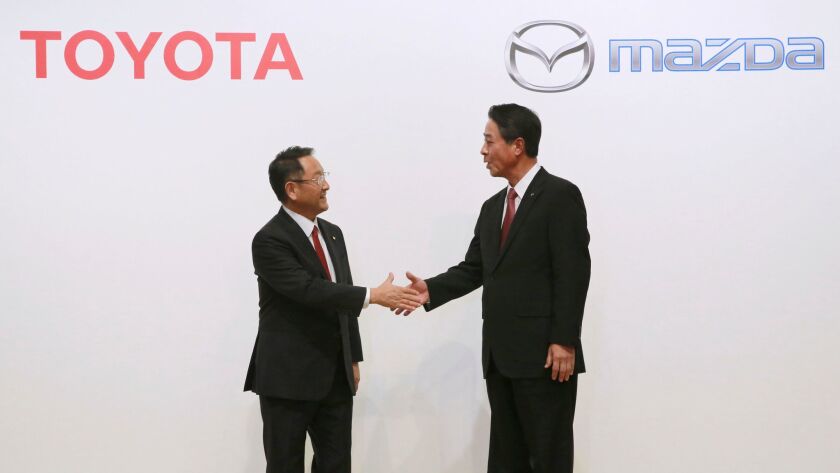 Toyota and Mazda announced Wednesday that they have chosen Alabama as the site of a coveted $1.6-billion joint-venture auto plant that will eventually employ up to 4,000 people.
The Huntsville plant will be able to build 300,000 vehicles a year, and production is expected to start by 2021, the Japanese automakers said. They said production will be split evenly between the Toyota Corolla compact car for North America and a new small SUV from Mazda.
Alabama has a law that allows economic incentives, such as payroll rebates, for large projects. And on Tuesday, lawmakers from the area proposed additional local tax incentives that appear aimed at the project. The bill would allow local tax abatements for projects with capital investments over $100 million.
Toyota and Mazda are forming a capital alliance and splitting the cost of the plant equally. The Huntsville area already has a Toyota engine factory that employs nearly 1,500 people.
The decision to pick Alabama is another example of foreign-based automakers building U.S. factories in the South. Companies have located there largely because of lower wages and to avoid the United Auto Workers union, which is stronger in Northern states.
After reassessing the market, Toyota changed its plan to make Corollas at a plant in Guanajuato, Mexico, now under construction, and instead will produce Tacoma pickups there, Toyota has said.
President Trump had criticized Toyota for taking auto production and jobs to Mexico. With the investment, both automakers hope to prove their good American corporate citizenship and appease the Trump administration's concerns about jobs moving overseas.
But during the summer, Toyota President Akio Toyoda denied that Trump's views influenced his decision.
"We have been reviewing the best production strategy for our business," he told reporters in Tokyo at the time.
Toyota Motor Corp. and Mazda Motor Corp. also plan to work together on various advanced auto technology, such as electric vehicles, safety features and connected cars, as well as products they could supply to each other, they said.
It's difficult to predict auto sales in three years, but at present, Toyota may not need the factory for Corolla production.
U.S. sales of small cars fell nearly 10% last year as buyers continued a massive shift toward SUVs and pickups. Corolla sales fell 14% for the year, to just under 309,000, according to Autodata Corp.
Still, Toyota and Mazda have said their collaboration will respect mutual independence and equality. Toyota — which makes the Prius hybrid, Camry sedan and Lexus luxury models — already provides hybrid technology to Mazda, which makes compact cars for Toyota at its Mexico plant.
The sheer cost of the plant also makes a partnership logical, as it boosts cost efficiency and economies of scale. Working together on green and other auto technology also makes sense as the segment becomes increasingly competitive because of concerns about climate change, the environment and safety.
---
UPDATES:
12:10 p.m.: This article was updated with the automakers' announcement.
This article was originally published at 8:20 a.m.
---
Get our weekly Business newsletter
Tips for how you and your finances can get through the pandemic.
You may occasionally receive promotional content from the Los Angeles Times.