Uber says it didn't use secrets smuggled from Waymo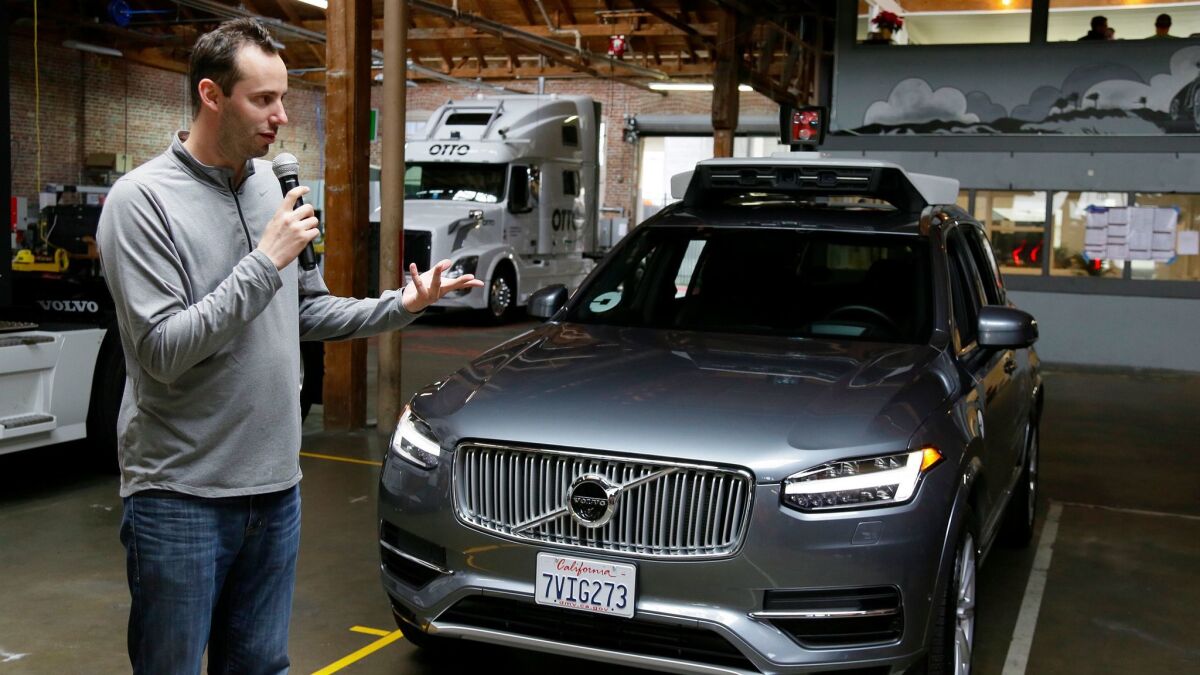 Reporting from San Francisco —
Uber told a federal judge Friday that it didn't use stolen trade secrets for its driverless car project, and therefore the court shouldn't force the company to cease that work.
Waymo, the driverless car arm of Google, sued Uber in February, accusing it of using trade secrets that had been smuggled away by former Waymo employee Anthony Levandowski. He is now in charge of developing self-driving cars at Uber.
Waymo had asked U.S. District Court Judge William Alsup to halt Uber's driverless car project until the case is settled.
The secrets are related to lidar, a technology that uses laser beams to detect objects and send the images to the self-driving car's computer for processing. It is a key element in autonomous car development.
Uber is playing defense on the trade-secrets lawsuit as it reels from a drumbeat of scandals that have pounded its public image this year.
In January the company faced customer backlash because of a corporate tweet. It was delivered right after the Trump administration's controversial travel ban. There was plenty of chatter on social channels over whether Uber was using the event to undermine a protest strike by taxi drivers.
In February, former Atty. Gen. Eric H. Holder Jr. was brought in to investigate accusations of systemic gender discrimination and cover-ups at the ride-hailing firm.
Later that month, a viral video of Uber Chief Executive Travis Kalanick showed him denigrating an Uber driver who dared to question company policies. The 40-year-old company founder later vowed to "grow up."
Since its founding in 2009, Uber has been embroiled in controversy for its aggressive tactics and pugilistic attitude toward laws and regulations.
In a hearing Thursday, Alsup indicated that he's predisposed to believe Waymo's allegation pending evidence to the contrary, and summed up the case this way:
"Right now the record available to the court under oath is pretty convincing that Mr. Levandowski downloaded 14,000 documents, wiped his computer clean, transferred those documents to a thumb drive and took that thumb drive with him when he went to start a new company."
Levandowski has invoked the 5th Amendment right against self-incrimination, according to his lawyer, who said Levandowski could face criminal charges.
Last year, he quit Google to found a self-driving truck company, Otto, which was later bought by Uber.
Uber's defense team suggested Friday that Google and Waymo are turning to the courts to slow down a competitor's progress.
"Waymo's injunction motion is a misfire," Angela Padilla, associate general counsel at Uber, said in a prepared statement. "If Waymo genuinely thought that Uber was using its secrets, it would not have waited more than five months to seek an injunction. Waymo doesn't meet the high bar for an injunction, which would stifle our independent innovation — probably Waymo's goal in the first place."
From the bench, Alsup has blasted Uber for insufficient cooperation with his order to search company and employee computers for copies of the documents.
Also on Thursday, the judge said he'd allow experts chosen by Waymo to examine Uber's technology to check for stolen design.
Waymo is especially protective of trade secrets on its lidar technology.
Major automakers purchase lidar systems from outside vendors for the autonomous systems they are developing. Google believes that developing proprietary lidar will give it a technology advantage over competitors — including Tesla, which has said that its cameras and radars suffice and that it doesn't need lidar.
Twitter: @russ1mitchell
---