VW's North America business chief resigns just weeks after taking job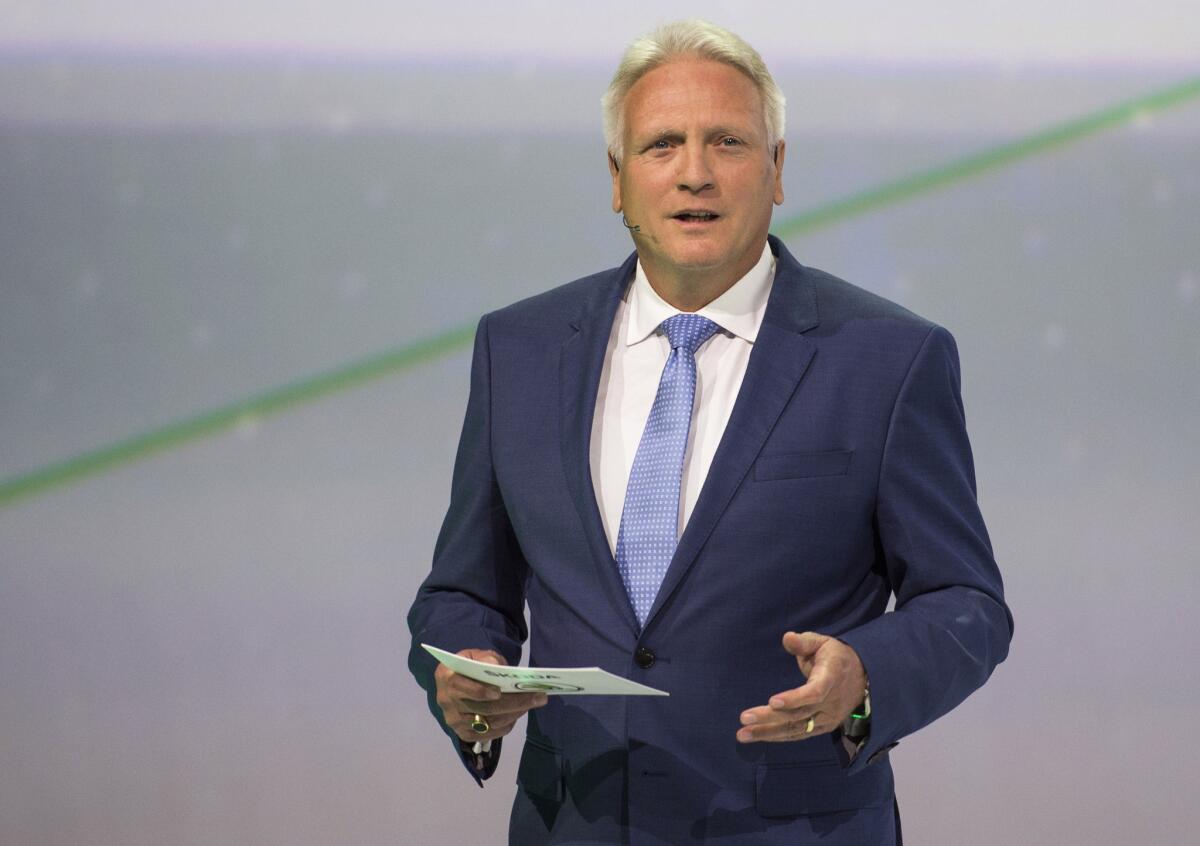 The veteran executive tapped to take charge of Volkswagen's North American operations quit Wednesday just weeks after taking the post — the latest sign of an accelerating downward spiral for the world's largest automaker.
VW, embroiled in a global scandal over emissions-test cheating, promoted Winfried Vahland to its top North American post last month in a corporate reorganization that included the sudden resignation of Chief Executive Martin Winterkorn.
Vahland's resignation came amid a torrent of bad news for VW on Wednesday. The developments included a fresh investigation in the U.S., new allegations from a German magazine that dozens of VW managers were in on the cheating scheme, and ramped up pressure from a U.S. senator for full disclosure of the automaker's misdeeds.
Earlier this week, the automaker was hit with a downgraded credit rating.
VW said Vahland resigned over "differing views on the organization" of the automaker's North American business.
"The negative effects of the emissions scandal continue to unfold," said Max Zanan, a car-dealership consultant with IDDS Group. "It has already wiped about a quarter off Volkswagen's market value. Who in their right mind would stay?"
Vahland's surprise resignation was "not related" to the ongoing scandal over VW rigging software to cheat emissions tests of its diesel cars, the carmaker said. The cheating scheme affects about 11 million vehicles worldwide and 482,000 in the U.S.
Judging from how Volkswagen described the separation, it does not appear that Vahland was implicated in the emissions-rigging scheme, said Alan Baum, an auto industry analyst. It's more likely there were disagreements on how to move the North American business forward following the scandal, he said.
It's also a sign of the challenges VW faces restoring is reputation with consumers and regulators.
"This is going to be a very difficult process," Baum said, "particularly for the leadership."
Vahland joined VW in 1990 and most recently headed its Czech Republic-based Skoda brand. He was passed over for the top job when Winterkorn quit. Instead, Volkswagen's board of management named Matthias Mueller, the top manager of its Porsche subsidiary, as chief executive of the parent company.
Also Wednesday, the German magazine Der Spiegel, citing an unnamed source, reported that at least 30 managers at the carmaker were involved in rigging diesel emission test results and that several dozen managers would be suspended.
VW's U.S. office said in a statement that it was "unable to comment on speculation" and would comment once it had information to release about the company's investigation. Michael Horn, Volkswagen's top U.S. executive, previously confirmed that three unnamed European employees involved in the scheme were suspended.
The automaker placed software on vehicles with two-liter diesel engines that detected when the cars were undergoing pollution tests and adjusted their engines to stay within U.S. limits for nitrogen oxide emissions. But when the cars were on the road, the cars spewed up to 40 times the legal amount of nitrogen oxide, regulators said.
VW admitted to the cheating last month after being confronted by federal and California regulators.
The automaker has blamed the scheme on a handful of rogue engineers. It hired U.S. law firm Jones Day to conduct an investigation.
In another blow to VW, the Federal Trade Commission said Wednesday it was joining with other government agencies to investigate Volkswagen. The Department of Justice has already launched a criminal investigation.
Sen. Richard Blumenthal (D-Conn.), called on regulators to "take immediate action to protect the public from additional defective cars" after learning that VW's 2016 diesel models are equipped with undisclosed emission-control software.
Horn mentioned the software in congressional testimony last week, and the Environmental Protection Agency is holding the cars off the market until it has analyzed how it affects emissions testing.
VW has not explained how the software works, though the automaker has confirmed its existence and said it should have disclosed it earlier to regulators.
"VW owes the EPA and the public immediate information and cooperation," Blumenthal said. "Its record of concealment and deception makes decisive action especially necessary."
The automaker also is taking heat from the investment community.
Standard & Poor's Ratings Services dropped its assessment of Volkswagen's credit to "A-" from "A."
"We believe that VW's breach of U.S. environmental law and potential other laws outside the U.S. represents a significant reputational and financial risk," S&P said in its report.
"VW has demonstrated material deficiencies in its management and governance."
The Environmental Protection Agency and the California Air Resources Board are demanding that Volkswagen fix the vehicles and remove the software that detects when the cars are undergoing laboratory emissions tests and changes how they operate to meet the requirements.
Volkswagen has a Nov. 20 Air Resources Board deadline to provide remedies to bring the fleet of diesels in California into compliance with pollution regulations.
The automaker said it could take a year or longer to bring most of the U.S. cars into compliance with state and federal emissions regulations.
VW faces up to $18 billion in federal Clean Air Act violation fines and is the target of multiple federal investigations and hundreds of civil suits.
jerry.hirsch@latimes.com
Twitter: @latimesjerry