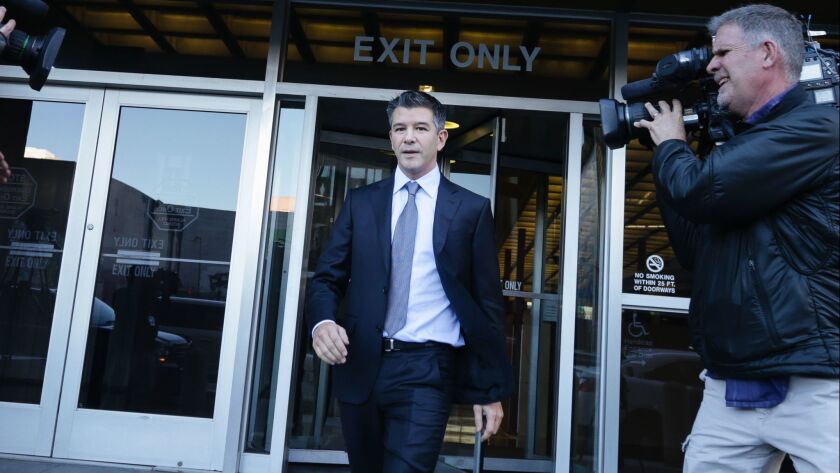 Reporting from San Francisco —
Greed, cheat codes, bad acts, disappearing messages, memory problems and a mysterious entreaty to "burn the village." Just another day in Silicon Valley's sensational trade-secrets trial.
Uber co-founder Travis Kalanick returned to the witness stand Wednesday in the Waymo-Uber trial in U.S. District Court in San Francisco. Waymo is the driverless car arm of Google's Alphabet. In its lawsuit, Waymo says engineer Anthony Levandowski downloaded gigabytes of proprietary documents and took them with him when he left to run Uber's driverless-car operation in January 2016.
Kalanick, retaking the stand after testifying Tuesday, defended an indemnity clause that Uber signed with Levandowski. The clause would protect Levandowski from financial penalties related to "bad acts" at Waymo, including trade secret theft.
Waymo attorney Charles Verhoeven asked Kalanick if he'd ever seen such a clause in other indemnity agreements. "No," Kalanick said.
But Kalanick said he'd never read the agreement. Nor had he read the deal papers he signed that paid Levandowski and partners $592 million for a driverless truck company, Otto. Kalanick said he had no time: "I sign hundreds of documents."
He was also asked about a due diligence report Uber had commissioned before the deal, in which Levandowski admitted he had possessed Google proprietary information on computer disks and in his closet.
Kalanick not only hadn't read the report, he told the jury, but "I wasn't aware of it."
"You're the CEO," Verhoeven said. (He was Uber's chief executive at the time.)
Google is seeking $1.8 billion in damages from Uber. The trial comes after a year of scandals for Uber, including accusations of sexual harassment and the cover-up of a cyberattack. Management upheaval included Kalanick's forced ouster as chief executive by the Uber board and replacement by Dara Khosrowshahi.
The documents Levandowski is accused of taking with him when he left Waymo for Uber include trade secrets covering a laser-based sensor technology called lidar.
Most autonomous-vehicle experts consider lidar essential to the safe operations of driverless cars. If successful, the driverless vehicle market could be huge.
Waymo attorneys went after Kalanick on Wednesday morning with some eyebrow-raising texts and meeting notes.
On March 1, 2016, Kalanick and Levandowski were working out the Otto deal. "We need to think through the strategy to take all the shortcuts we can find," Levandowski said in a text highlighted in yellow on courtroom video screens.
Waymo attorneys are trying to persuade the jury that Uber procured stolen trade secrets from Levandowski to gain ground on Waymo, which Uber executives said was far ahead in the development of driverless cars.
"Burn the village," Kalanick writes in another text message. Levandowski responds "Yup."
Asked what that meant when he wrote it, Kalanick said he didn't know. "It was two years ago, I just don't remember," he said.
In personal notes from a meeting held earlier about the potential acquisition, which Kalanick attended, another Uber executive made a list of Kalanick directives. "Cheat codes. Find them, use them," the note said.
Kalanick said it's "possible" he said that. To clarify what he might have meant, he said, "Cheat codes are elegant solutions to problems that haven't already been thought of."
For instance, he said, Tesla monitors driver behavior to improve self-driving cars. Uber uses its smartphone app to determine how long cars are waiting at red lights, for better travel time estimation.
Waymo's attorney challenged him, noting that cheat codes also are popular elements in video games. "It's a code you can use, where you don't have to do that game, but can cheat to get to the next level.… It allows you to skip ahead and not do the work," Verhoeven said.
No, Kalanick said, "it's part of the fun of the game."
On cross-examination, Uber attorney Karen Dunn tried to put Kalanick's actions in a more positive light.
"Did you compete aggressively [for engineers] to get ahead in the race for self-driving cars?" she asked. Kalanick said yes.
To what extent, she asked, was Levandowski hired for trade secrets?
"To no extent at all," Kalanick said.
After Kalanick's appearance, two Uber executives testified that Levandowski had asked them to delete from their devices email and text messages to and from Levandowski. Kalanick had testified that he and Levandowski used Telegraph, an app whose main feature, like Snapchat, is erasing messages after they are read.
Earlier in the day, the judge allowed a clip of the 1987 movie "Wall Street" to be shown to the jury. The Waymo side sought the judge's blessing over Uber's objection. Levandowski had sent Kalanick a text message in March 2016 that included a link to the clip and said, "This is the speech you need to give," punctuated with a winky emoticon.
Kalanick sipped bottled water and watched along with the courtroom as actor Michael Douglas, playing corporate raider Gordon Gekko, fired up an adoring crowd with the immortal words, "Greed is good, greed is right, greed works."
The trial continues Thursday with testimony from lower-level Uber and Waymo executives.
Twitter: @russ1mitchell
---