Trade secret files could be stored anywhere, witnesses in Waymo-Uber trial say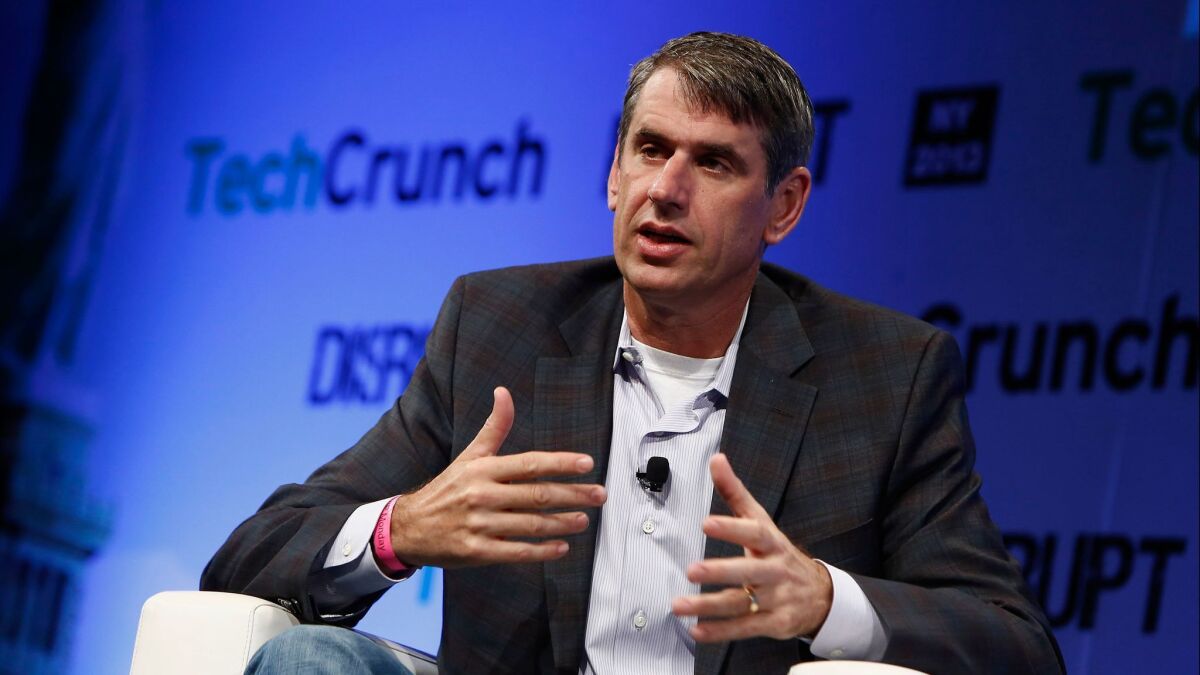 Reporting from San Francisco —
For months, Uber attorneys have touted an internal investigation that found no trade secrets or other computer files stolen from Google on Uber servers.
But could those stolen computer files have been copied and hidden elsewhere? Indeed, why would a thief with half a brain put purloined material on corporate networks, where they could be easily discovered?
Answers to those questions began to emerge in U.S. District Court in San Francisco on Thursday, where Waymo — the robot car division of Google's Alphabet — is suing Uber, alleging that the ride-hailing start-up possesses stolen trade secrets covering driverless car technology.
Waymo claims the eight trade secrets in question were among a cache of 14,107 files that engineer Anthony Levandowski allegedly stole, then in early 2016 brought to Uber, where he was named head of Uber's driverless car project.
A forensic expert who dissected computer system records in Levandowski's devices testified that the engineer copied those files to external devices from his personal laptop after downloading them from Google.
Furthermore, Levandowski had plugged and unplugged various external drives into his MacBook Pro's ports for weeks after he downloaded the documents, according to an Uber contractor's testimony.
None of those devices were mentioned in an Uber-sponsored "due diligence" report. Uber lawyers, not surprisingly, have not mentioned them either.
Waymo witness Andy Crain, a computer forensic expert at Discovia, had dived deep into the upload and download history of Levandowski's computers — at least the ones he knew about.
Levandowski, widely regarded as a brilliant but eccentric engineer — he recently founded a church based on "the realization, acceptance, and worship of a Godhead based on Artificial Intelligence" — used an SD card in December 2015 to download proprietary files from Google servers onto his laptop, Crain said.
He gathered the data into a compression file called a "sparse bundle," then made two more copies, Crain said.
He then copied at least one bundle onto a powerful storage device made by a company called Drobo. He copied the files a second time to an unknown external device, Crain said.
"We found two instances of that sparse bundle being stored on external media but it's important to note there could be more," Crain told the court.
Those weren't the only devices being attached to Levandowski's laptop. There are records of multiple external devices being plugged in and out of Levandowski's machine from Dec 2015 to early February 2016, Crain said, though it can't be determined what, if anything, was transferred.
One of the storage devices was named NEWCO, the same as the code name Uber and Levandowski used while negotiating a deal to buy a driverless truck start-up Levandowski had founded called Otto. Uber paid $592 million in the deal that was negotiated after Levandowski left Waymo.
"Is there any evidence to suggest that the 14,000 files did not make their way to the NEWCO device?" a Waymo attorney asked Crain.
"We cannot foreclose" the possibility, Crain said.
On cross-examination, Uber's lead attorney asked whether Crain could prove those files had been transferred to the NEWCO disk.
"I don't have proof because I don't have the device," Crain said.
He didn't have the device because Stroz Friedberg, the due diligence firm hired by Uber, never found it.
Uber hired the firm to conduct a due diligence report on Otto, which included an investigation into proprietary information that may have been taken from Waymo by Levandowski.
Stroz Friedberg asked Levandowski to hand over all personal devices for inspection. Those devices were then "quarantined" for safe keeping.
But investigators never looked at whether files were transferred from his machines to external devices, Melanie Maugeri, a former Stroz Friedberg employee, testified.
Maugeri was manager of digital forensics at Stroz Friedberg in 2016. She has since moved to another company.
She said Levandowski acknowledged he'd stored Waymo propriatary files on his computers. But Maugeri said she only looked at equipment that Levandowski had turned over.
She was not instructed to investigate file transfers to external drives, and would not have had the time to do so, given the project's schedule, Maugeri said. Nor was she asked to visit Otto's headquarters to inspect computers there.
Would she have found other devices "if your clients gave you more time?" a Waymo attorney asked.
"We may have," Maugeri said, adding later that Levandowski could have copied files to other devices that she didn't examine.
Venture capitalist Bill Gurley was questioned about the Stroz Friedberg due diligence report earlier in the day.
Gurley's firm, Benchmark, was an early Uber investor. He sat on Uber's board from 2011 to June 2017, including when the Otto deal was approved.
He voted for it, but said he had not read the due diligence report beforehand because he was told that the report had "come back clean."
"As a group we made the decision to move forward [with the acquisition] because the due diligence was ok," he said.
Twitter: @russ1mitchell
---