Volkswagen Jetta TDI value edition makes diesel cheap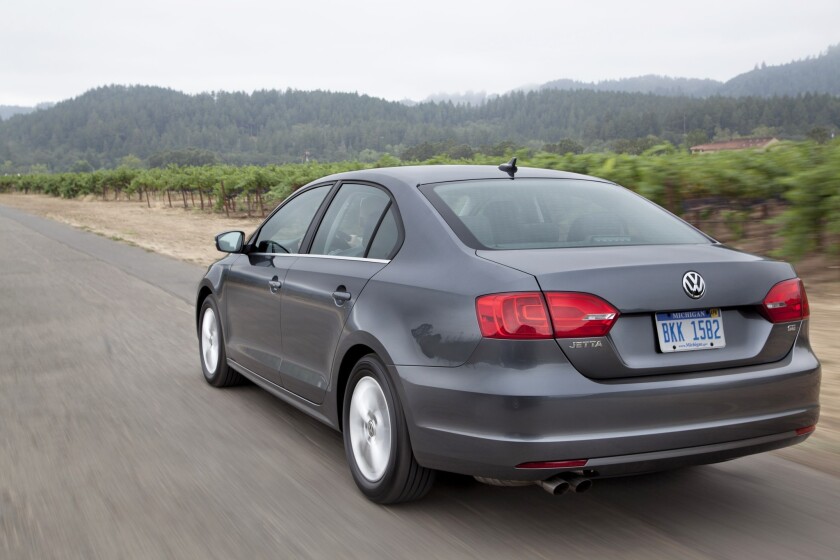 The Volkswagen Jetta has solidified its position as the cheapest U.S. diesel car with a new "value edition" that cuts more than $2,300 from the base price.
The bargain TDI goes out the door for $22,115, including destination, for a base model with a manual transmission. The DSG dual-clutch automated manual adds $1,100 to the price.
The Jetta was already the least expensive of the diesels, which are still slowly gaining traction in the U.S. market. Automakers including Volkswagen often combine more expensive diesel engines with upscale trim packages, raising the price of entry substantially over comparable gasoline-powered models.
Top 10 cars with lowest sticker price per mpg
The least expensive 2014 Volkswagen Golf TDI, for instance, costs $26,020, compared with $20,815 for the least expensive gasoline-powered model.
The Jetta TDI value edition, announced last month, does without such features as power seats and a multi-function steering wheel, which come standard in the next-most-expensive diesel Jetta. Soft-touch dash materials are replaced by hard plastic. Faux leather seats are replaced by cloth.
The most obvious cost-cutting move: 16-inch-wheels steel wheels, with plastic covers, instead of alloys.
But the value edition still comes with standard heated seats, cruise control, a six-speaker stereo system and satellite radio.
VW has been a pioneer for bringing diesel technology to the U.S. market, where customers have been slow to buy in. In Europe, about half of all cars sell with diesel engines.
The automaker sold more than 100,000 diesel vehicles in the U.S. for the first time last year, nearly a quarter of its sales. It offers a diesel engine in nearly every VW and Audi model.
Although diesels cost more, their fuel economy rivals many hybrids. The Jetta and Golf are EPA-rated at 30 mpg in the city and 42 mpg on the highway. Many diesel models are also known for their longevity and high resale value.
Diesel fuel currently costs about 65 cents more per gallon than regular gasoline, according to the U.S. Energy Department. But the market fluctuates, with diesel at times costing less than gasoline.
VW could soon face more competition from other automakers planning diesel models. Chevrolet just introduced a diesel engine in the Cruze, a compact sedan comparable to the Jetta. But the Cruze starts at a significantly higher price of $25,810. Later this year, Mazda is expected to introduce a diesel engine in its midsize Mazda6 sedan. Pricing has yet to be announced.
@LAThevenot on Twitter
---
Your guide to our new economic reality.
Get our free business newsletter for insights and tips for getting by.
You may occasionally receive promotional content from the Los Angeles Times.