Tesla drops reservation system, opens Model 3 orders to anybody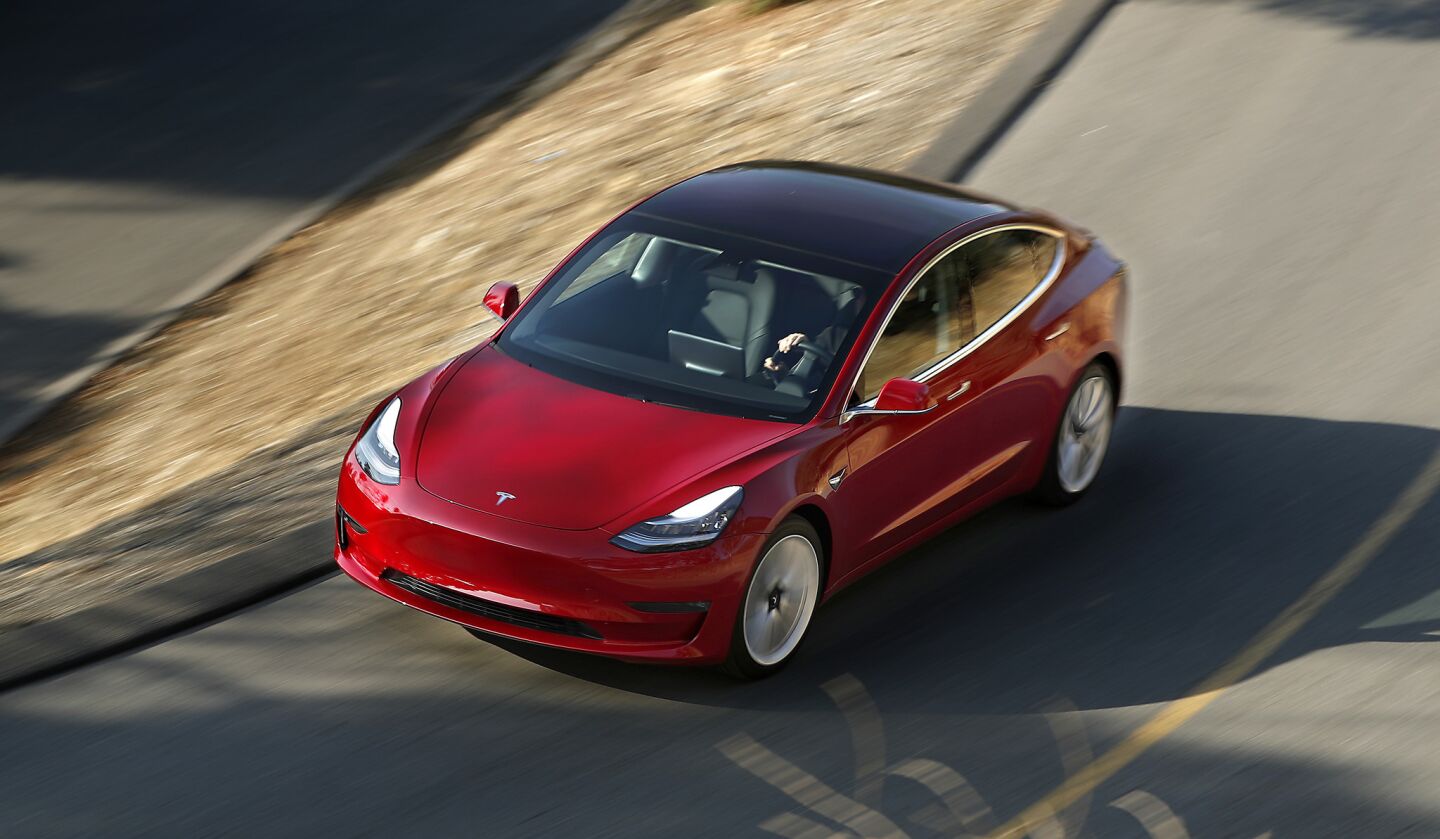 The first Model 3s are rolling away from Tesla's Fremont factory.
(Mel Melcon / Los Angeles Times)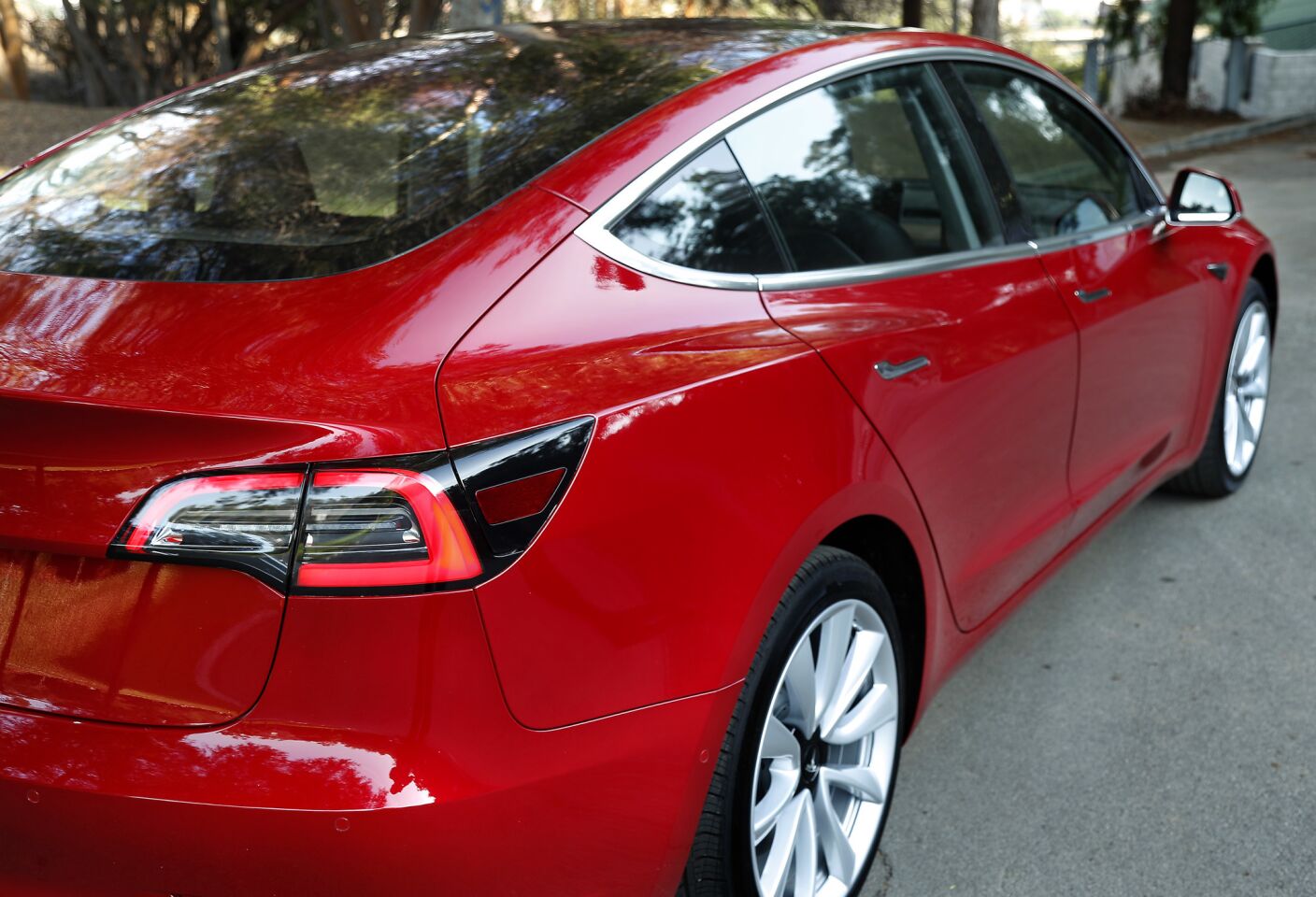 The roof line of Tesla's new Model 3 is an elegant arch, with one clean line from windshield to trunk lid.
(Mel Melcon / Los Angeles Times)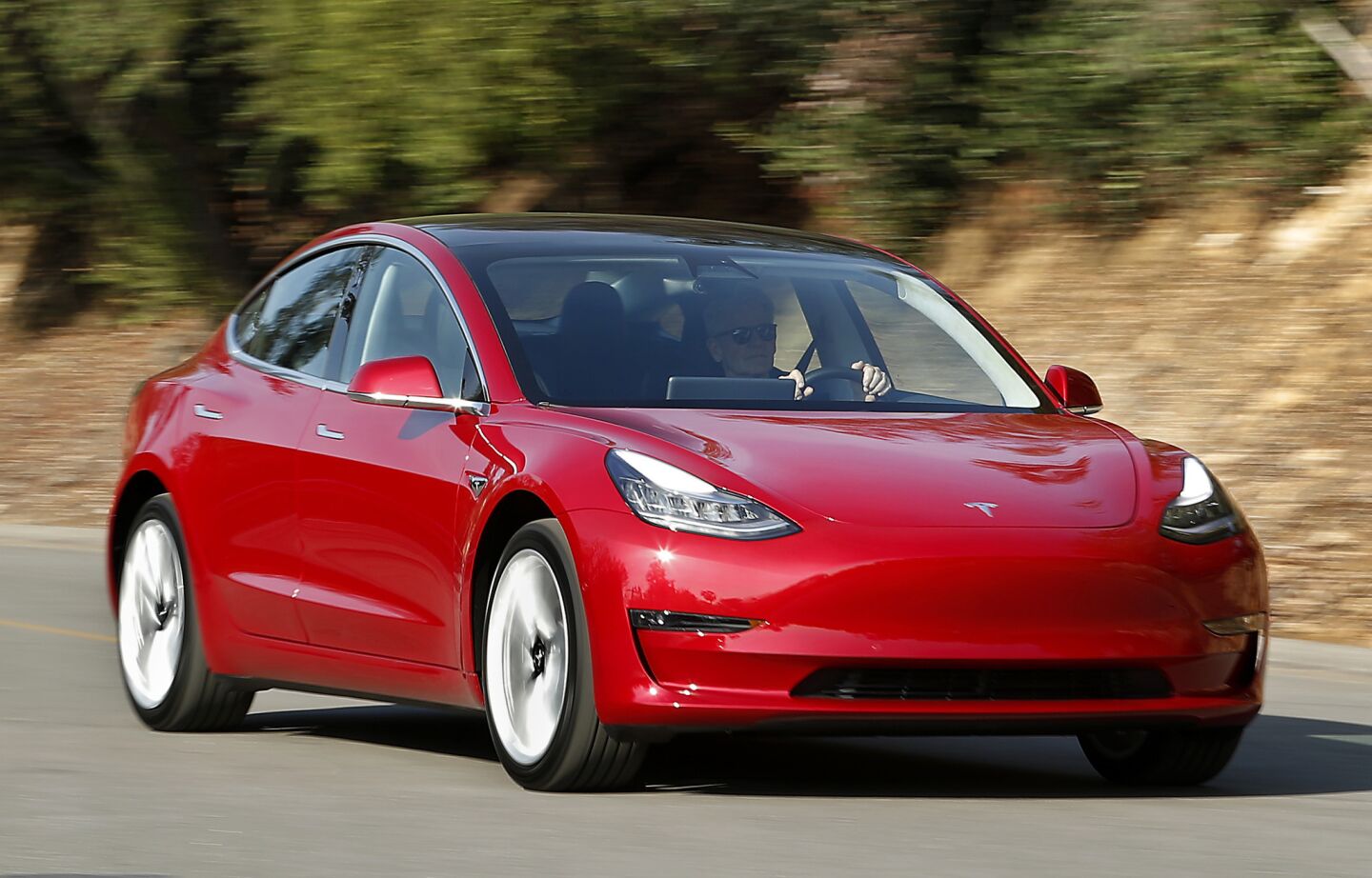 The Model 3, weighing in at a reported 3,549 pounds (3,814 with the long-range battery), jets from corner to corner like a much lighter vehicle.
(Mel Melcon / Los Angeles Times)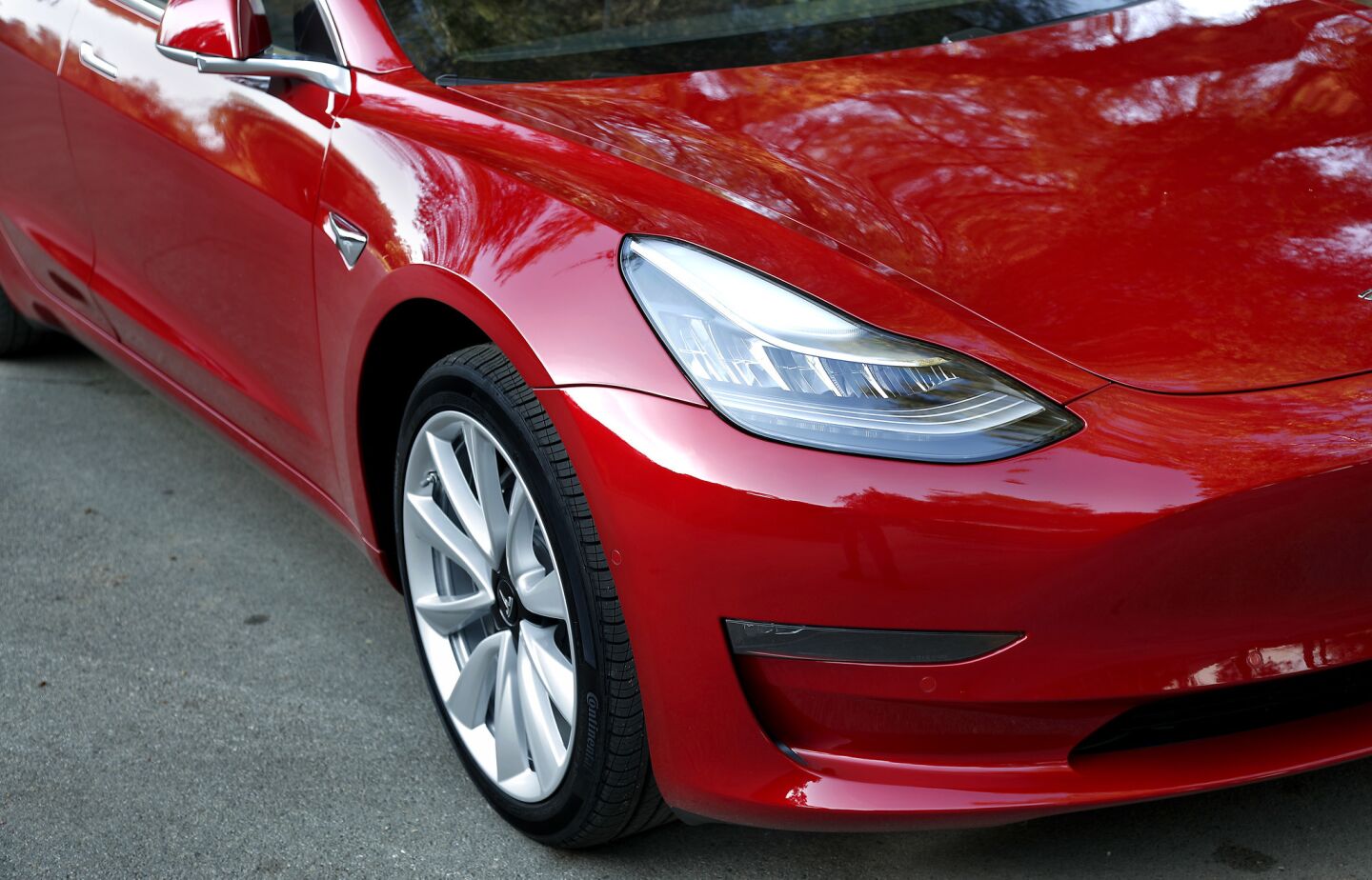 The face of the Model 3 has no grille to suck in air needed to cool an internal combustion engine.
(Mel Melcon / Los Angeles Times)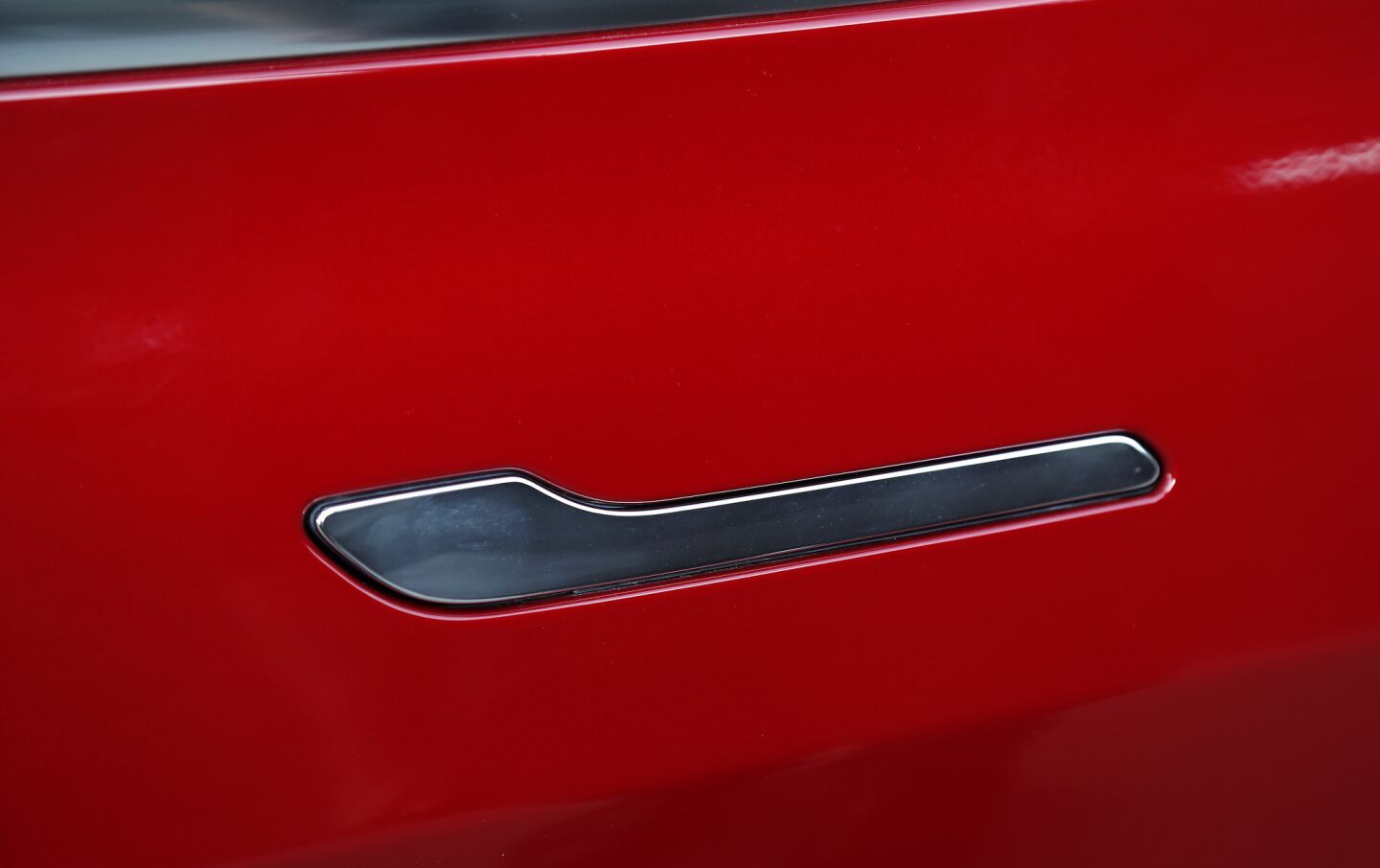 Door handles on the Model 3, as on Tesla's S and X versions, are sunk flush into the body.
(Mel Melcon / Los Angeles Times)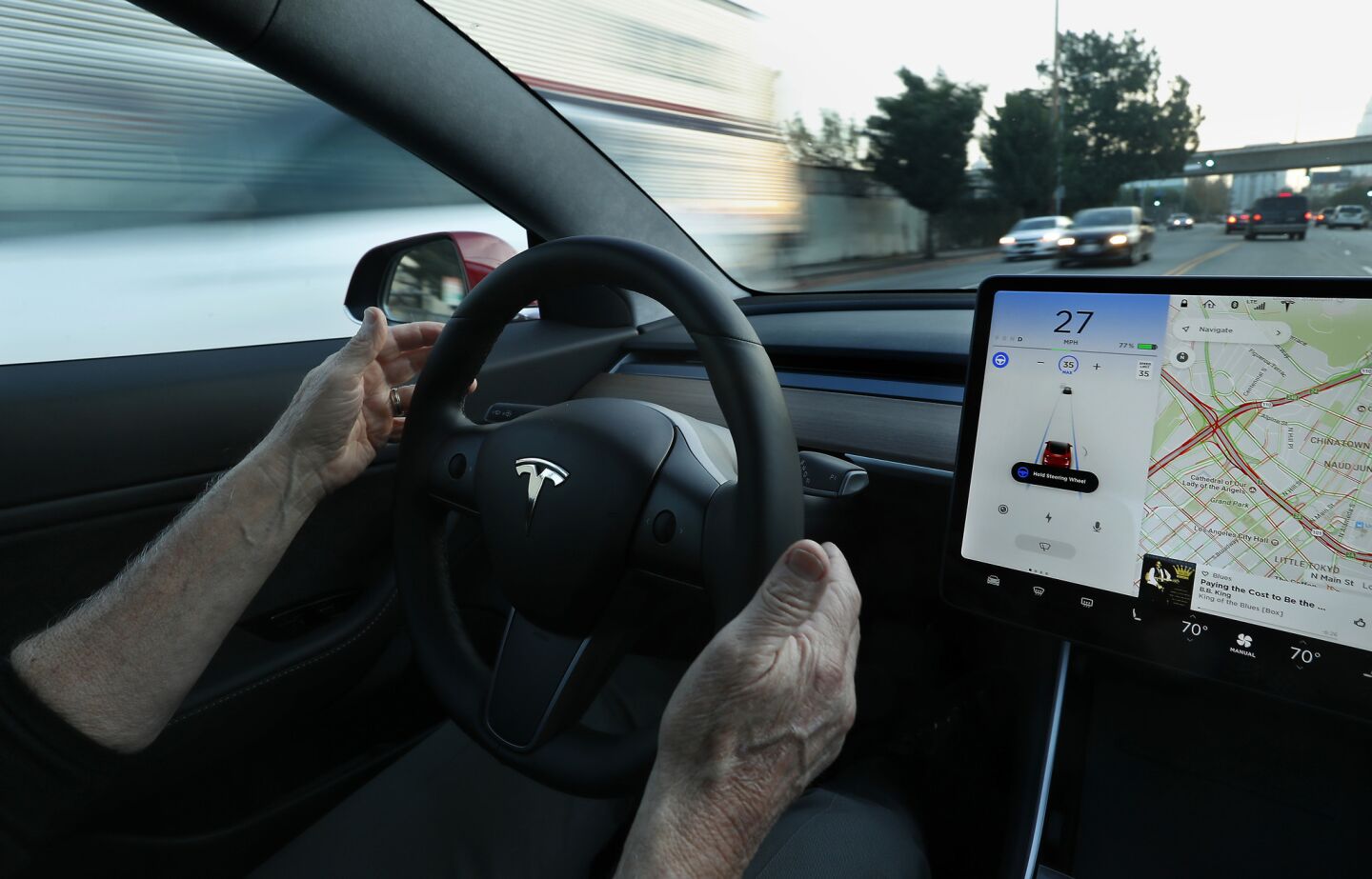 The dashboard attracts considerable attention — because there isn't one. Instead, there is a single, centrally mounted, 15-inch touchscreen display.
(Mel Melcon / Los Angeles Times)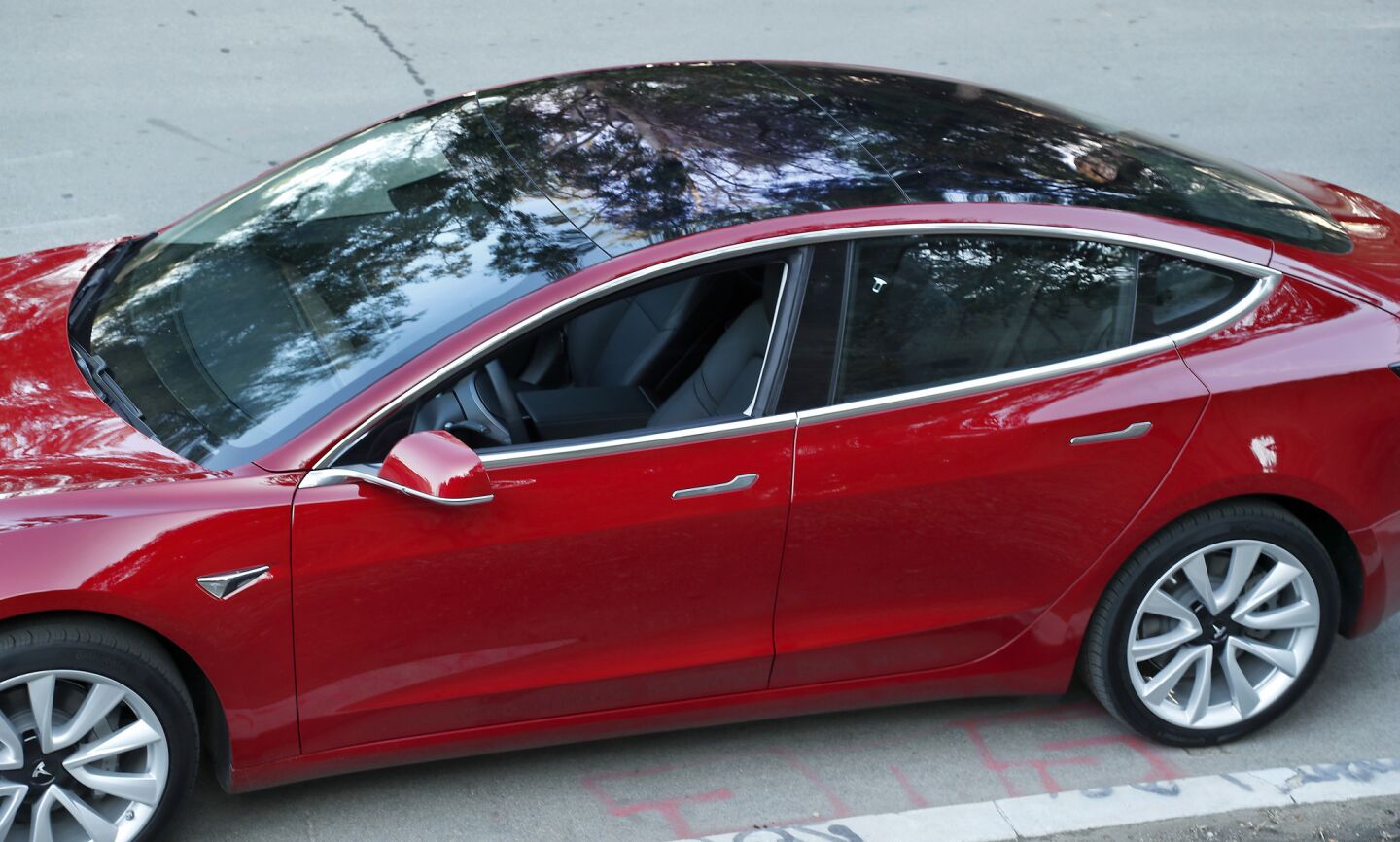 Tesla's new Model 3 is a four-door sedan that sits five comfortably.
(Mel Melcon / Los Angeles Times)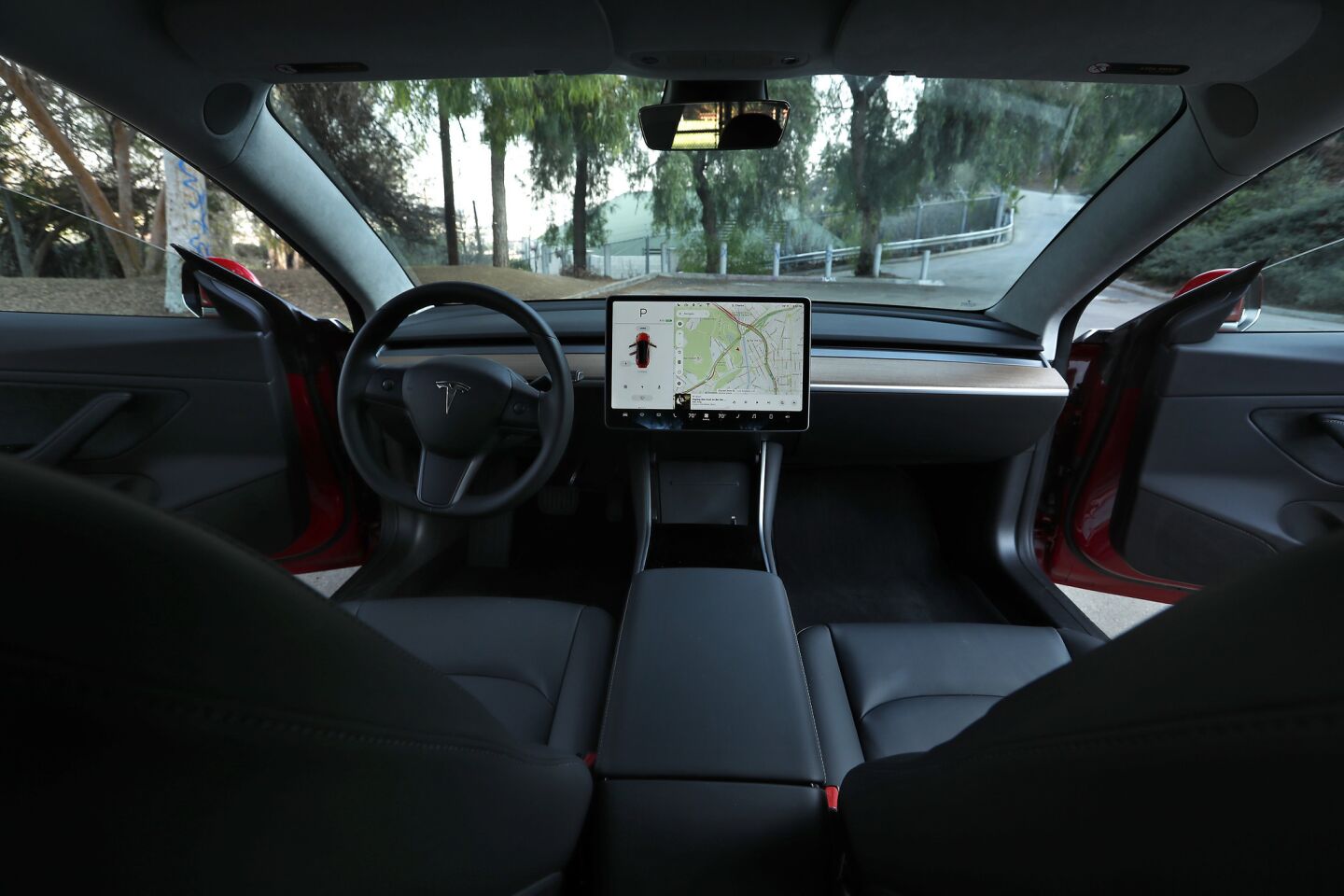 Textile seat covers wrap extremely comfortable driver and passenger seats. Leather is offered on the premium package.
(Mel Melcon / Los Angeles Times)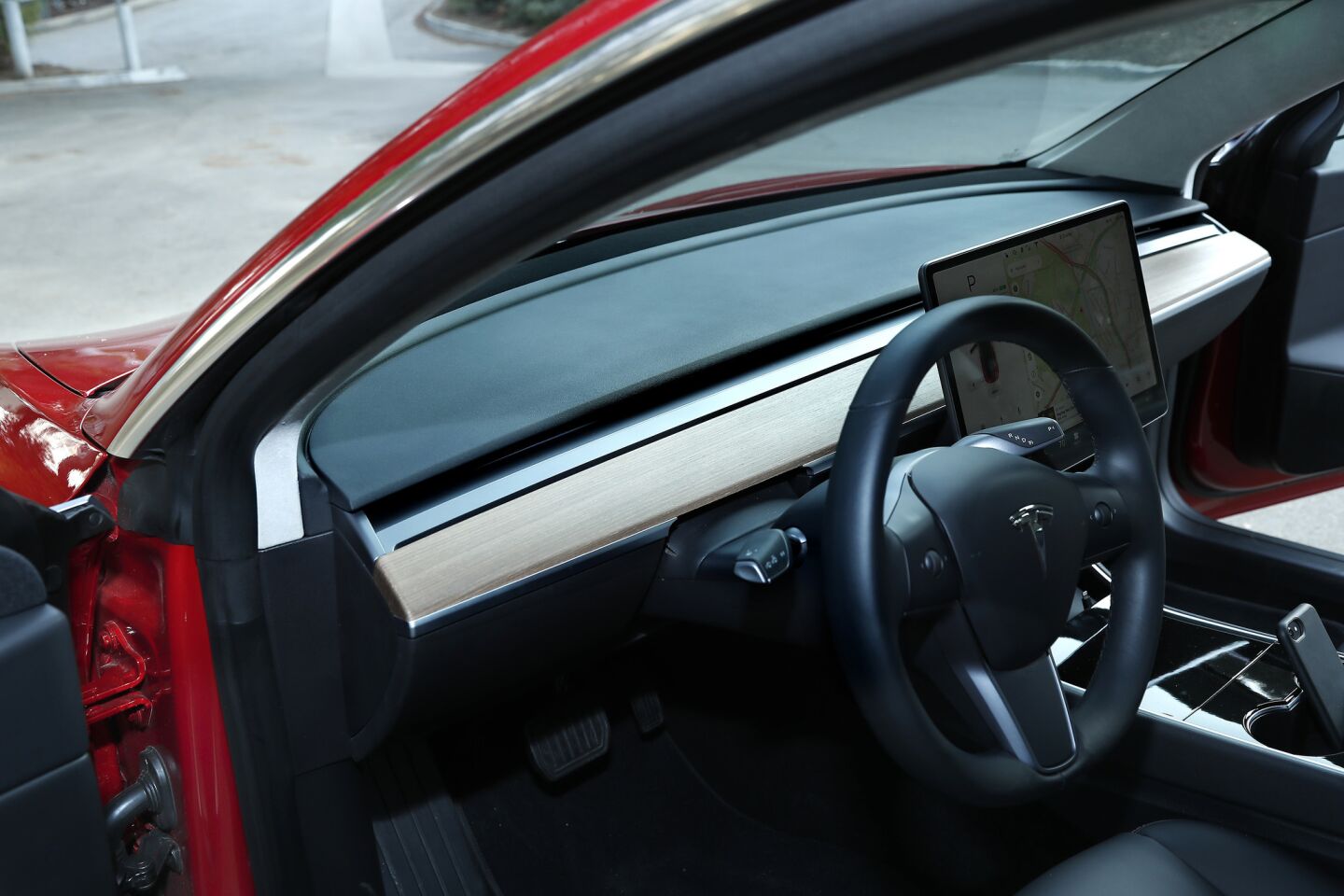 Tesla's new Model 3 features one long "air blade" where a traditional dashboard used to be.
(Mel Melcon / Los Angeles Times)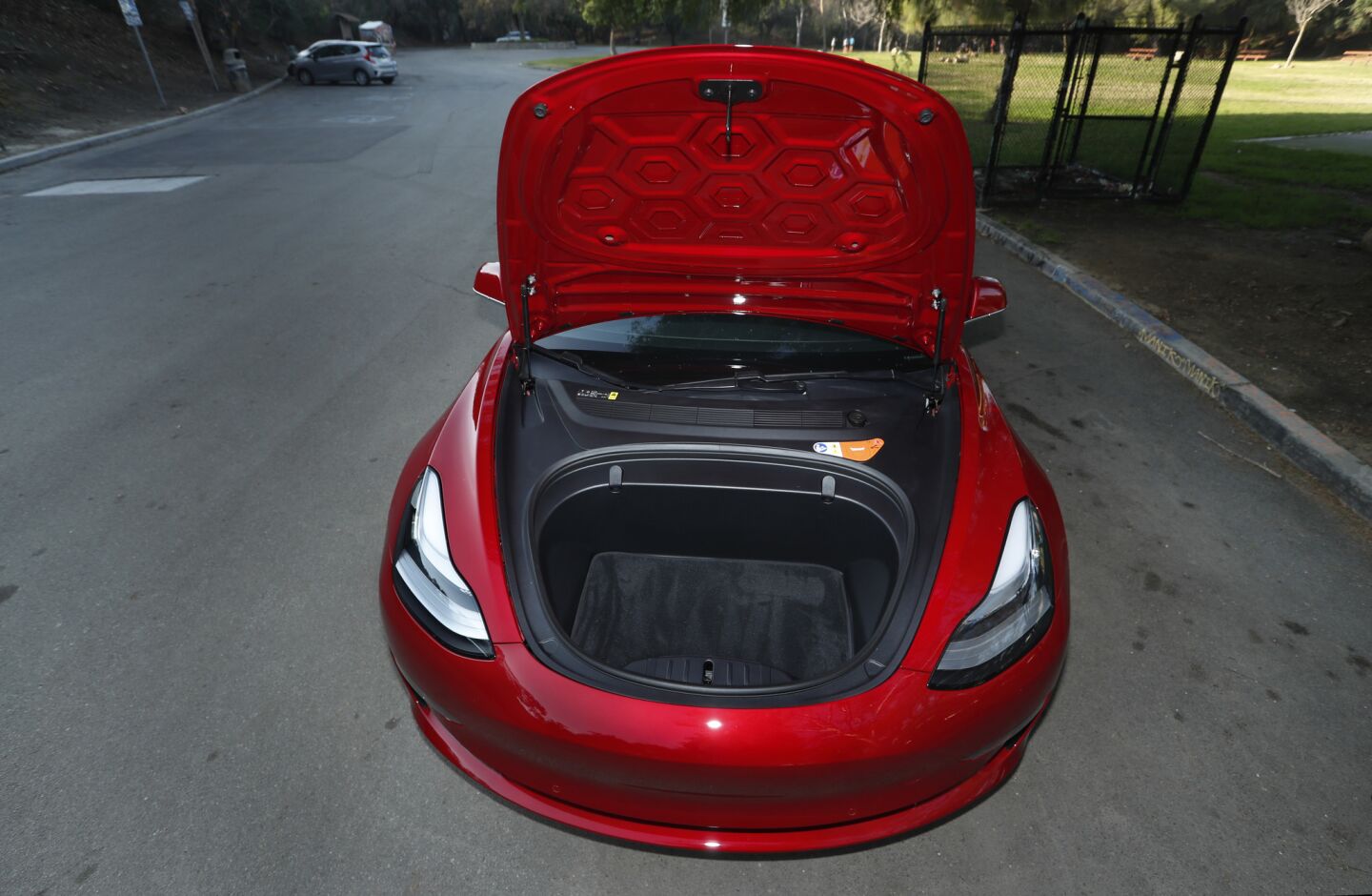 The front trunk — or "frunk" — offers space under the hood of Tesla's new Model 3.
(Mel Melcon / Los Angeles Times)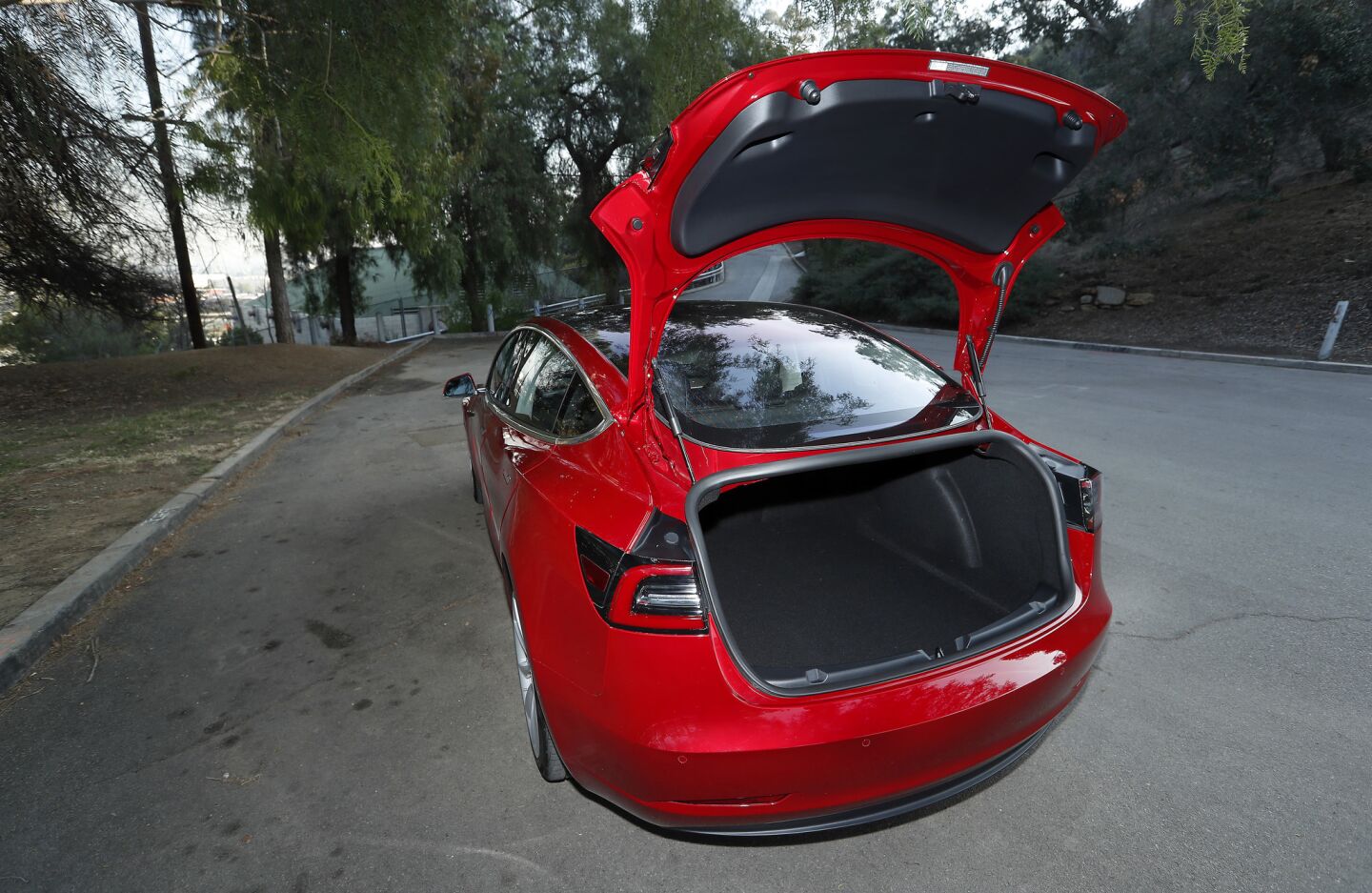 The rear seats of the Model 3 fold flat too, which creates a really roomy trunk.
(Mel Melcon / Los Angeles Times)
Reporting from San Francisco —
Electrek, the fanboy-flavored Tesla news site, reported Monday that Tesla is abandoning its Model 3 order reservation system.
Now, anyone can access the Tesla Model 3 "online configurator" and lay down a $2,500 cash payment that becomes nonrefundable as soon as Tesla assigns the buyer a car. The delivery date is determined after the money's been transferred to Tesla.
Customers who already have paid $1,000 and ordered a car will have that amount folded into the purchase price, along with the $2,500 deposit.
Tesla verified Electrek's report. The move will attract much-needed cash to the company. Tesla currently lacks the financing required to fund ambitious product plans that include a semi truck, a pickup truck and a crossover SUV.
New rounds of debt or equity investment will be needed for that, analysts agree. Meanwhile, Tesla Chief Executive Elon Musk has publicly trumpeted his intention for the money-burning company to report positive profits and cash flows in the third and fourth quarters this year. The order deposits will help him get there.
But he faces production problems that limit the output of the Model 3, no matter where the demand numbers stand.
The stated wait time for a Model 3 runs from immediate delivery to as many as nine months for the company's long-promised $35,000 base price version. But each customer is informed individually about his or her specific delivery date.
Industry analysts never expected the $35,000 version to make much profit, if any. Musk recently explained to his Twitter base that profits from more expensive Model 3s (up to $70,000 or more) are what's needed at this point in the automaker's history. Musk tweeted in May that building the base price Model 3 now would "cause Tesla to lose money & die."
Asked about the big change to the Model 3 reservation program, a Tesla spokeswoman explained by email that "Tesla has always required this deposit for all of its vehicle orders, including Model S and Model X, given that we build cars to our customers' specifications. That deposit goes toward the purchase price of the vehicle."
The reservation program was launched on March 31, 2016. Potential customers paid a refundable $1,000 deposit for a place in line.
Officially, 420,000 people count as Model 3 depositors, indicating a healthy order backlog.
Released weeks ago, that number has not been updated. The company doesn't say how long it waits before it takes depositors who want a refund off the list. So the current size of the backlog is unclear.
With the Model 3 far behind schedule, Tesla employees are working hard to completely rebuild a section on the electric sedan's main assembly line. Musk had pushed executives to design part of the assembly line with robotic systems so advanced that the factory would look like what Musk called an Alien Dreadnaught.
The approach failed on the general assembly line, to Musk's own admission.
Robots and their Tesla-authored software code proved unable to match certain human skills. In Tesla's case, the human body and brain proved, for the time being, more dexterous at running wires and hoses through a car's machined parts and knitting them all together.
As a new general assembly system is being installed, work has been exported outside to a giant tent. Partly built cars are forklifted into a temporary line and human workers install parts under the roof.
Twitter: @russ1mitchell
---
UPDATES:
July 10, 10:20 a.m.: This story was updated for clarity after Tesla offered The Times more detail on the new ordering process.
---