Volkswagen to take $18.2-billion hit on emissions scandal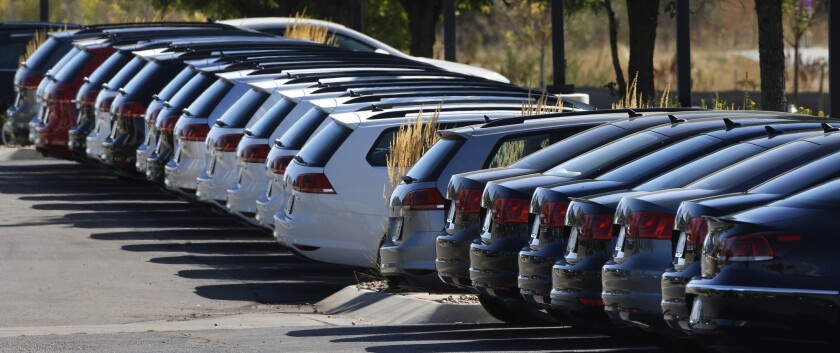 Carmaker Volkswagen on Friday capped two grim days for the German auto industry by revealing that its diesel emissions cheating cost it a chunky $18.2 billion for 2015 alone — and that's likely only a part of the total bill.
The revelation last September from U.S. environmental authorities that the company had been cheating on emissions tests rocked one of the most venerable brand names in the global auto industry and cost it its chief executive as well as generations of goodwill.
It's also raised questions over the practices of other carmakers. On Friday, German government officials said five German brands, including Volkswagen, would conduct a voluntary recall over emissions issues, a day after Mercedes-Benz owner Daimler said it was conducting an internal investigation into its emissions certifications at the request of U.S. authorities.
The Volkswagen announcement follows agreement in a U.S. federal court in San Francisco on the outlines of a deal with U.S. environmental authorities.
Under the terms of the proposed deal, Volkswagen would offer to buy back almost 500,000 cars sold in the U.S. equipped with software that disabled emissions controls when the car was not being tested. Some 11 million cars worldwide are affected.
The company had delayed its quarterly earnings announcement until it could get a better estimate of the costs involved. Now that it has revealed the cost of the scandal, Volkswagen said Friday that it would post a massive net loss of 5.5 billion euros for last year.
However, analysts say Volkswagen's financial problems don't end there and that the total costs in fines, legal judgments and lost sales will be significantly higher.
See more of our top stories on Facebook >>
Volkswagen also said it will not be able to release results of an internal probe of its emissions scandal this month as expected. The company now says the probe, conducted by U.S. law firm Jones Day, could be completed by year-end.
The company said early release of partial results would interfere with settlement negotiations in the U.S. and could interfere with cooperation with U.S. law enforcement. Some 450 interviews have been conducted and 65 million documents submitted for electronic review.
On advice of the company's attorneys, management and directors "have nevertheless had to recognize that a disclosure of interim results of the investigation at this point in time would present unacceptable risks for Volkswagen and, therefore, cannot take place now."
Volkswagen Chief Executive Matthias Mueller said as he released the headline earnings numbers that the company remains "fundamentally healthy" and that he is "convinced that Volkswagen has what it takes to overcome its challenges."
SIGN UP for the free California Inc. business newsletter >>
Volkswagen's announcement and other negative news about German companies and auto emissions have weighed heavily on their share prices. Volkswagen's stock was down 1% in late Frankfurt trading while Daimler's fell 6%.
ALSO
Why finding a fix for VW's cheating diesels is taking so long
Owners of emissions-cheating Volkswagens can choose buybacks or repairs, judge says
German automakers who once laughed off Elon Musk are now starting to worry
---