10 Images
Lowriders at the Petersen
1939 CHEVROLET
This carefully detailed sedan was built by Al Perez, a member of the car club responsible for many early lowriding innovations. A lowriding aficionado since the 1970s, Perez describes his car as a preservation vehicle because it so closely resembles an unmodified version of the same make and model, complete with six-volt wiring, a 216-cubic inch engine, and factory-appearing paint and upholstery. To retain its authentic look, he added period-correct accessories such as fender skirts, a picket sun visor, full disc hub caps, fog lights, a cigarette holder, and parking lights.
Owned by Perez
Club: Dukes Car
(Petersen Automotive Museum)
1958 CHEVROLET IMPALA CONVERTIBLE El Colorado
Considered by Tomas Vasquez to be the "big daddy" of lowriders, a 1958 Chevrolet was his car of choice because it was the first Impala and because most of the car's parts are not interchangeable with other Chevrolets, making restoring such a vehicle a much more impressive accomplishment. Period accessories include fender skirts, Trailmaster spotlights, a Wonderbar radio and a compass. Vasquez and Junior Garcia's attention to detail extends even to the underside of the car, which is painted red and black.
Owned by Vasquez and Junior Garcia
Club: Imperials
(Petersen Automotive Museum)
1963 CHEVROLET IMPALA CONVERTIBLE Sundance
This car celebrates the indigenous heritage of Chicanos. Its brilliant yellow color was chosen because the sun was so central to the lives of the Aztecs, who believed it to be the god of war and life. Among the features are a completely chromed undercarriage and chrome-plated components under the hood and on various accessories. Artist Fonzy created the Aztec princess murals for the trunk, wheel wells and fender skirts. Other artistic features include original engravings, distinctive steel patterns on the frame, laser-engraved bolts, and an Aztec calendar. The interior has special seat frames powder-coated in beige and is accessorized with chrome hardware.
Owned by Anthony Fuentes
Club: Southside
(Petersen Automotive Museum)
1963 INTERNATIONAL ICE CREAM TRUCK
This ice cream truck was discovered in a South Central backyard by a paint shop owner in 1995. Abandoned and in need of restoration, the owner entrusted his dream of a functioning ice cream truck with hydraulics and murals to internationally-known tattoo artist Mister Cartoon. Stripping the truck down to the metal to give it a fresh start, Mister Cartoon went to work applying a bright candy tangerine paint and then patiently free-handing the detailed murals that wrap around the truck. The truck has been featured at various family and community events as well as utilized by Mister Cartoon when speaking to schools and organizations that serve children and young adults at risk.
(Petersen Automotive Museum)
1964 CHEVROLET IMPALA Gypsy Rose
Gypsy Rose first received national attention in 1974 when it was shown cruising down Whittier Boulevard during the opening credits of "Chico and the Man." Although the original Gypsy Rose, a 1963 Impala, was severely damaged in an accident, it was so highly regarded among enthusiasts that it was re-created using a 1964 Impala. Adorned with about 150 roses, the interior features crushed pink velvet upholstery, chandeliers, a cocktail bar and space for wine bottles and a tape player. Gypsy Rose successfully competed in the show circuit for 12 years, was placed into storage, and re-emerged in 1996 to be a part of the "History Lane" display at the 20th anniversary Los Angeles Super Show.
Owned by Jesse Valadez
Club: Imperials
(Petersen Automotive Museum)
1966 PONTIAC TEMPEST
Acquired by Steve Alvarez Mott in 1971, this car is a family heirloom that was originally purchased by his aunt in Ohio and driven to California by his mother when the family relocated. It was fitted with a hydraulic system in 1974, and in 1976 legendary artisan Buggs Ochoa painted the car, a process that required 17 coats of paint: three gallons of black base, five gallons of pearl red and blue, six gallons of candy toner, and three gallons of clear coat. Other unique features include a custom grille that was fabricated from angle iron then chromed, tail lights from a 1966 Dodge Charger, and a custom interior of black, square-tuck cloth.
Owned by Mott
Club: Groupe
(Petersen Automotive Museum)
1971 BUICK RIVIERA Dressed to Kill
This radically customized coupe is the embodiment of builder Joe Ray¹s philosophy that "chrome never goes out of style," and bears the paint and mural work of Ben and Gary Baca. The exterior was painted in a white pearl base with a candy tangerine dye mixed with Inca gold and red. The lavish paint is set off by custom pinstriping and murals that include a fiddle-playing skeleton and a graveyard scene that encircles the entire car. Ray cut and molded the back bumper to accept custom taillights and the front bumper to accept square headlights covered with smoked Plexiglas. The plush velvet interior by Bob and Sons features coffin-shaped front seats and a specially fitted coffin for the back seat.
Owned by Joe Ray
Club: Lifestyle
(Petersen Automotive Museum)
1977 MERCURY COUGAR El Gato Loco
Jose Martinez is the original owner of this award-winning car, which captures the classic 1970s lowrider style. Its special paint and graphics were applied by Javier Murrieta and the artist Tramp painted the hood mural. Having installed a hydraulic system when the car was new, Martinez later set about to chrome the engine and undercarriage, and marbleize the door jambs in black and burgundy to match the interior.
Owned by Martinez
Club: Klique
(Petersen Automotive Museum)
1979 CHEVROLET MONTE CARLO Orgullo Mexicano (Mexican Pride)
More art than transportation, Orgullo Mexicano is the Vega brothers' ultimate creation. In building the car, they first had to remove the top and prepare the body for the decorations, which include an Aztec goddess painted on the hood, an Aztec calendar engraved on the chrome and gold plating throughout. The seats rotate and are upholstered in soft velour. They then fitted fuel injection to the engine to enhance power and reliability and installed six hydraulic pumps that raise or lower the car on demand. The car, which cost $70,000 to complete, is equipped with electronic controls that enable it to be driven with no steering wheel or gas pedal.
Owned by Chino and Lolo Vega
Club: UCE
(Petersen Automotive Museum)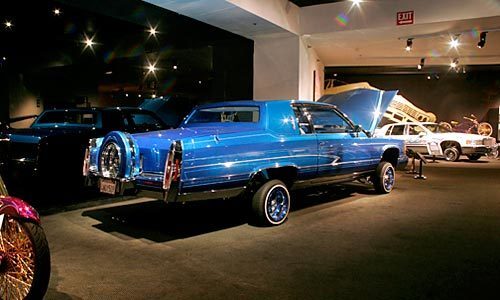 1980 CADILLAC Deep Sea Dippin'
Purchased for $600, Chris Simmons immediately hired Albert DeAlba to paint the Cadillac a specially mixed aquamarine blue flake. The majority of the work was done by other members of the DeAlba family. The car has a 5.7-liter Chevrolet engine, chromed undercarriage, customized front grille and a hydraulic setup consisting of four pumps with visible gears. The interior is light blue leather, with a molded dashboard, Nissan 300-Z seats in the front and no rear seats. Although the car is already carefully finished and show-ready, Simmons considers it a work in progress and plans to add murals depicting undersea motifs such as mermaids.
Owned by Chris Simmons
Club: Elite Car Club
(Petersen Automotive Museum)