2015 L.A. Auto Show: Mazda CEO talks rotary engines, hydrogen fuel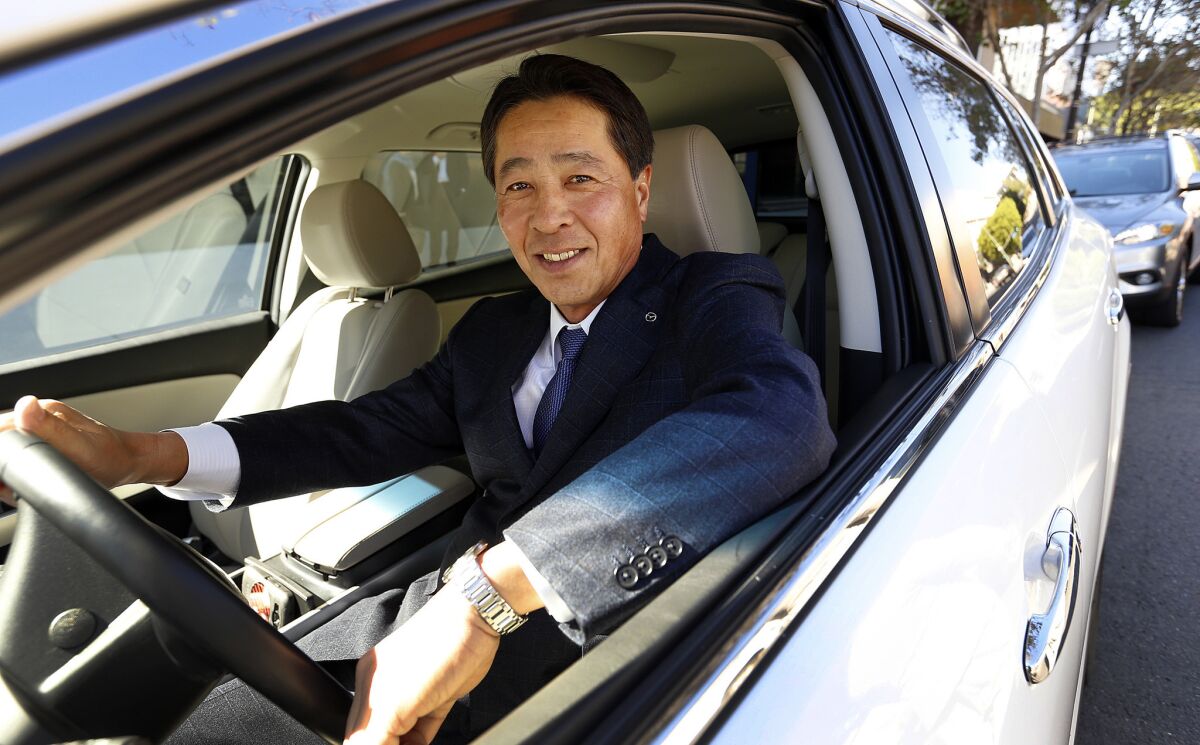 Mazda is a quirky brand. It's the only automaker to have mass-produced vehicles equipped with rotary engines, and it is content to remain one of the smallest companies in the business.
The Japanese car company makes only about 1.5 million cars annually and controls about 2% of U.S. auto sales.
And that's all right with Masamichi Kogai, Mazda's chief executive, who was at the Los Angeles Auto Show this week to introduce a redesigned CX-9, a seven-seat mid-sized crossover that replaces an aging model.
Kogai, through an interpreter, talked with The Times about Mazda's survival strategy, its plans for a new generation of rotary-engine vehicles and increasingly stringent environmental regulations.
Mazda U.S. sales are up just 2.9% through the first two months of this year, lagging the industry's 5.8% gain. Would you like to see greater sales in the U.S.?
Sales volume is not the only indicator. We need the right sales. If we put market share as a target, we might fall into the trap of discounting the product. That is a short-term strategy and a myopic view.
What we need to make sure we don't have too much aging of the existing products in the marketplace. We need a fresh lineup so that when our customers are ready to purchase another vehicle we have the product to sell them and they come back to us.
Where do you sell best?
Looking at market share by region, we have about 10% in Australia, about 8% in Canada and that's all followed by Japan, Thailand and Mexico — each at about 5%. The top market by volume is the U.S.
We are allocating production to various regions based on the profit in that country and the number of customers who see value in Mazda's vehicles and the way they drive.
PHOTOS: See the best of the L.A. Auto Show
One reason why Mazda isn't as focused on growth as other automakers is that it has fewer factories and they are running near full production. Have you considered building a new factory?
Before constructing a new plant, we will improve the output of each factory we already have. For example, the CX-5 crossover is a big hit product for us. It is built at our Hiroshima plant with a production capacity of about 240,000 units. We can increase that to 300,000 units without bringing on another factory.
If each worker at the plant improves the cycle time by just 0.1 second, we can get more production. We need small but steady increases like that. While our current production capacity is 1.5 million vehicles, I think that in three years time, we can increase to 1.65 million units.
If our sales capacity exceeds volume three years after that, we will study construction of new plant.
Other automakers are talking about mergers and how to gain scale in what is now a global industry. How does tiny Mazda survive?
Because we are a small-scale company we are able to focus on clearly identifying our brand. We have launched each new generation of vehicles with the defined Mazda design applied across the car line. We have demonstrated what our brand is about. That has established a solid base for our survival.
There is a saying in Japan that if you are just a small frog in a small pond, there will be bigger ponds, or worlds, that you have not seen. But somebody told me once that doesn't have to be true. Even if you are frog living in small pond, you can still look up into the sky. You can still look toward the long future and have a long-term vision, and that is what we do.
We also have entered into a comprehensive business cooperation agreement with Toyota. By working together on each element of technology, we have a critical mass and can reduce cost and improve efficiencies.
California plans to ramp up its requirement for zero-emission and low-polluting vehicles. Mazda doesn't even have a hybrid in the marketplace. What are your plans?
We understand that we need to meet that regulation, and we are doing some research and working on the electrification of our vehicles. For the Japanese market, we have produced an electric vehicle. For hybrid systems, we have a license from Toyota and are continuing research in that area.
We also are looking at our rotary-engine technology. It can combust hydrogen and use it as a fuel. The engine can run as a dual fuel system, switching between hydrogen and gasoline. We can also use rotary engines to charge the battery as a range extender in an electric vehicle.
(Most vehicles use a piston engine where pistons travel up and down to transmit power to the drivetrain. In a rotary engine, the piston travels in a circular motion to transmit energy to the drivetrain. Generally these engines are smaller and lighter than piston engines. Because of their unique design, they can run on both gasoline and hydrogen fuel.)
Speaking of rotary engines, tell us about the RX Vision concept sports car introduced at the Tokyo Motor Show last month?
The RX Vision created so much buzz. Many customers who purchased our rotary-engine vehicles in the past keep asking us when the next rotary vehicle will be launched.
We have not been able to decide on when there will be sales of the RX Vision. But the RX Vision presents our dream vehicle that we would like to launch into the market.
For more automotive news, follow me on Twitter (@LATimesJerry) and Facebook.
---