Review: Nissan 370Z is a sports car anachronism — a fast one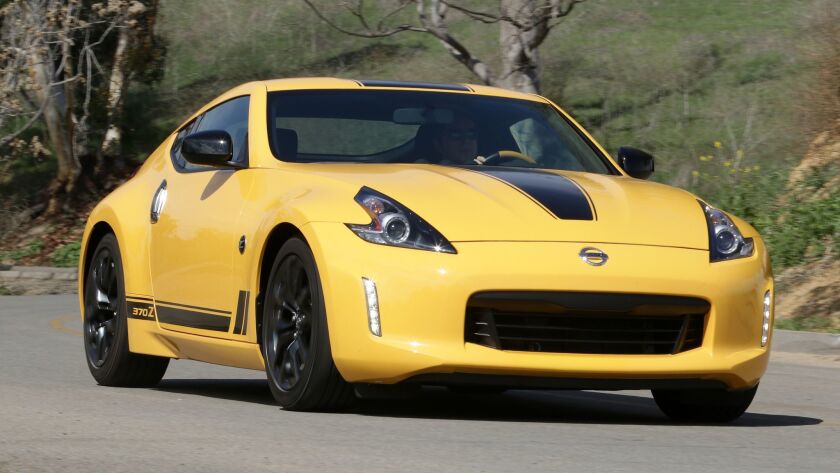 The Nissan 370Z is a 155-mile-per-hour anachronism — a sports car you'd be forgiven for forgetting the Japanese auto company even makes anymore.
Released in 2009 and lightly refreshed three years later, the mid-priced coupe has soldiered on largely unchanged, an interminable run in an era of nimble adaptation for mass-appeal sports cars, which have bowed to fuel economy concerns and other industry trends.
The Z's stubborn stasis has translated to lower sales: Nissan sold just 4,614 in the U.S. last year, down 65% from the first year of the model's release.
And yet here is the 2018 370Z, though, once again, little is new. The most notable update is a $790 cosmetic package that, ahead of the 50th anniversary of the ancestral Datsun 240Z's debut, pays homage to the original car.
Available in only black or yellow paintwork, the Heritage Edition is differentiated by unique interior accents and exterior decals that are reminiscent of those sometimes seen on Zs from the 1970s.
Otherwise, the 370Z clings to the original blueprint: two seats, rear-wheel drive and a naturally aspirated six-cylinder engine. It's a good formula, one that once made the 240Z a surprising challenger to the Porsche 911 and Jaguar E-Type at about half the cost.
I should know, I own one.
I've had a 1972 240Z for nearly two decades, driving it every day at first but now much less frequently — ordinary automotive ailments and flaky mechanics conspiring to limit my use.
Still, I've always loved the ancient and elemental car, which was once owned by my grandfather and then my dad, who passed it on to me. The 240Z is a no-frills sports car whose visceral nature (think: unassisted steering and crank windows) is so at odds with modern-day driving that piloting it is an alien experience for the uninitiated.
But Nissan continues to sell a Z that in its own way is as much a throwback as its forebear now seems — though I'm not sure that's what the company intended.
Sliding into the manually adjustable cloth seat of our review car, I immediately noticed elements that telegraphed the 370Z's age. Our Heritage Edition tester forwent many options, keeping the as-tested price just below $32,000, within range of a handful of other cars you might comparison-shop.
At that price, you're doing without items such as the navigation system found in sport and touring editions that cost at least $5,000 or so more. And in place of the nav display, there's a cubby.
We need to discuss the cubby.
The bin occupies prime real estate on the center console, and yet its lid opens to an awkward angle and doesn't retract into the dashboard, sadly hanging above the stereo and climate controls.
A similarly vexing compartment could be found on the 370Z's predecessor model, which launched in 2002, and drivers complained about it back then, too. There are entire threads on car enthusiast message boards devoted to figuring out what to put in the cubby. I left it empty. That Nissan has not redesigned the interior to eliminate or more artfully integrate the storage space seems telling.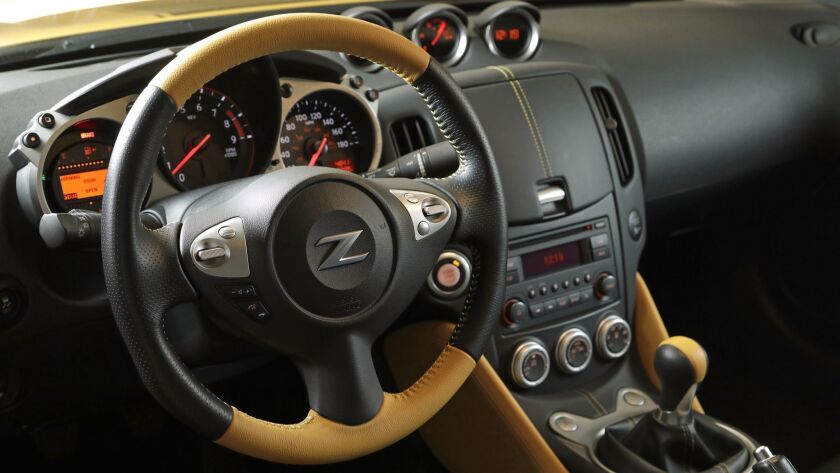 The cubby notwithstanding, our basic 370Z came with the same V-6 and the same 332 horsepower in pricier editions, and that's been a good thing for the last decade.
Ripping down the 4th Street Bridge, downtown L.A. unfurls in front of me as 60 mph comes quickly in third gear, the V-6's low-speed whine giving way to a feral bark above 5,000 rpm (the 370Z does 0 to 60 in an estimated 5.1 seconds).
Mashing the gas pedal, the engine note turns coarse, though I didn't mind it. Still, what I consider acceptably unrefined in this basic 370Z might feel too crude in the top-end convertible variant, whose base price hovers just below $50,000.
The Z feels planted at speed, though you feel every tar-smeared seam in the roadway, the thunk-thunks making their way up through the steering column, into the leather-wrapped steering wheel, and finally radiating into your hands.
Throws on the six-speed manual gearbox are pleasingly crisp and short, and the clutch engages smoothly and linearly — requiring just the right amount of effort. The steering is light — too light, for my taste — but the car is flingable, feeling less hefty than its roughly 3,300 pounds.
In the 1990s, the Z battled against other traditional Japanese sports cars including the Toyota Supra and the Mazda RX-7. Those challengers are gone now, leaving the 370Z with few direct competitors from Japan.
Among the potential adversaries is the Subaru WRX, which outsold the 370Z nearly 7 to 1 last year in the U.S., according to Kelley Blue Book data. The WRX approaches performance in a new-school way, powered by a turbocharged four-cylinder motor and piloted via all-wheel drive — a stellar combination that makes up for the boxy four-door's ungainly looks.
Practical sports sedans such as the WRX and Honda's similarly boosted (and even more homely) Civic Type R four-door hatchback are what's in vogue these days. Besides strong performance, both deliver better fuel economy in the city and on the highway than the Z.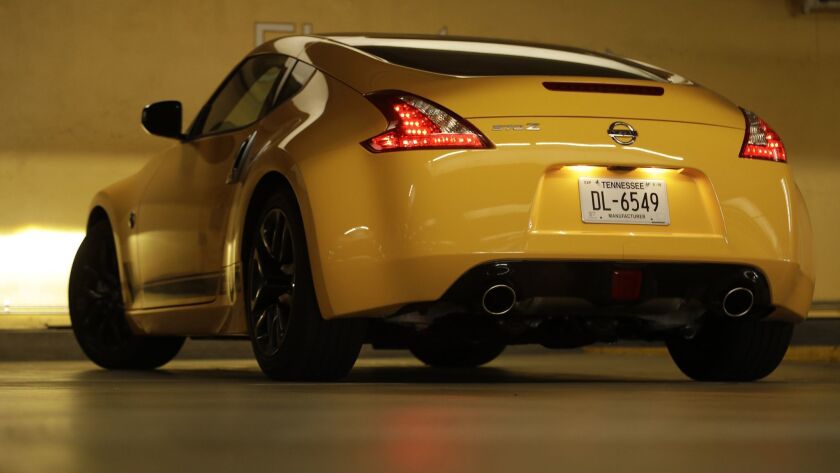 Outfitted like the basic version I drove, the 370Z could still be a compelling choice for some — though I'd strike the Heritage Edition package and its garish detailing, which barely registered with Angelenos. After traversing the 4th Street Bridge, I pulled over to scribble some notes in front of a social services center, where two do-gooders wearing neckties hovered near the entrance, the pamphlets in their hands undistributed. Neither of them paid any attention to the yellow-hornet-looking 370Z.
They may've not noticed it, but the coupe's lineage is evident to me. There is an obvious through-line to my 240Z, whose in-line six-cylinder motor brays pleasingly with every right-footed input. Driving the 46-year-old car around town is amusingly interactive: At stoplights, grinning (mostly gray-haired) pedestrians call out guesses for which year it was made, shouting about the one they drove back in college before making an offer to take it off my hands.
But the 240Z will torture you, too. There are sweltering August afternoons, when the fragile air conditioning unit barely musters a whisper of a breeze. There are chilly January mornings, when it seems like no amount of toying with the choke lever, which allows for manual manipulation of gas flow, will coax ignition from the cold, carbureted engine.
And there are cinematic breakdowns.
Years ago, my Z's engine gave out on the 405 while I was headed to the first day of an internship at the Daily Breeze newspaper. I coasted off the freeway and into a gas station — where I hitched a ride with a woman who told me that Jesus advised her to help strangers like me. But, she said, Jesus also told her she shouldn't be late to work, so I had to get out of her car a half-mile from the newspaper's office and run the rest of the way.
You shouldn't have any of these problems in the 370Z. But the continued existence of the Z in an era of electrification, automation and the ascent of turbocharged sports sedans — to say nothing of SUV mania — may not be assured. Responding to hand-wringing among enthusiasts about the car's future, Nissan executive Philippe Klein acknowledged in a January interview with Automotive News that the "Z is a difficult market."
"But we still believe there is a place for the Z and we want to keep it alive, and that's what we're working on," said Klein, Nissan's chief planning officer.
For now, the 370Z is what's on offer, and after so many years of turning out essentially the same product, it wouldn't be surprising if Nissan kept it around a few years longer.
Amid the changing marketplace dynamics, is Nissan's effort — or lack thereof — with the 370Z laudable or lazy? How you answer that question might depend on whether you have any reverence for what came before it.
Nissan 370Z Heritage Edition
Times' take: The iconic Japanese coupe soldiers on
Highs: In basic guise, plenty of speed for the money
Lows: Unrefined motor; garish exterior graphics
Vehicle type: Two-door, two-passenger sports car
Base price: $31,665
Price as tested: $31,795
Powertrain: 3.7-liter V-6 gasoline engine
Transmission: Six-speed manual
Horsepower: 332
Torque: 270 pound-feet
Estimated fuel economy rating: 18 miles per gallon city / 26 highway / 21 combined
---
Your guide to our new economic reality.
Get our free business newsletter for insights and tips for getting by.
You may occasionally receive promotional content from the Los Angeles Times.