Column: After questions raised about CalPERS CFO's background and experience, he's 'no longer with' the pension fund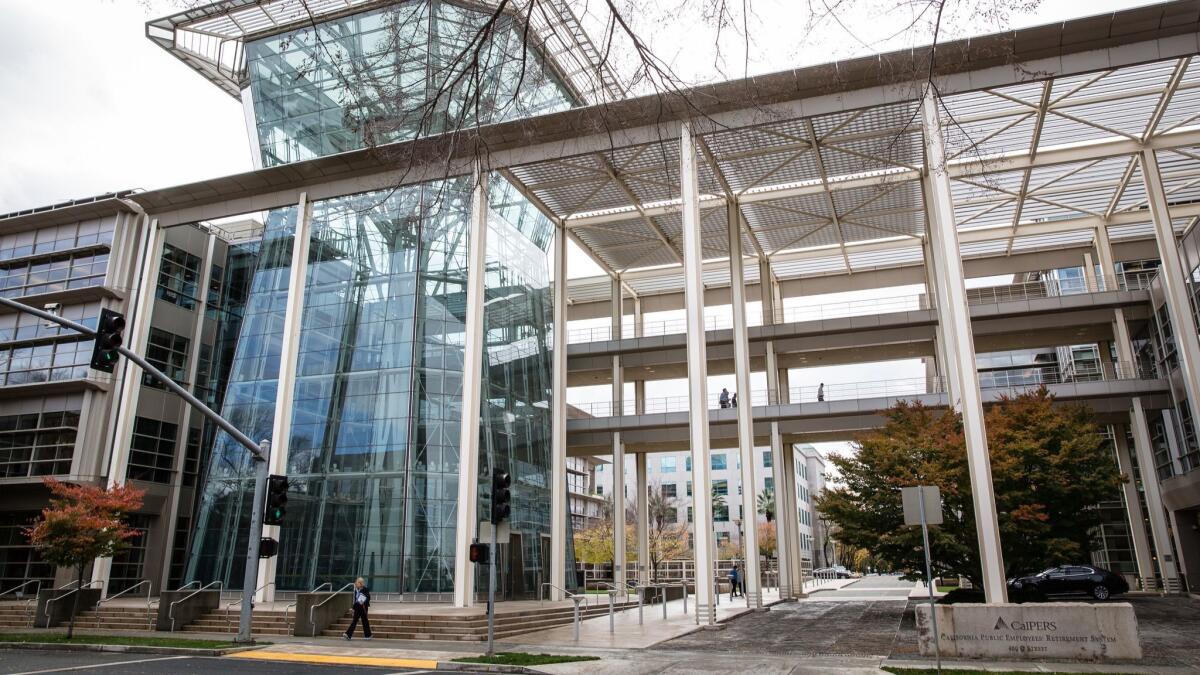 Charles Asubonten, whose background and experience came into question months after he was hired as the chief financial officer of CalPERS, is no longer with the giant pension fund, the organization acknowledged Monday.
The circumstances of Asubonten's departure from the CalPERS executive ranks are unclear. CalPERS made no announcement that he was leaving, but a spokesman acknowledged that he is "no longer with CalPERS." The spokesman said Asubonten's departure is being treated as a "personnel matter" and therefore no further information would be provided. His place will be taken on an interim basis by Marlene Timberlake D'Adamo, CalPERS' chief compliance officer. D'Adamo also served as interim CFO after the departure of Cheryl Eason in 2016.
CalPERS also declined to discuss the timing of Asubonten's departure. But at the May 15 meeting of the board's finance and administrative committee, at which he had been scheduled to give as many as six presentations, his place was taken by D'Adamo. Asubonten could not be reached Monday for comment.
Asubonten's departure should intensify questions about whether CalPERS management and its board members are up to the task of overseeing a $350-billion retirement and healthcare system serving more than 3 million present and past public employees and their families. The questions apply not only to Asubonten's qualifications, but the process that led to his appointment to a post with responsibilities requiring top-flight management skills and experience.
Treating his departure as a state secret won't quell these doubts. That's especially so given what appears to be CalPERS management's complicity in exaggerating Asubonten's work experience. CalPERS should come clean about the process.
Asubonten was named as CFO of the California Public Employees' Retirement System in September. As we reported last month, questions were raised by the financial blog nakedcapitalism.com about whether he had experience commensurate with the job, amid signs that his resume may have overstated his experience.
Among other issues, Asubonten claimed to have served as "managing director" of a private equity firm before joining CalPERS, an assertion CalPERS repeated in its press release announcing his appointment last year.
But that looked misleading: The "private equity firm" was a consulting firm Asubonten had founded that did no investing of its own. Rather, as Asubonten acknowledged in an interview with The Times, it consulted for investors overseas. Asubonten declined to discuss the scale of those investors. The managing director title appeared to be one he bestowed upon himself.
Prior to that, Asubonten served as CFO of a small South African copper-mining subsidiary of Rio Tinto, a London-based mining conglomerate.
During a telephone interview with The Times in mid-April, Asubonten declared, "Nothing on my resume is exaggerated; there is no discrepancy." In the same interview, CalPERS Chief Executive Marcie Frost delivered an unqualified vote of support for Asubonten. She cited his "ability to look at the finances of an organization and really embed financial thinking into every single decision. That was why we thought Charles would be an excellent candidate, and over the last five months that has proven to be exactly true."
Within days of our report, however, CalPERS said it was reviewing its decision to hire Asubonten.
Keep up to date with Michael Hiltzik. Follow @hiltzikm on Twitter, see his Facebook page, or email michael.hiltzik@latimes.com.