Column: Carlos Ghosn and Nissan: Another CEO with too much power is about to lose it all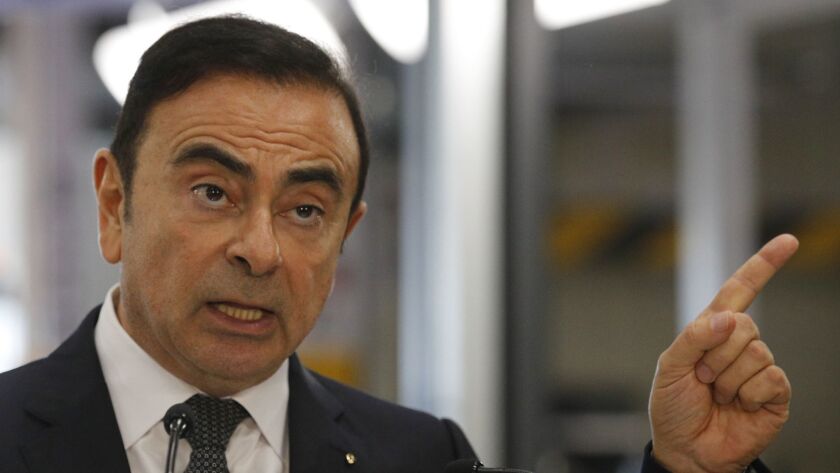 As of Sunday, Carlos Ghosn reigned as one of the most powerful executives in the global auto industry. As of Monday morning, his entire legacy was in doubt.
Ghosn is chairman and past CEO of Japan's Nissan Motor Co., chairman and chief executive of France's Renault, chairman of Mitsubishi Motors, and chairman of the alliance among the automakers that he cobbled together in a world-spanning rescue plan for all three.
Nissan announced Monday that Ghosn had been arrested in Tokyo, along with another board member, for alleged financial misconduct and "numerous other significant acts of misconduct" and would be promptly forced out as early as Thursday, when a special board meeting has been called. The misdeeds, the company said, were uncovered by an investigation based on a whistleblower's report. They included misstatements of his compensation at Nissan over several years, and "personal use of company assets," the company said.
You won't have any CEO say, 'I'm overly compensated.' It's not up to me, the board is sovereign on this.
Carlos Ghosn, to the Financial Times in June
Japanese media reports stated that Ghosn's reported compensation may have been as little as half what he actually received, a difference of about $44 million over five years.
The outlines of the charges raised immediate questions about how Ghosn managed to manipulate Nissan's financial disclosures on his own, even as chairman, without oversight. CEO Hiroto Saikawa offered one hint at a news conference in Yokohama, Japan, Nissan's headquarters, on Monday: "The concentration of power in one individual," he said, according to an account by the Washington Post. "People who reported to Mr. Ghosn became limited in number."
Ghosn's fall may be most deeply felt in Japan. There Ghosn had been something of a business demigod, with his beetle-browed visage even adorning a manga, or comic book even as criticism of his compensation rose. Saikawa announced the news with palpable anguish. "Beyond being sorry," he said, "I feel big disappointment and frustration and despair and indignation and resentment."
The case points to a burgeoning issue in corporate management: Executives with too much power and not enough oversight. Recent examples of the drawbacks of such arrangements abound. Some prominent executives can't be removed, even when their judgment is questionable, such as Mark Zuckerberg, founder, chairman and CEO of Facebook.
Zuckerberg holds an impregnable 59.9% of the total shareholder vote at Facebook, thanks to his ownership or control of nearly 89% of its Class B stock, which possesses 10 votes per share. Class A shares, which are in outsiders' hands, have only one vote.
Even though Facebook has come under withering criticism for its resistance to addressing concerns about privacy for users and its possible complicity in retailing fake news and false information online—Zuckerberg, the architect of the company's strategy and conduct, can't be forced out.
Even without a technically insurmountable majority of votes, some corporate leaders exercise an unhealthy influence over their boards. Exhibit A is Elon Musk, the CEO of electric car maker Tesla, whose personal behavior led to fraud charges by the Securities and Exchange Commission and $40 million in penalties for him and his company.
The SEC mandated that Musk step down from the chairmanship, but his replacement, Australian businesswoman Robyn Denholm, has been on the board since 2014. Whether she can muster the authority to rein in the willful Musk, whose role at Tesla is thought to be one factor in its market valuation, which outstrips those of larger, more conventional automakers, is an open question.
Executives who become personally identified with their companies' success — as Ghosn is — can be especially dangerous. Dennis Kozlowski, who expanded Tyco International into a global conglomerate, eventually was charged with using corporate resources as a personal piggy bank, draining as much as $600 million from Tyco for personal expenses. He was sentenced to prison in 2005 and, with a fellow executive, ordered to pay a total of $134 million in restitution. Kozlowski was fined $70 million. He was released from prison in 2014.
At Nissan and the Nissan-Renault-Mitsubishi alliance, Ghosn's power derived from his unquestioned success at reversing the companies' deteriorating business fortunes. The Brazilian-born French citizen joined Nissan in 1999 from Renault and presided over the company's recovery by cutting costs and eliminating jobs.
Nissan, Ghosn recounted for the Harvard Business Review in 2002, "had been struggling to turn a profit for eight years. Its margins were notoriously low; specialists estimated that Nissan gave away $1,000 for every car it sold in the United States due to the lack of brand power. Purchasing costs, I was soon to discover, were 15% to 25% higher at Nissan than at Renault. Further adding to the cost burden was a plant capacity far in excess of the company's needs: The Japanese factories alone could produce almost a million more cars a year than the company sold."
He wrote, "This was, quite literally, a do-or-die situation: Either we'd turn the business around or Nissan would cease to exist."
Ghosn turned the alliance into the world's largest carmaker through cross-ownership arrangements, though he stopped shy of a formal merger. Nissan owns 15% of Renault and vies with the French government for influence over the French automaker. Nissan took a controlling 34% stake in Mitsubishi in 2016.
One sign of the breadth of Ghosn's power is that his ouster leaves a vacuum at the head of the alliance, triggering questions about whether it can survive at all without him.
Ghosn's disclosed compensation has been drawing criticism in France, where the government owns 15% of Renault, and Japan, where he is one of the nation's best-paid executives. In fiscal 2017, he was paid about $6.5 million at Nissan, $8.5 million at Renault and about $2 million at Mitsubishi.
As is often the case, Ghosn's past statements can now be mined for irony. "Compensation is more scrutinized today than in the past," he told the Financial Times in June. "I have a lot of that."
He was asked whether it ever occurred to him that he was overpaid. "You won't have any CEO say, 'I'm overly compensated,'" he told the FT, laughing. "It's not up to me, the board is sovereign on this."
He was kidding, of course. At Nissan and its allied companies, the sovereign was Ghosn—until now.
Keep up to date with Michael Hiltzik. Follow @hiltzikm on Twitter, see his Facebook page, or email michael.hiltzik@latimes.com.
Return to Michael Hiltzik's blog.
---