Column: Musk apologizes for his bizarre investor call, but still gets things bizarrely wrong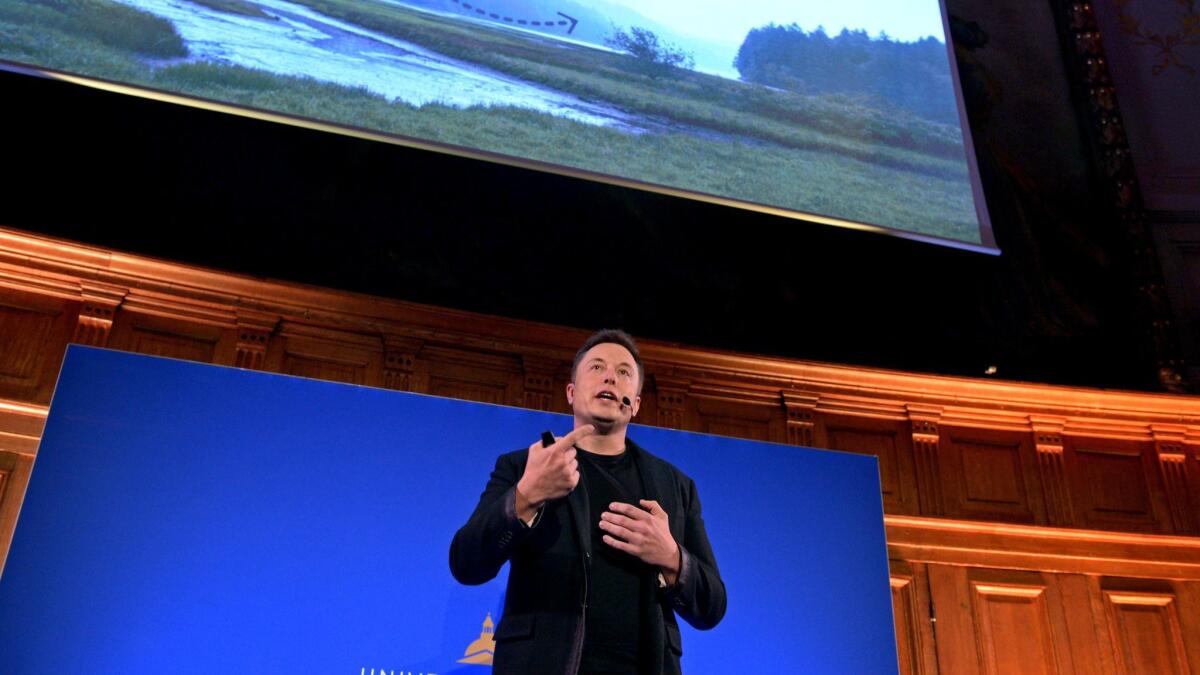 Tesla Chief Executive Elon Musk apologized Friday — sort of — for Thursday's bizarre conference call with investment analysts that shaved more than 5% off the company's stock price.
But Musk didn't show that he understood why his behavior on the call created a furor, and he may have ended up raising more questions about his grip on the serious questions investors have about the company.
The immediate issue was Musk's arrogant dismissal of queries from two analysts on Tesla's conference call to discuss its first-quarter results.
This is a financial analyst call. This is not a TED talk
— Financial analyst Toni Sacconaghi
"Once they were on the call, I should have answered their questions live," Musk said via Twitter. "It was foolish of me to ignore them." Musk's behavior let air out of Tesla stock even during the call, which occurred after the stock market closed but while aftermarket trades still were occurring. Tesla was recovering somewhat Friday, up more than 2.5% to more than $292 at midday. But at that price, it's still down for the year and off more than 24% from its high of $385, reached last September.
Those first-quarter results were deemed encouraging, but only relative to the even more dismal expectations investors had for the quarter. As we reported Thursday, Tesla disclosed a quarterly net loss of $784.6 million, up substantially from the $397 million it lost in the same period last year. Backtracking from its promise to burst-build 6,000 Model 3s a week by the end of June, the company said its production pace will reach about 5,000 cars a week in about two months.
During the call, Musk interrupted a question from Toni Sacconaghi of Sanford C. Bernstein & Co. about the company's capital requirements — not a trivial issue. "Boring bonehead questions are not cool," Musk said, cutting Sacconaghi off. Minutes later, he similarly waved off Joseph Spak of RBC Capital Markets, who asked about orders for Tesla's Model 3 sedan, a make-or-break mass-market model.
"The 2 questioners I ignored on the Q1 call are sell-side analysts who represent a short seller thesis, not investors," Musk tweeted Friday, referring to Sacconaghi and Spak.
He said Sacconaghi's question already had been answered in the company's published release about first-quarter results. He tweeted that Spak's question was "absurd" because "Tesla has roughly half a million reservations, despite no advertising & no cars in showrooms. Even after reaching 5k/week production, it would take 2 years just to satisfy existing demand even if new sales dropped to 0."
Of course, he could have made those points on the call. He didn't. Instead, he shut down the analysts and spent more than 20 minutes during the call conversing with an overenthusiastic Tesla fanboy who issues pronouncements on the company via YouTube.
Musk's tweets Friday indicate that he believes "sell-side" analysts are by definition short sellers. We hope that's not the case because a chief executive of a closely watched public company should know something about Wall Street.
He certainly should know that "sell-side" does not mean "short sellers." The sell side on Wall Street is the segment devoted to selling securities to investors, including retail investors. Most analysts employed by Wall Street brokerages — and most of those on conference calls like Tesla's — are on the sell side. It's the converse of the "buy side," which denotes institutional investors such as pension funds, some of which employ their own analysts.
Sacconaghi and Spak indeed are both sell-side analysts. But neither can be said to "represent a short seller thesis, not investors," as Musk wrote on Twitter. First of all, even though short sellers take the position that a stock is headed lower, by most definitions, they are "investors." In fact, the investment markets couldn't function adequately without them, as they provide an indispensable counterweight to the inclination of corporations and incumbent shareholders to bull stocks higher.
More to the point, however, neither Sacconaghi nor Spak currently has a "sell" recommendation on Tesla stock. Both have "hold" or "neutral" ratings on the shares. Sacconaghi has written critically about quality issues with the Model 3, but he also owns a top-of-the-line Model X and has praised the Model 3 generally. As recently as March, he called himself bullish on Tesla long-term.
It's true that Tesla is among the most-shorted stocks, with more than 30% of its available shares in short hands on Wall Street. (Musk tweeted that it's the most-shorted stock, but that may not still be the case.)
"Short burn of the century comin soon," Musk tweeted, implying that the stock would move higher. Musk may know that short interest often is a bullish indicator for a stock — not because it reflects positive sentiment, but because short sellers eventually will have to cover their positions by buying shares, driving the price higher.
The most important takeaway from Musk's conference call Thursday is what it says about his temperament: not good.
"I can somewhat understand that at times questions focused on financials or near-term financials can appear myopic," Sacconaghi said on CNBC after the call. "But this is a financial analyst call. This is not a TED talk, so when financial questions are asked, they should be addressed."
He's right. Nothing in the law mandates that Musk participate in a conference call about quarterly earnings; many CEOs don't. If he doesn't like the process, he can skip it. Few CEOs have as much access as he does to any venue he chooses to outline his vision for his company. He can take advantage of that to give his world view, but as for calls with financial analysts, maybe he should learn to put a sock in it.
Keep up to date with Michael Hiltzik. Follow @hiltzikm on Twitter, see his Facebook page, or email michael.hiltzik@latimes.com.