Column: "I-M-P-E-A-C-H": People quitting Trump are now doing so in code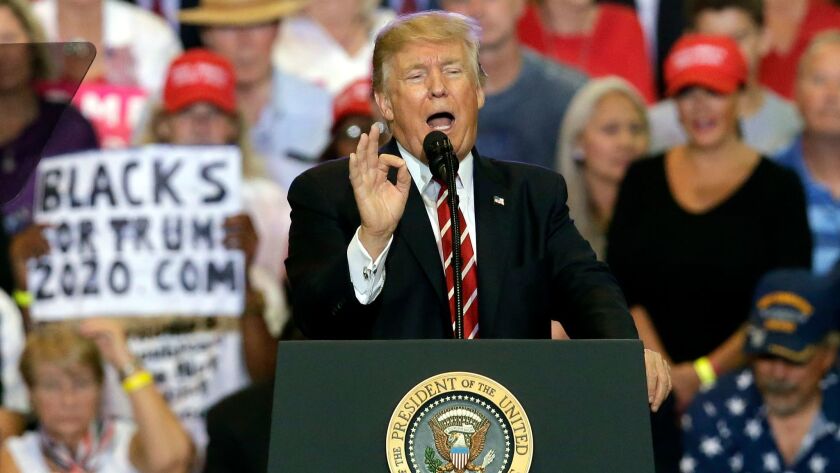 UC Berkeley scientist Daniel Kammen resigned Wednesday from his post as science envoy to the State Department. Among the reasons he cited in his resignation letter was Trump's "failure to condemn white supremacists and neo-Nazis" in the wake of deadly violence in Charlottesville, Va.
"My decision to resign is in response to your attacks on core values of the United States," Kammen wrote to Trump.
But those words aren't what garnered the most attention about the letter. What did was the word "impeach," which was formed from the first letters of each paragraph.
This isn't the first time a simple acrostic code was used to send a message to Trump. The first time was the Aug. 18 letter from the 17 members of the president's Committee on the Arts and the Humanities, who resigned en masse. The letter from the group, which included novelist Jhumpa Lahiri, artist Chuck Close and actor Kal Penn, spelled out "resist" in the first letters of each paragraph.
My decision to resign is in response to your attacks on core values of the United States.
— UC Berkeley professor Dan Kammen to President Trump
That raises the question: Is this about to become a thing?
One can imagine any number of brief messages that disaffected members of the Trump administration might consider suitable for embedding in resignation letters: "persist," "resign," "recall," "courage," "J'accuse," etc. The two letters may start a trend not merely in how resignation letters are written, but how they're read.
From now on, any such letters from Trump appointees — and there may be many more to come — will be painstakingly parsed for code, with points awarded for new variations. The simple acrostic employed by Kammen and the arts and humanities committee could quickly become old hat.
The technique may not have the impact of some celebrated valedictories of yore, such as Greg Smith's 2012 resignation from Goldman Sachs, which he published as a New York Times op-ed. He said the firm's culture of serving the client had deteriorated into an environment "as toxic and destructive as I have ever seen it."
By comparison, the embedded-acrostic method offers the virtue of terseness. Given that Trump is reported to prefer one-page briefing papers with a lot of pictures, this may be an advantage. On the other hand, we don't know whether President Trump is a particular fan of wordplay, or (if he isn't) whether his staff will have the spine to direct his attention to the hidden message. He's probably not the target audience for a message calling for his impeachment anyway.
Kammen holds appointments as professor of energy and professor of public policy at Berkeley and is director of its renewable and appropriate energy lab. Since 1996, he wrote in his letter, he has been an advisor to the Department of Energy and the Environmental Protection Agency as well as the State Department.
In his unpaid role as a science envoy to State, he told me, his mandate was to work with Middle Eastern and African countries on energy and climate change issues. The task included organizing summit meetings for government officials and establishing programs to promote STEM jobs for women in science, technology, engineering and math.
Daniel Kammen, a renewable energy expert appointed last year as a science envoy to the State Department, resigned Wednesday, citing President Donald Trump's response to the violence in Charlottesville, Virginia, as the final straw that led to his de
Kammen said his doubts about maintaining a role in the Trump administration intensified after Trump announced America's withdrawal from the Paris accord on climate change in June. "That was a step totally away from my mandate," he said.
But he stayed put in the hope that Trump's vague assurances that the U.S. would stay engaged in the process of addressing climate change would bear fruit. "I wanted to wait and see and give him the benefit of the doubt."
But "there's been no evidence of engagement," he said. At the State Department, "all the offices that traditionally deal with this subject are empty."
Then came Trump's response to Charlottesville, in his apparent support for white supremacists in comments the following week, and his defense of those remarks Tuesday in Phoenix. Those made clear that his task of "building inclusive arrangements and partnerships" on the international level was "at cross purposes" with the White House.
As for his encoded message, Kammen said he was inspired by the arts and humanities committee's resignation. "Their letter was brilliantly written," he said. "I really wanted to pay respect to what they did."
Keep up to date with Michael Hiltzik. Follow @hiltzikm on Twitter, see his Facebook page, or email michael.hiltzik@latimes.com.
Return to Michael Hiltzik's blog.
ALSO
I-M-P-E-A-C-H: UC Berkeley professor who broke from Trump administration over Charlottesville speaks out
No mercy in him: Reading Shakespeare's 'Coriolanus' in the age of Trump
Did Steve Mnuchin and Louise Linton really 'give more to the economy' than they took? The record says no
A new study shows how Exxon Mobil downplayed climate change when it knew the problem was real
---