Column: No surprise: Wells Fargo is leveraging its arbitration clause to win an advantageous scandal settlement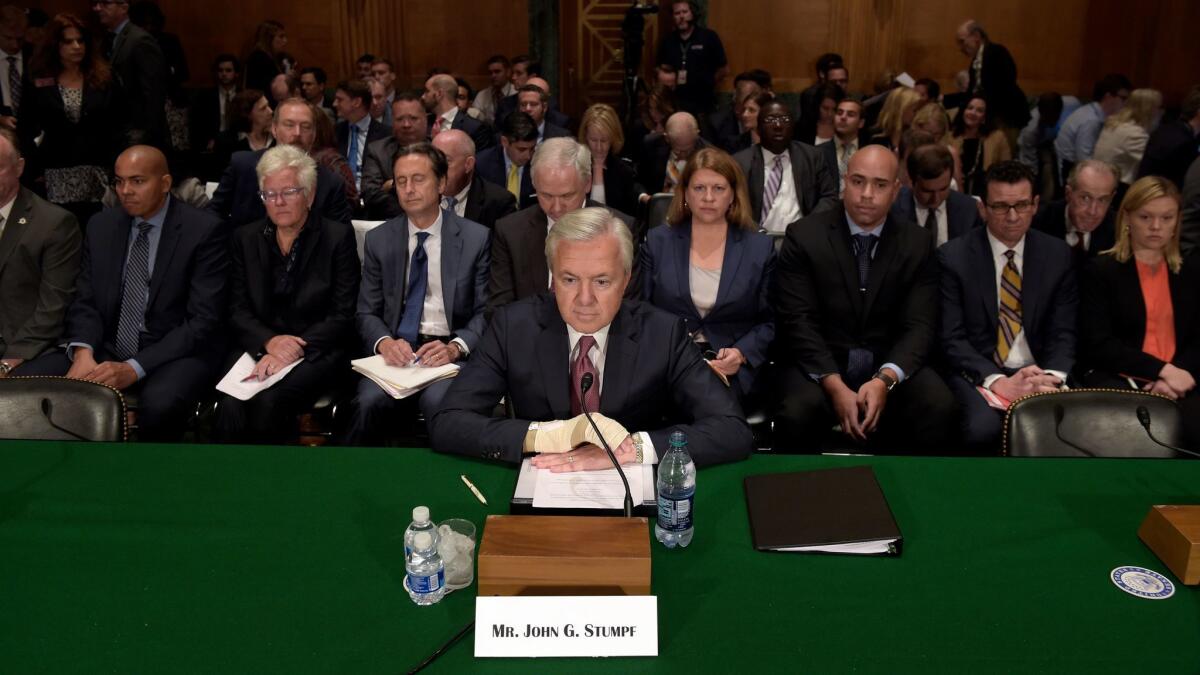 Followers of the Wells Fargo scandal, in which bank employees opened as many as 2 million checking, savings and credit card accounts behind customers' backs in order to meet their own quotas, may have been surprised by the recent announcement that the bank would settle as many as a dozen class-action lawsuits related to the scandal for $110 million.
That may sound like a lot of money, but to us, that sounded low. It sounds low to lawyers for some of the victims too. That's according to my colleague James Rufus Koren, who reported Friday that some of those lawyers are out to kill the deal. Let's hope they can, because the settlement would allow Wells Fargo to exploit one of its sleazier customer policies to shortchange not only its victims, but the public.
There's only one place that's had that decision, and ... that's the only place where Wells Fargo wants these cases settled. We think that's a little dubious.
— Christopher Hood, lawyer for Wells Fargo victims
The sleazy policy at the heart of this noisome deal is the bank's insistence that any customer with a dispute must bring that dispute to arbitration, not to a courtroom. As we've reported, this is a requirement that chiefly benefits Wells Fargo, because big companies almost invariably have an advantage over their customers in arbitration. In fact, the arbitration clause may have helped Wells Fargo cover up the scandal for years, because arbitration cases aren't reported publicly.
The clause is especially obnoxious in the context of this scandal. That's because, on the face of things, one would think that the employees who were saddling customers with bogus accounts were operating outside the bounds of the account agreement the customers had signed.
But the bank's position has been: Once you become our customer, you're doomed to arbitration no matter what. Among all the lawsuits erupting from the scandal thus far, the bank has obtained one ruling in its favor, from San Francisco Federal Judge Vince Chhabria. He ruled last September that, since Wells employees had used personal information the customers had given the bank to open their legitimate accounts, the misuse of that information "may 'relate' to the legitimate accounts." Therefore, the bank's insistence on arbitration is "not wholly groundless," Chhabria ruled, and ordered the customers into arbitration.
Remarkably, Chhabria even extended his ruling to Kaylee Heffelfinger, who alleges that two fake accounts were opened in her name before she opened legitimate accounts. But the judge bought the bank's argument that Heffelfinger already had provided bank employees with enough personal information, even though she hadn't actually finished opening her real accounts. So he dismissed her lawsuit too.
Unsurprisingly, Wells Fargo is trying to leverage this one advantageous ruling to its own benefit. The settlement it reached was in the case in Chhabria's court, the only place the bank has scored a victory on arbitration.
"There's only one place that's had that decision, and it turns out that's the only place where Wells Fargo wants these cases settled," Christopher Hood, a lawyer in Birmingham, Ala., with two federal lawsuits against the bank, told Koren. "We think that's a little dubious."
But it could apply nationwide; plaintiffs in other lawsuits would have to opt out of the settlement to proceed with their own cases.
There's another reason a settlement like this runs counter to the public interest: It could forestall discovery in the other lawsuits.
There are ample indications that the widespread practice of opening bogus accounts without customer consent may have been known at the highest level of Wells Fargo management, including former Chairman and Chief Executive John Stumpf; his successor as CEO, Tim Sloan; and his successor as chairman, Stephen Sanger, a board member since 2003.
This attempt to short-circuit the litigation further gives the lie to the bank's claim that it's committed to do everything it can to rectify the alleged fraud — "to make things right and restore trust," as its publicity material says. Customers still seem very skittish about doing business with Wells Fargo, and this settlement may be another sign that they're right.
Keep up to date with Michael Hiltzik. Follow @hiltzikm on Twitter, see his Facebook page, or email michael.hiltzik@latimes.com.