Column: Is the house call really dead? Not quite, says this doctor who makes house calls.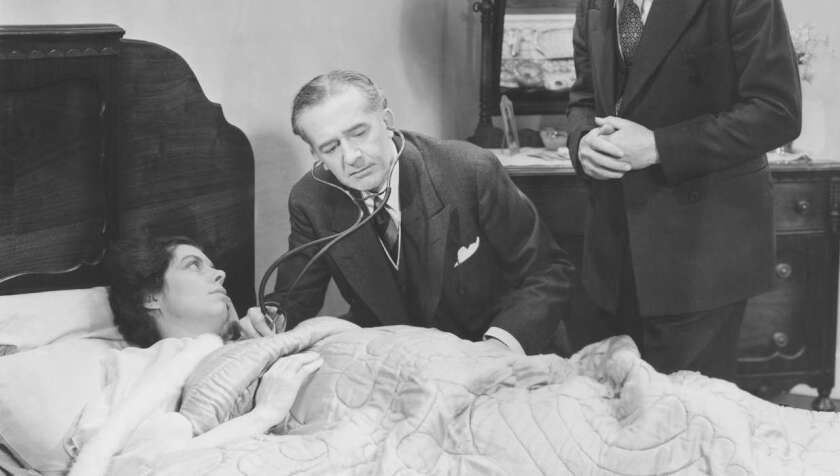 Are house calls really dead, as we suggested in a blog post Monday? Dr. Michael Oppenheim begs to differ.
Oppenheim, 76, has spent virtually his entire career making house calls in Los Angeles. The core of his practice is serving as an on-call doctor for hotels and for travel insurance companies whose foreign subscribers fall ill while visiting here. But he also does shifts for Heal, a new Uber-like service that dispatches doctors to homes at a charge of $99 per visit to patients without insurance to cover the house call. (Heal is an in-network provider for some insurers, whose patients are charged merely a standard co-pay.)
I enjoy what I do. I don't mind long drives, or getting up at night. I don't have to go to an office in the morning.
Dr. Michael Oppenheim, house-call doctor
"I enjoy what I do," Oppenheim told me. "I don't mind long drives, or getting up at night. I don't have to go to an office in the morning."
Oppenheim reached out to us in response to our post Monday expressing skepticism about the idea of an "Uber for healthcare." The post observed that physician house calls, which are the stock in trade of new Uber-like services such as Heal and Pager, are poorly suited to the modern healthcare market.
Because they're massively inefficient uses of doctors' training and time, the argument went, they're unlikely to be priced affordably for most patients or to attract a sizable cadre of doctors.
Oppenheim's experience illustrates both the virtues and the limitations of the house call. He chronicles many of these aspects of his practice on his very entertaining blog, thehoteldoctor. Let's hear him out.
After receiving his undergraduate degree from UCLA and his medical training at New York University, Oppenheim came back west to do his residency in Santa Barbara, then worked at the Veterans Affairs hospital in North Hills. (The hospital was torn down after sustaining damage in the 1994 Northridge earthquake.) In 1979 he answered an ad placed by a Malibu doctor with a house-call practice, and took over the practice entirely in 1983.
At the time, only luxury Beverly Hills hotels kept doctors on call. But over time, Oppenheim managed to persuade even mid-level hotels that "having a hotel doctor was a good idea." Eventually he made it onto the on-call rosters of travel insurance companies and airlines that needed coverage for their traveling crews. By 2003, when he retired to Kentucky, his annual earnings had peaked at about $140,000 and he had maxed out at about 1,200 calls a year.
He didn't care for retirement, so he moved back to L.A. in 2007 and rebuilt his practice from scratch. Now he makes 350-400 calls a year, charging $300-$350 (slightly more for distant or off-hour runs) and grosses an average of up to about $120,000.
Most of his calls involve minor health complaints; when he gets a call from a hotel, he always insists on speaking with the guest, and roughly half the time he concludes that a visit isn't necessary. Anything serious, and he refers the patient to an office visit or sends him or her to the ER. Normally, he spends 15 minutes or so with a patient, or at most, an hour for a more complicated case.
"You can't really deliver sophisticated medical care in a house call," he acknowledges. And he's understanding with hotel guests who might call with a complaint that turns out to be routine. "You can't blame people for calling the doctor for something that's not that serious," he says. "People call the doctor when they feel sick."
Oppenheim knows his professional lifestyle isn't for anyone. "My record was eight to 10 visits a day, and that was exhausting," he says. "If you're on the freeway, five visits is exhausting. Doing it in Los Angeles, unless a doctor limits himself to the Westside, he really couldn't do more than eight or nine house calls in 10 hours."
As he wrote on his blog in 2012, "I never considered myself unique until I tried to find a helper. My ideal would be competent, likable, available 24 hours a day, and willing to travel anywhere. That describes me." Many of those who answered the ad he placed in a local medical journal had day jobs, or lacked malpractice insurance that would cover them outside a clinic. "A surprising number of doctors announced they were free during the day and eager to make visits no matter how distant. All made me uncomfortable. Why didn't they have a job?"
Oppenheim also wonders about the business model of services such as Heal, which keeps doctors on eight-hour shifts at $75 an hour. (He occasionally takes two-hour sub-shifts to help out busy Heal doctors.) "They must be hemorrhaging money," he says, "because they can't make money charging $99."
Heal's co-founder and chief medical officer, Renee Dua, says that the service is profitable in Los Angeles and has 150 doctors on its roster -- and a waiting list to join in. From the physician's standpoint, she says, "an in-office doctor who sees 40 patients/day [has] to see about 30 just to pay for the office, staff, bureaucracy, collections, etc. We eliminate all those costs."
Oppenheim doubts that healthcare will be moving back to the old paradigm of a family doctor making neighborhood rounds with thermometer, stethoscope and black satchel. But that doesn't mean there's no place for the relationship. "If this country ever gets organized with some sort of national health policy, house calls won't be a terribly important part of it," he says, "but they will be some part of it."
Keep up to date with Michael Hiltzik. Follow @hiltzikm on Twitter, see our Facebook page, or email michael.hiltzik@latimes.com.
---
Your guide to our new economic reality.
Get our free business newsletter for insights and tips for getting by.
You may occasionally receive promotional content from the Los Angeles Times.