Column: Is Yahoo dead? Or: How do you solve a problem like Marissa?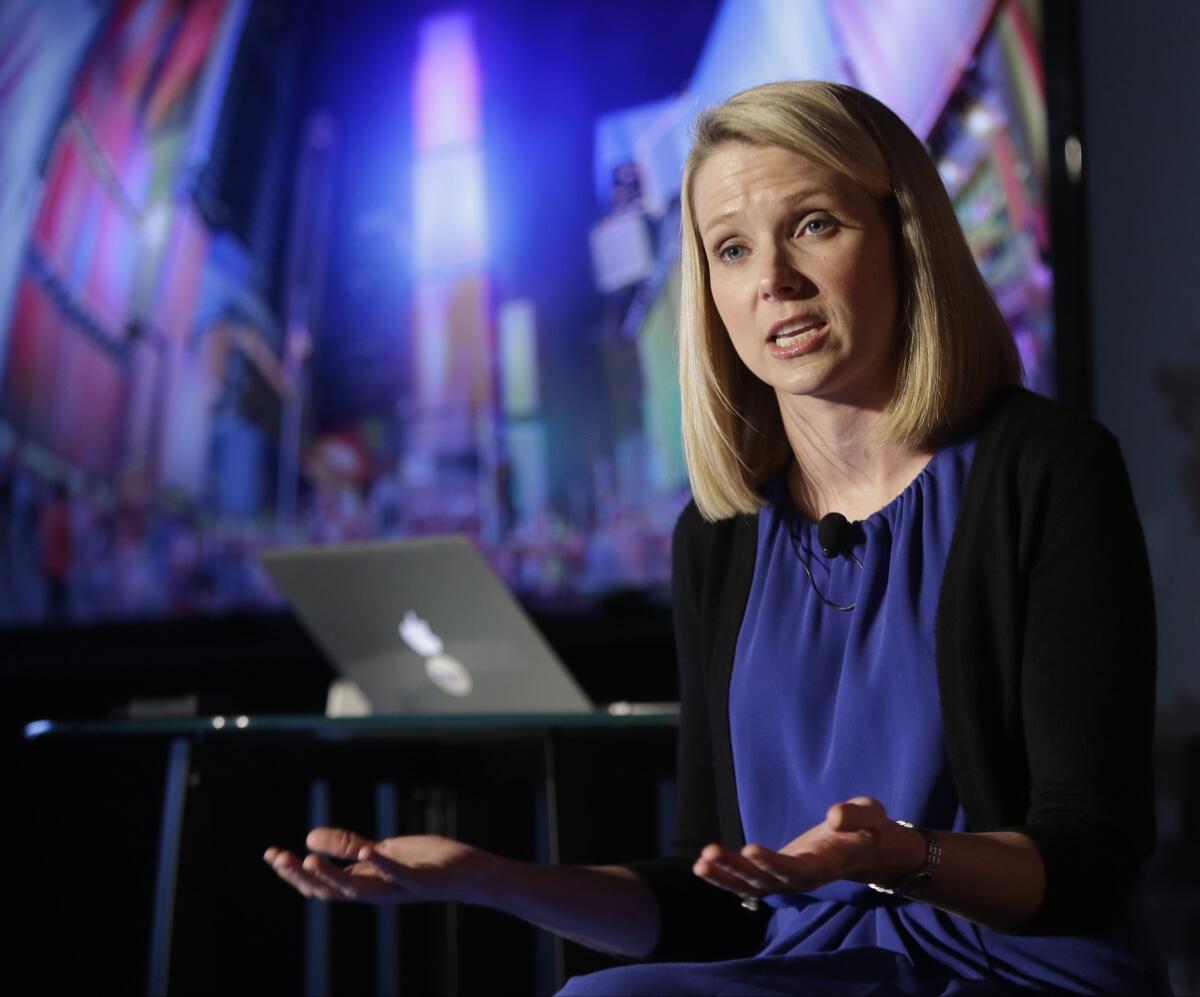 One of the saddest metrics demonstrating Yahoo's basic irrelevance to digital life today is that only a tiny proportion of any of the rescue proposals swirling around the venerable (in Internet terms) company is devoted to fixing its core business. Precious little is devoted even to defining its core business.
Instead, the focus of the proposals offered by investors such as Starboard Value LP, Canyon Capital Advisors and SpringOwl Asset Management is financial engineering. They're concerned chiefly with whether to spin off either Yahoo's $31-billion stake in the Chinese e-commerce giant Alibaba or to keep the Alibaba holding and spin off the rest of the company, and with how to mitigate the tax bite from either option.
Caught in the middle is Yahoo's struggling CEO, Marissa Mayer. Actually, she's not caught in the middle so much as at risk of being permanently sidelined. Since her appointment in mid-July 2012, Mayer has failed to excite investors with even a glimmer of a turnaround in Yahoo as a business. Meanwhile, top executives are leaving at an alarming rate.
It's proper to note that Yahoo has been faltering for most of this century. The firm was a dominating force on the Internet during the dot-com boom, reaching its all-time high price, a split-adjusted $118.75, on Jan. 3, 2000. It crashed along with the rest of the dot-com economy, falling to $4.06 on Sept. 26, 2001. As I write, it's trading at $32.55, mostly as a proxy for Alibaba stock.
In 2001, Yahoo appointed Terry Semel, a former Hollywood entertainment executive, as CEO. Semel struggled to map out a new path for a company whose business of curating the best of the Internet and providing search capabilities was being overtaken by technological and social changes. Semel offered $1 billion to take over a fledgling search company called Google, but was turned down by its founders, Sergey Brin and Larry Page.
After Semel's resignation in 2007, Yahoo embarked on the sort of round-robin of top managers that seldom happens at a company that knows what it's about; there were four CEOs in five years, including Mayer.
They all had to grapple with the fundamental reality that Yahoo had become an also-ran in what had been its core businesses and not much of a factor on the new platforms that were emerging to replace traditional desktop computing (such as mobile Internet and social media). It tried to become a news and information hub, building up Yahoo Sports and Yahoo Finance. But these began to seem generic: No one needed to resort to Yahoo to find sports scores or stock prices or, for that matter, sports or financial analysis.
SpringOwl, in a 99-slide analytical presentation for the Yahoo board, put its finger on the elements of Yahoo's decline. What was once Yahoo's "stickiest" application, Yahoo Mail, has been overtaken by Google's Gmail; email itself is being outrun by messaging and messaging apps such as WhatsApp (now owned by Facebook); online time that once was devoted to Yahoo has moved to Facebook and Twitter; fewer users reach Yahoo services via its homepage, so the impact of its display advertising is diluted; and there are few signs that any of these factors are turning around.
Mayer's regime has been a peculiar combination of buzzy dynamism and nebulous strategy. The year after her arrival, she involved herself personally in the redesign of the firm's iconic logo, unveiling the underwhelming result with excessive pride. But did anyone really think that Yahoo's problem was that its logo was outdated?
Today Mayer expresses great optimism in what she labels her "MaVeNS" strategy, for "mobile, video, native and social" advertising. (Native ads are those that resemble the non-ad content on websites.) She identified these during a Dec. 9 conference call as "the fastest growing areas of digital advertising," and said they were "on track to deliver more the $1.5 billion of GAAP revenue in 2015 with annualized growth of nearly 50% year over year."
SpringOwl's Eric Jackson was unimpressed. Even if Yahoo was the third-largest generator of mobile revenue, he noted that its revenue from mobile as a share of total revenue -- 20% in the first half of this year -- is paltry compared with the 88% recorded by Twitter and 74% by Facebook. Mayer's strategy of building Yahoo by acquisition has left Wall Street cold.
At this point, Yahoo is treated by investors virtually as a holding company for Alibaba shares; the residual valuations of its core businesses and its acquisitions are relatively minimal. That's why the activist investors interesting themselves in Yahoo are preoccupied with how to unlock the value of Alibaba without incurring taxes.
Jackson's proposals for the rest of the company appear to be aimed a squeezing out whatever value is left and turning them over to someone else to operate: He recommends firing 9,000 of the company's approximately 12,000 workers and ending free food at headquarters to save money. Those steps certainly would cut costs, but as a vision for a future Yahoo they lack, well, content.
It may be unfair or premature to count out Yahoo quite yet. The company does still bring in $5 billion in revenue, though its real operating results are obscured by the impact of the Alibaba holding. Sometimes a business run on that scale can buy time to figure itself out. Even mighty Microsoft, for example, was all but written off as a factor in the technology space a few years ago, but its reputation has experienced a distinct revival under CEO Satya Nadella. (Of course, Microsoft is almost 20 times as big as Yahoo.)
It's worth remembering that Microsoft in 2008 offered to buy Yahoo for nearly $45 billion. Many in the tech business and on Wall Street thought that this would be a great combination for both companies, but after threatening a hostile takeover, Microsoft abandoned the plan. Some analysts now estimate the value of Yahoo's search and display ad businesses at less than $4 billion, as my colleagues Andrea Chang and Paresh Dave reported this month.
Where does Yahoo go from here? Even if Mayer is shown the door, the question of how to remake the company will remain for her successor, whoever that is. It's hard to imagine an Internet without a space for Yahoo, but that may be what destiny holds in store.
Keep up to date with Michael Hiltzik. Follow @hiltzikm on Twitter, see our Facebook page, or email michael.hiltzik@latimes.com