The O.C. Register's supremely ghoulish financial strategy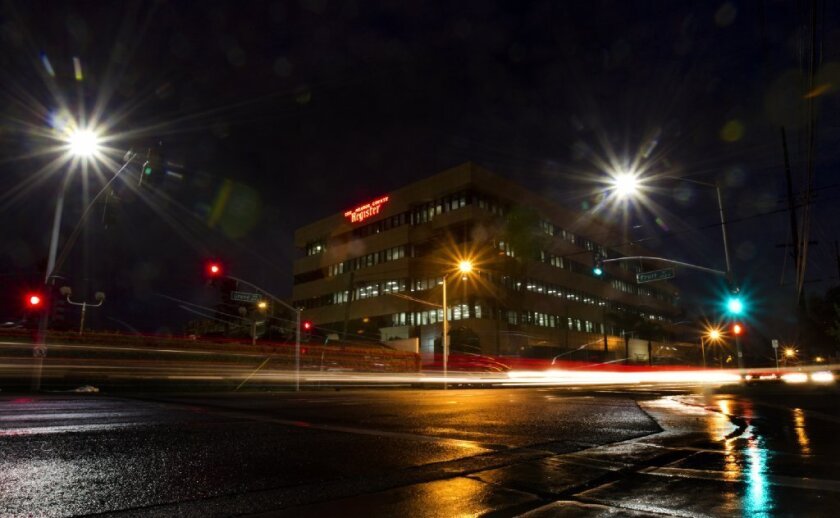 How's this for a creepy communication from your company management? Earlier this month -- and a few days after about 30 newsroom employees at the Orange County Register were laid off -- many of those who remained employed got an email informing them that the company wished to buy life insurance on them.
The beneficiaries of these million-dollar-plus policies wouldn't be the employees or their families, but the company -- more specifically, its pension plan.
Understandably, the notices have caused a fair amount of confusion and consternation among the employees of the Register, which is Orange County's leading local newspaper and a competitor of the Los Angeles Times. (The Register's owner, Freedom Communications, has announced plans to compete directly with The Times in Los Angeles County.)
The Register staff's internal Facebook page is brimful of questions and comments on an idea that sounds like it's designed to allow the company to profit from the deaths of its own staff. A meeting with management is being sought, we're told by sources inside the newspaper's Santa Ana headquarters. A spokesman for Freedom did not return our call for comment.
The emails included consent forms. Why? Because the company can't capture the considerable federal tax benefits that come with such insurance unless it has the insured employee's permission.
Let's place this ghoulish corporate strategy in perspective. The first thing you may want to know is that this sort of policy is not illegal. It's known formally as COLI, for "company owned life insurance," and less politely as "dead peasant" insurance. That's a reference to Nikolai Gogol's classic comic novel "Dead Souls," which is about a con man who crisscrosses czarist Russia buying up dead serfs so he can use them as collateral for a business deal.
Dead peasant insurance is an outgrowth of a more accepted, and acceptable, product known as "key person" insurance. That's a policy a corporation might take out on a CEO or other top executive, on the reasoning that his or her sudden demise might have real economic consequences for the firm. Also, family-owned businesses often take out life insurance on family members to help cover the estate tax that might be levied upon their deaths.
Insuring members of the rank and file is another thing entirely. The practice emerged in the banking industry in the 1980s, when it was viewed as a way to help fund pension and deferred compensation plans. Adding to the charm, premiums for the policies were tax-deductible and the payoffs, when they came, were tax-exempt. By 2009, according to a survey by the Wall Street Journal, Bank of America held $17.3 billion in policies on its employees.
Other industries jumped into the pool. Companies such as Wal-Mart were identified in lawsuits as enthusiastic users. Some estimates today say millions of employees of major firms are covered by dead peasant policies. One law firm specializing in the field lists some 200 major corporations that have been identified as COLI owners.
Occasionally, the discrepancy between a company's treatment of an employee on the job and the profit it reaps from his death can be downright embarrassing. In 2008, for example, the widow of a bank employee in Houston discovered by accident that the bank had taken out $4.7 million in insurance on his life after it learned that he had a brain tumor, and just before it fired him. (One of the insurance checks had been mistakenly sent to her, instead of the bank.) She later settled with the bank out of court.
Responding to a public uproar about dead peasant insurance, Congress tightened the rules in 2006. Henceforth, to preserve the tax benefits of these policies, companies must obtain the employees' advance consent. (That's why the Register's emails include a consent form.) There are exemptions from that rule if the employee is a top officer, owner of more than 5% of the company's stock, or among the top 35% best-compensated employees.
It's not surprising that employees of the Register, like those at other companies with such policies, are curious about the terms and skeptical about how the proceeds might be spent. As my colleague Ken Bensinger reported after the Register layoffs, the economics of the newspaper's strategy of focusing on its print product rather than digital have come into question. (Dozens were laid off at Freedom's freshly-acquired Riverside Press-Enterprise at the same time.) Newspaper analyst Ken Doctor recently labeled the strategy of Freedom's owner, Aaron Kushner, "barely controlled chaos."
But betting on the deaths of his own employees hasn't been part of Kushner's game plan ... up to now.
---