Alamo Drafthouse is set to bring its quirky brand of cinema to downtown L.A.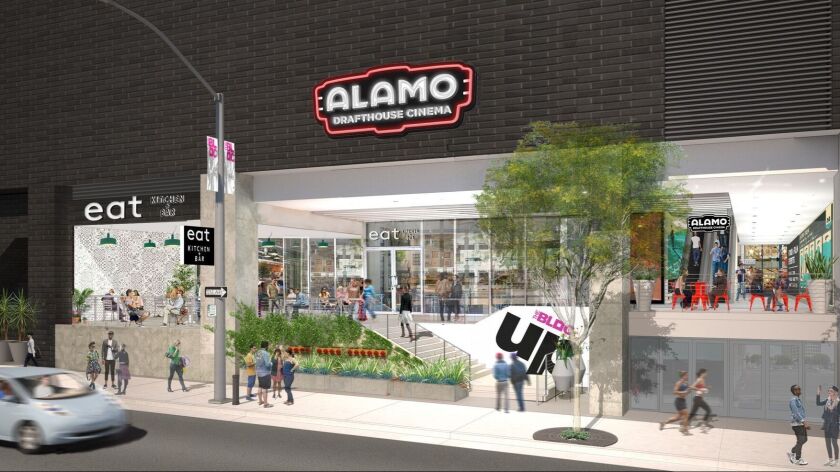 For two decades, maverick theater chain Alamo Drafthouse Cinema has attracted a cult following with its special events, in-seat food and beer service, and themed movie nights.
But Alamo has never had a presence in L.A., the hometown of the movie business.
That will change next year when the Austin company opens Alamo Drafthouse Downtown, its long-delayed downtown Los Angeles location, as The Times reported Thursday.
The 12-screen Alamo in Los Angeles will seat 560 people in auditoriums equipped with 4K digital projection. The theater will also have the ability to project old-fashioned 35-millimeter films. Patrons will be able to order locally inspired cuisine and beverages while sitting in their seats. The multiplex will have an adjoining bar with hometown brews and cocktails.
Alamo shows a mix of indie, foreign and specialty films along with Hollywood fare. Many of its practices, such as in-theater food and alcohol service, have been widely embraced by the rest of the industry.
Yet Alamo's entry in the L.A. market has faced lengthy delays. The theater was first announced three years ago, as a key component of the massive overhaul of the Bloc, an aging mall at 7th and Flower streets. But the much-publicized project ran into major difficulties, falling 18 months behind schedule and soaring $70 million over budget.
With the project back online, Alamo is fulfilling its longtime ambition to tap into L.A. Bringing the chain to Los Angeles was a primary goal of Alamo's outspoken founder and chief executive, Tim League, when he announced nationwide expansion plans several years ago.
"Los Angeles, being the home of this industry, is the most important city from which to build excitement about film," League said. "Not only is the industry here, but the industry that builds buzz and awareness about movies is here."
Tim and Karrie League founded Alamo Drafthouse Cinema in 1997 as a one-screen mom-and-pop theater in Austin. The company has since grown to 27 theaters (including a location in San Francisco) and has broadened its business by recently launching film distributor Neon. It also owns the popular film website Birth.Movies.Death. It was among the first theaters to serve alcohol.
Alamo is famous for enforcing a strict no-talking and no-texting policy, which has led to the ouster of some attendees. In 2011, the company famously released a "public service announcement" that included a profanity-laced voicemail from an angry customer who was thrown out of a screening for texting.
The company has not shied away from publicity or controversy. Last weekend, the chain hosted women-only screenings for "Wonder Woman," which led to some male griping on social media.
The expansion of Alamo comes as other theaters are expanding their own fancy theater experiences to increase ticket sales after years of declining attendance. Florida-based IPic Theaters, with locations in Westwood and Pasadena, offers a restaurant-style food and drink menu that patrons order from their seats. ArcLight Cinemas, with its six L.A. area locations, also wines and dines its moviegoers.
Major theater chains have invested heavily in upgrading their own offerings with recliner seating and lounges. AMC Theatres, Cinepolis USA and Cinemark all now have luxury multiplexes in the Los Angeles area. Still, League said Alamo can thrive in L.A.
"I love seeing other great theaters operate well and be successful," League said. "I feel like Alamo will offer enough unique and entertaining options with our programming and our food and beverage that we'll all be able to coexist quite nicely."
League hopes to open additional theaters in L.A., he said. He was drawn to downtown because of its access to public transportation and its growth as a hub for businesses and residents.
Although downtown has a deep and growing list of popular restaurants and concert venues, the area has long lacked cinema options. The only major theater downtown is the recently remodeled Regal L.A. Live multiplex.
"It's another notch in the belt for downtown, and another chance to say, 'This is where it's at,'" said Jeff Bock, an analyst who follows the cinema industry with Exhibitor Relations."This is a new hub for cinema in Los Angeles."
---
Inside the business of entertainment
The Wide Shot brings you news, analysis and insights on everything from streaming wars to production — and what it all means for the future.
You may occasionally receive promotional content from the Los Angeles Times.