Rumbling seats. Virtual reality. Booze. How cinemas are adapting to uncertain future
At the Regal L.A. Live entertainment complex, a marketing team for 20th Century Fox recently roped off part of the cinema lobby and set up a row of chairs and Oculus Rift rigs. The team persuaded moviegoers wandering the lobby to strap on headsets a
Like many people, one of my first jobs growing up was in a movie theater. I spent summer 2005 sweeping up popcorn and sneaking into midday screenings of "Wedding Crashers" at an UltraStar Cinemas in San Diego. At the time, cup holders were considered fairly innovative and stadium seating was the height of luxury. Everyone still bought paper tickets at the box office, and the food menu was limited to popcorn, bad hot dogs and Junior Mints.
Today, moviegoers pay for tickets online and get their phones scanned at the door. They eat restaurant-style food and sip movie-themed cocktails in theater lounges before the films. They can even order food and wine while relaxing in their leather recliner seats.
Moviegoers have increasingly innovative and expensive options, especially in Los Angeles, a laboratory of multiplex innovation. The cinema industry is trying everything it can — motion seats, virtual reality and even competitive video gaming — to see what takes hold.
It's a matter of survival. Cinemas need to reinvent themselves for younger audiences who aren't going to the multiplex as much. Movie theaters sold 1.3 billion tickets in the U.S. and Canada last year, down from the recent peak of 1.6 billion in 2002, according to data from the Motion Picture Assn. of America.
Special Report: Can America's moviegoing habit be saved? »
"What you can get at a theater now is vastly different from five years ago," says Eric Handler, a media analyst with MKM Partners who follows the theatrical exhibition industry. "The exhibitors finally realized people were willing to pay a premium for a higher-quality viewing experience."
Wining and dining
The 3-year-old iPic Theaters location in Westwood revels in luxury. Going to the venue, which has a concierge-like front desk and full bar and restaurant, is more like checking into a hotel than a movie theater.
The "premium" section of the auditorium only fits six rows of seats, but that's the trade-off for full recliners equipped with pillows and blankets, plus wide aisles for the wait staff. Each pair of seats ($58 for two) comes with a menu created by Sherry Yard, who was Wolfgang Puck's longtime pastry chef, and a blue-light button to summon a server for wine and snacks.
Introducing food and wait service to the theatrical experience has forced companies to get creative. Smelly and crunchy dishes aren't ideal, so instead they serve gourmet finger foods like green goddess turkey sliders, meatza pizza and tandoori chicken skewers.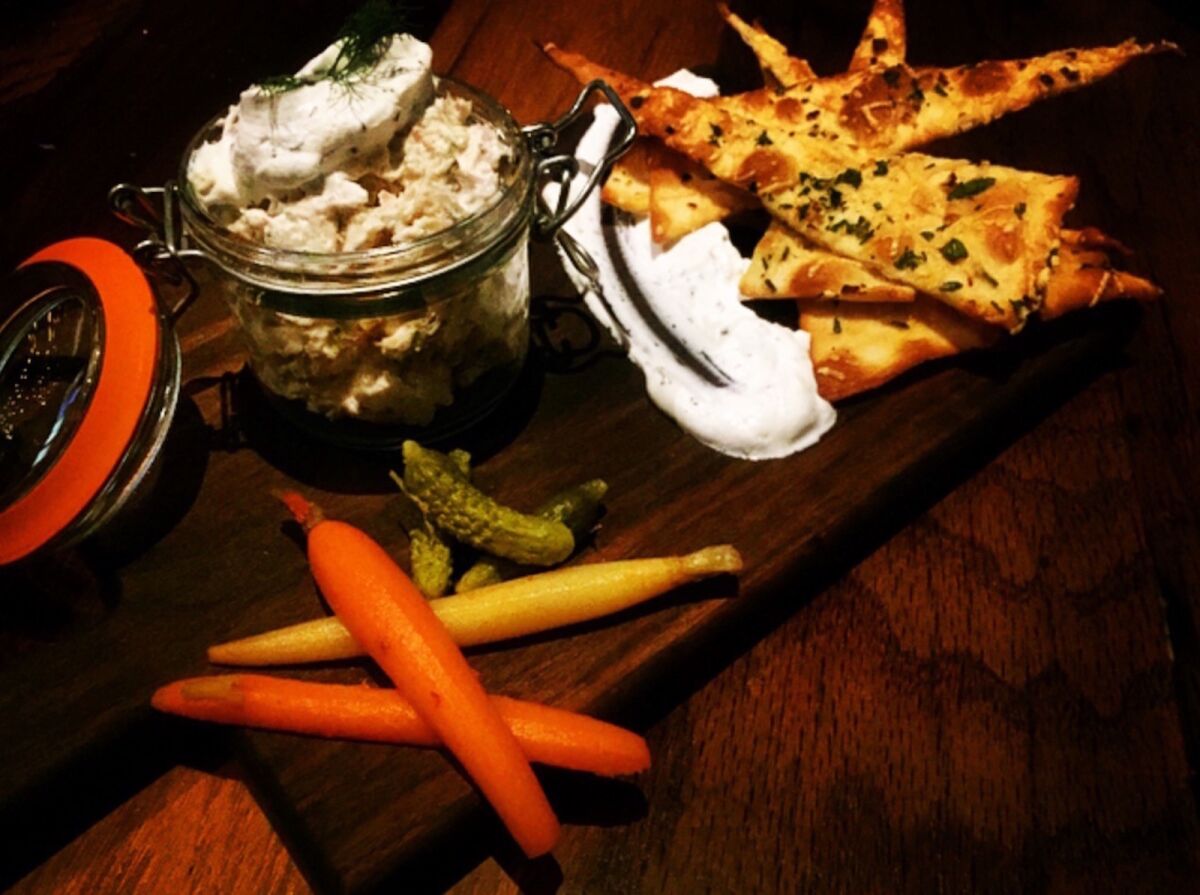 Afterward, couples can venture to the darkly lit Tuck Room Tavern, the restaurant Yard opened a year ago. The bar features a glass tower that uses liquid nitrogen to create special cocktail flavoring.
Why the pampering?
"We're competing with your home," says Hamid Hashemi, CEO of Florida-based iPic Entertainment, which also operates a theater in Pasadena. "It's really simple. If there's a way to watch a movie and improve the experience, why not do it?"
Rivals have taken note and are also attempting to turn a trip to the movies into a more plush and boozy date night. AMC Theatres, the world's largest cinema chain, has been rapidly adding recliner chairs and dine-in options, and recently completed renovations of two Burbank locations. The exhibition giant has opened 250 of its MacGuffins bars at its theaters, with movie-themed cocktail tie-ins, including a "Baywatch" Banana Hammock and a "Guardians of the Galaxy Vol. 2" Awesome Mix.
The U.S. division of the Mexican cinema chain Cinepolis has its own luxury theater in Westlake Village, featuring waiter service and a full bar (some Cinepolis locations also have auditoriums with play areas for kids). And Cinemark opened its Playa Vista and XD location in 2015 with a reserve level "VIP experience" for patrons to order food and drinks.
As the competition heats up, iPic is looking for ways to make its offerings even fancier. The company is introducing a new "seating pod" that creates a private cocoon around pairs of moviegoers.
Bigger and better
The Vine Theatre on Hollywood Boulevard, one of Los Angeles' many single-screen theaters dating back to 1940, doesn't look like much from the sidewalk. No movies are advertised on its marquee. But inside is a center of advanced technology and cinema innovation. Cinema tech company Dolby Laboratories gutted and remodeled the space several years ago and now uses it to show its projection and surround-sound advancements to filmmakers such as Ang Lee.
There are 72 Dolby Cinema theaters in the United States with partner AMC — L.A. locations include the AMC Burbank 16 and AMC Century City 15 — complete with laser projection and an advanced 360-degree ring of speakers wrapped around the audience.
The Vine theater showcases the latest technologies. The tour starts with Dolby's signature "audio-visual pathway" from the lobby to the auditorium, a curved screen with projected images related to the movie the guests are about to see. As people walk into a screening of "The Lego Batman Movie," for instance, they see animated graphics of the characters on the wall.
Once inside, Dolby executive Stuart Bowling uses a before-and-after shot of a white dot on black screen to show how the company's laser projectors can create a true inky black color, instead of the "milky gray" people are used to seeing on the silver screen.
"It really delivers true black level for the filmmaker to deliver a more compelling image," Bowling says. "They all have gasps, whoas, occasionally an expletive from a filmmaker."
The Dolby Atmos surround-sound technology uses dozens of speakers on the ceilings and walls around the auditorium to simulate sounds coming from different directions.
San Francisco-based Dolby is just one of the companies using better screening technology to get people off the couch and into the theaters. If it's size you're looking for, go to TCL Chinese Theatre in Hollywood.
The Canadian cinema technology company Imax Corp. put its stamp on the legendary theater in 2013, installing a 94-wide screen (among the largest largest Imax theaters in North America). Later, Imax added a 4K laser projection system in what it called a "giant leap forward for cinema technology."
Not to be outdone, the biggest theater chains, including AMC, Regal and Cinemark, are rolling out their own premium, large-format auditoriums for a more grandiose experience. Cinemark two years ago unveiled its revamped Playa Vista location, which includes a 450-seat auditorium known as XD with a giant 70-feet wide screen and a sound system that has more than 60 speakers.
Meanwhile, Belgian projector company Barco has been trying to promote its Barco Escape, an immersive three-screen format that surrounds the audience, though few movies have been designed for the experience. Regal L.A. Live, recently branded as a Barco Innovation Center, includes a Barco Escape auditorium, as does the Cinemark multiplex at Howard Hughes Center.
Virtual reality
Another technological innovation that could change the movie business is the much-hyped virtual reality. Filmmakers and executives have talked up the grand possibilities of storytelling for the pricey headsets that promise an intense, immersive experience.
Many hurdles have prevented VR from going mainstream, including the high cost of the headsets, which can cost thousands of dollars each, and the lack of compelling content.
Still, Hollywood is adapting films to virtual-reality video games and designing promotional tie-ins for movies to supplement marketing efforts. Some major filmmakers are making VR a part of their toolkit. Oscar-winner Alejandro G. Iñárritu recently displayed his VR project "Carne y Arena" at the Cannes Film Festival.
And theaters have become testing grounds for VR experiments. At the Regal L.A. Live entertainment complex, a marketing team for 20th Century Fox recently roped off part of the cinema lobby and set up a row of chairs and Oculus Rift rigs. The team persuaded moviegoers wandering the lobby to strap on headsets and watch the free promotional tool "Alien: Covenant In Utero," a two-minute, 360-degree video that lets users experience what it's like for an alien to burst out of someone's chest.
Universal Pictures took a different approach with its own VR tie-in for "The Mummy." The studio teamed with Glendale-based VR seating company Positron to create virtual-reality "theaters" with rows of swiveling seats equipped with headsets. The studio's free 10-minute VR video simulates a scene in which Tom Cruise weightlessly tries to survive in a plummeting airplane.
"This VR technology really allowed us to create content that would immerse audiences in a way that wouldn't have been possible before," said Austin Barker, head of creative content for Universal Pictures. "You can't ignore its potential."
Indeed, Imax is betting its new VR centers will become a part of the theatrical experience. During Memorial Day weekend, the company opened a virtual-reality hub in the lobby at the AMC Kips Bay in New York and has others in the works.
In L.A., Imax opened its new virtual-reality center, modeled after a video-game arcade, near the Grove shopping complex in January. Customers pay $7 to $10 for a virtual-reality experience, including games based on movies such as shoot-em-up action flick "John Wick."
Motion seats
Down the hall from the "Alien" VR setup at Regal L.A. Live, moviegoers trickle into a 3:15 p.m. screening of "Guardians of the Galaxy Vol. 2" in a 4DX auditorium promising an "absolute cinema experience." Translated, that means audience members pay $24.50 a ticket for a theater that uses moving seats, plus wind, water and odor effects, to simulate what's happening on the screen.
The seats pull back and rumble as Drax the Destroyer takes a flying leap at an alien foe. When something explodes, simulated smoke fills the theater. The idea of 4DX, created by South Korean company CJ 4Dplex Co., is to make people feel as if they're part of the action. It's a bit like a Universal Studios ride.
About 18 miles south of L.A. Live, a Torrance-based company called MediaMation makes its own competing version of the motion-seat technology, called MX4D. MediaMation workers in protective goggles assemble rows of seats that they will ship across the country, and crash dummies wait to test the seats' safety.
The company uses an on-site miniature theater to demonstrate for studio executives how their movies will be seen with its motion seating and other effects. In its version of "Mad Max: Fury Road," moviegoers' faces are blasted with air during a scene where a character's face is sprayed with chrome paint.
While popular in Asia, the technology has spread slowly in the U.S., partly because of the cost. Still, MediaMation CEO Daniel Jamele says the idea is catching on with American moviegoers who want an experience that they can't replicate in their living rooms.
"We think there's a real market here," Jamele said.
Video-game tournaments
Some theaters are even turning their theaters into video game centers. MediaMation is working with the TCL Chinese Theatre to retrofit one of its auditoriums for e-sports — competitive video-game tournaments where people play on the big screen.
Cinephiles may balk at the apparent sacrilege of the cinematic space, but theaters have been experimenting for years with this kind of "alternative content," especially during weekday business hours when auditoriums are empty.
iPic and other exhibitors have been getting into the in-theater gaming business too. The company has teamed with video-gaming league Super League Gaming to host one-week Minecraft tournaments at its locations. Five-day passes for its upcoming July event cost $100.
"That's the dream of every theater," Jamele said. "It gives them an alternate source of income, which is what they need."
Twitter: @rfaughnder
ALSO
The architecture of moviegoing: Can the multiplex stay in the picture?
Hollywood's summer has flopped so far. Here comes 'Wonder Woman' to the rescue
'Wonder Woman' could be the first female-fronted superhero blockbuster. No pressure, Warner Bros.
Meet Tony Vinciquerra, the 'not flashy' executive hired to fix struggling Sony Pictures
Inside the business of entertainment
The Wide Shot brings you news, analysis and insights on everything from streaming wars to production — and what it all means for the future.
You may occasionally receive promotional content from the Los Angeles Times.