Netflix and Amazon spark animation revival, spending heavily in quest for binge-worthy shows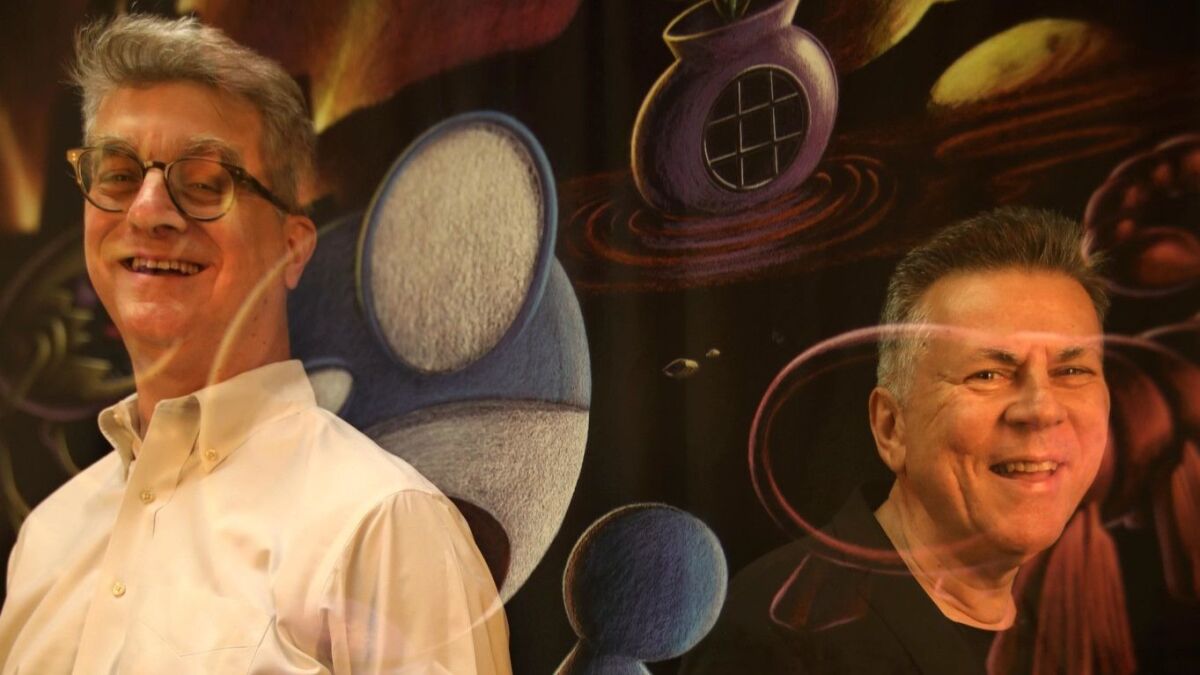 For a decade, veteran TV executive Fred Seibert's studio pitched the idea for an edgy animated story inspired by a 1989 Japanese video game. Called "Castlevania," it featured scenes of demonic monsters attacking towns and devouring human flesh.
Dozens of companies, including TV networks, passed on it. Undeterred, Seibert took the idea to Netflix, which eagerly scooped up the exclusive rights and released the show last year. "Castlevania" quickly became a hit.
"Netflix really looked at it as an experiment," said Seibert, a former executive of MTV and Hanna-Barbera Cartoons. "It is that opportunity that technology has opened up that has made both creative people and platforms look at the world differently and therefore audiences get to look at things differently."
Seibert's experience shows how Hollywood's rising digital powers are breathing new life into the animation industry. Streaming networks are not only taking risks on animated shows oriented toward adults, they are green-lighting a host of new cartoons for children — discovering that one of the best ways to keep parents paying their monthly subscriptions is to get their kids hooked on shows exclusive to their platforms.
"Animation is a really core area," said Melissa Cobb, vice president of kids and family content for Netflix. "We have a lot of viewers throughout the world who are really loving animation."
Streaming companies, led by Netflix and Amazon, are rapidly increasing their spending on animation content, according to estimates from venture capital firm Loup Ventures. This year, Netflix is expected to spend $1.1 billion, 11% of its overall original content budget, on animation. Amazon is projected to spend $300 million this year, representing 10% of its budget, Loup Ventures said. By 2022, that investment will grow dramatically to nearly $5 billion for Netflix and $1.86 billion for Amazon Prime Video, the firm estimates.
The spending has been a boon to the industry, creating new opportunities for artists and filmmakers alike.
"It's sponsored an explosion in growth," said Thomas Sito, a professor of the University of Southern California's School of Cinematic Arts. "There is a lot more content being worked on right now."
But the growing clout of streaming businesses in the animation arena poses a growing threat to traditional media companies that once dominated kids programming. Netflix and others are capitalizing on changes in consumer behavior as younger audiences bypass traditional cable TV — which has long supplied viewers for such kids networks as Disney Channel and Nickelodeon. Disney is preparing to launch its own streaming service that will provide a new platform for family-friendly shows, heating up the competition for animated fare.
"There's no question that these streaming services are trying to win family [content]," said Eunice Shin, managing director at consulting firm Manatt Digital.
Cobb and other executives cite several reasons for the popularity of animation. Streaming programs can be viewed anytime and on any device, making it especially appealing to parents with young children. Some animators have large fan bases on social media, providing them with ready-made audiences. And the shows have widespread appeal among viewers worldwide and can be easily dubbed in different languages.
"There is so much potential viewership now domestically and worldwide they will need content of all kinds, so it's not just one type of content or one genre," said Teresa Cheng, chair of USC's John C. Hench Division of Animation & Digital Arts.
Unlike some adults who can cut their Netflix subscriptions after they binge a whole season of "House of Cards," parents of young children have a harder time doing that with animated shows.
Animated programs, in some cases, are the reason why families pay for subscriptions, said Michael Hirsh, CEO of Toronto-based animation business Wow Unlimited Media, which owns the studio that produces "Castlevania" for Netflix.
"Kids don't want you canceling and un-canceling," Hirsh said. Streaming services such as Netflix "discovered that kids programming was the sticky part of the programming that kept subscribers subscribing."
Netflix has led the push into kids fare, adding 21 original animated series to its platform from January to October, with its catalog totaling 72 shows, according to data science firm Parrot Analytics. Amazon added four original animated shows, bringing its total to 15 during the same time period. Hulu says it has two original animated series on its platform.
Netflix, headquartered in Los Gatos, Calif., also outspent its rivals in marketing dollars for animated shows last summer, spending more than $2 million primarily promoting its animated series "Disenchantment," according to New York firm MediaRadar, which tracks ads.
Netflix says nearly 60% of its subscribers consume kids and family content every month. Last week, Netflix announced six new original animated titles, including "My Father's Dragon," a 2-D animated feature film, and "Kid Cosmic," an animated series produced by Craig McCracken, the creator of "The Powerpuff Girls." Other recently announced projects include a stop-motion "Pinocchio" film by Academy Award-winning director Guillermo del Toro and Rajiv Chilaka's "Mighty Little Bheem," a show for preschoolers.
Netflix also is working with high-profile animators, including Glen Keane, who will direct the animated movie "Over the Moon." About a year ago, Netflix began offering work spaces for animators at its L.A. office, Cobb said.
The hunger for more animation has boosted production businesses like DreamWorks Animation, which signed a deal with Netflix in 2013 to provide more than 300 hours of programming. Since then, employment at the Glendale studio's TV unit has surged to 800 employees in response to demand from Netflix and other companies.
Meanwhile, Netflix's archrival also has been aggressively building its animation pipeline.
Amazon has launched kid-friendly shows based on popular book or video game franchises, recently adding five new animated specials. Amazon Prime Video in September premiered "Pete the Cat," an animated show about a cool cat who learns how to embrace who he is.
Figuring out "how can we excite families and parents who are looking for things to provide their kids to watch" is part of the thinking behind Amazon's content strategy, said Melissa Wolfe, the company's head of kids programming.
"Animation is a way that you can kind of highlight some fantastical elements and build really magical worlds and experiences that you might not be able to do in the live-action space," Wolfe said.
In addition, certain shows could also help other aspects of Amazon's business. For example, "Pete the Cat" is based on a popular series of children's books, which are sold on Amazon. Music from "Pete the Cat" can also be streamed on Amazon Music.
"For the right property, it could live in lots of different areas in Amazon," Wolfe said.
Streaming businesses are also keen on bringing animators to their platforms who have large followings. For example, Hulu in 2020 will premiere "Solar Opposites," an adult animated show about aliens created by Justin Roiland and Mike McMahan, who worked on "Rick and Morty" and have significant followings on social media.
"There is a massive fan base behind these talents," said Beatrice Springborn, Hulu's vice president of originals development. "We know there is an audience that is going to come for that."
In addition to "Solar Opposites," Hulu also announced it will add original animated programs "Animaniacs" and "Crossing Swords" to its lineup. The Santa Monica streaming platform already has a large collection of adult animated series with more than 2,100 licensed episodes. Hulu said on average active viewers of adult animated series on Hulu are streaming that content nearly 20 hours each month.
The increased investment gives new life to animated shows that couldn't find a suitable spot on network TV. For example, Jim Henson Co. for years couldn't find a home for "Word Party," an animated show that teaches toddlers new words.
"In the past, we have been pitching to different broadcasters who have very specific brand boxes," said Halle Stanford, the company's president of television, adding that TV networks were looking for shows for children ages 4 to 5. "Now what we're seeing with these streamers is that they are casting a wide net to all of these different voices and looking for different kinds of content that don't specifically fit into one brand box."
Budgets for animated shows on streaming services are comparable to those of cable TV, and in some cases are higher than network television, industry analysts said. An average budget for a half-hour show geared toward the preschool audience is $275,000 to $350,000 per episode.
"They are much more meaningful than budgets that we have received in the past," Stanford said. "We are able to create content that is aesthetically superior and wondrous and what children deserve."
The renewed interest in animation has created new business opportunities for industry veterans such as Seibert. His studio is also bringing an animated series based on the video game "Costume Quest" to Amazon.
"It makes everybody rethink what they are doing, and that rethinking creates new explosions," Seibert said.
Seibert started his own company, Burbank-based Frederator Studios, which in 2012 launched "Cartoon Hangover," a popular channel on YouTube that featured many animated videos, including "Bee and PuppyCat."
Frederator amassed a successful YouTube multi-channel network and was later acquired by Vancouver-based Rainmaker Entertainment Co. After the merger, the company changed its name to Wow Unlimited Media Inc., where Seibert is now chief creative officer.
The Canadian company, which employs nearly 50 in Southern California, saw its revenue more than double last year to $45 million (Canadian) due in part to demand from streaming companies such as Netflix, executives said.
"Castlevania" continues to draw a loyal following on Netflix, which recently extended the show for a third season.
"At the time, there wasn't really anything like this out there," said Larry Tanz, vice president of content acquisition for Netflix. "It was a great opportunity to try some kind of new animation with a very unique look and style from a really strong creative team."
Twitter: @thewendylee
---
Inside the business of entertainment
The Wide Shot brings you news, analysis and insights on everything from streaming wars to production — and what it all means for the future.
You may occasionally receive promotional content from the Los Angeles Times.