AT&T wraps up Time Warner purchase, ushering in new era for Warner Bros., CNN and HBO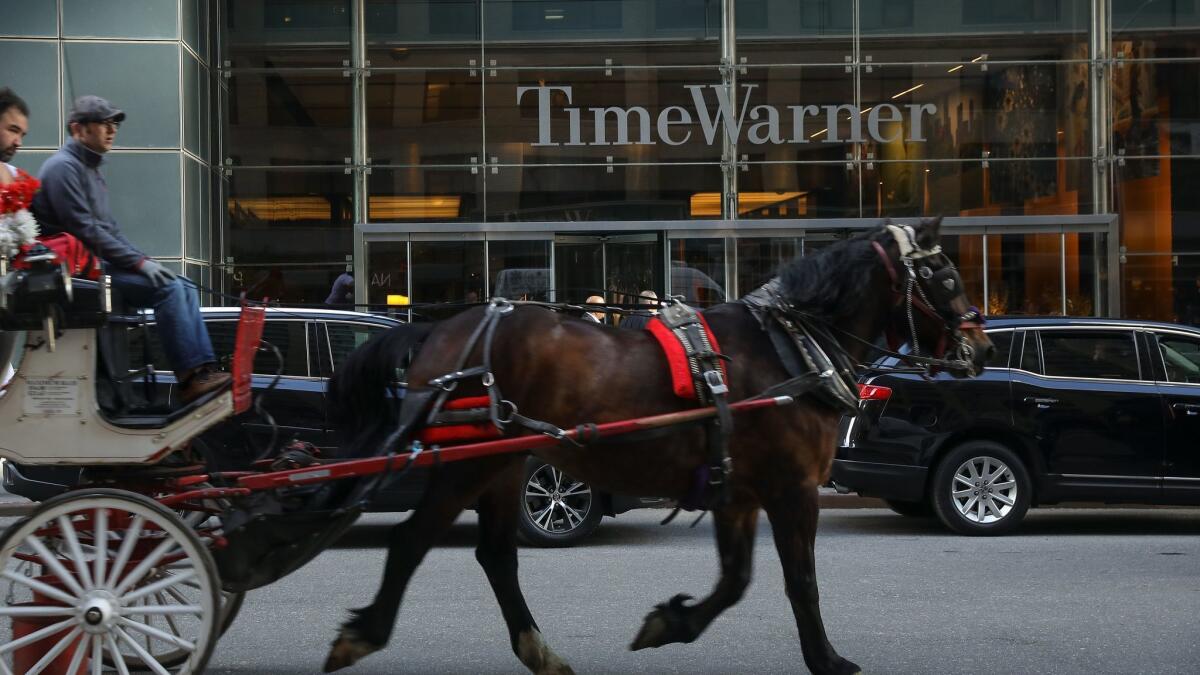 Time Warner Inc. is no more.
Late Thursday, AT&T Inc. announced that it completed its $85-billion acquisition of Time Warner Inc., just two days after a federal judge in Washington gave the deal the green light. AT&T wasted little time consolidating its hard-fought prize — a blockbuster purchase that instantly transforms the phone company into a major force in Hollywood.
Television networks HBO, TBS, TNT, CNN, Cartoon Network, Turner Classic Movies and the Warner Bros. movie and television studio, based in Burbank, now have a new boss: John Stankey. The 55-year-old executive is a Los Angeles native and a 32-year veteran of AT&T and its predecessors.
"After an unusually long and bumpy road getting here, I am delighted and honored to be joining the best team in media and entertainment," Stankey said in a note to his new staff Friday.
AT&T and Time Warner have spent the last six months battling the Justice Department to gain its approval for the deal. The Justice Department sued in November, alleging that AT&T would use Time Warner's content to put its rivals at a disadvantage. On Tuesday, U.S. District Judge Richard Leon ruled against the government, saying it had failed to prove its case that the AT&T-Time Warner combination was anticompetitive, clearing the way for the deal to close.
The company announced that it had retired the Time Warner name, but the names of its brands — HBO, CNN, TBS, Warner Bros. — would remain unchanged.
The three business units that made up Time Warner — HBO, Turner and Warner Bros. — would be known as WarnerMedia.
AT&T said John Martin, the Turner chief executive, was leaving the company while Jeff Bewkes would leave after a transition period. Five other senior executives also are exiting.
AT&T plans to separate its business into four distinct units: communications, which encompasses mobile phone service, broadband internet and DirecTV; advertising and analytics; international operations; and WarnerMedia, which last year generated $31 billion in revenue.
"We have a unique opportunity to truly lead in the transformation that's taking place across media and entertainment, direct-to-consumer distribution and technology," Stankey said in his note. "We are at a rare inflection point where the direction and structure of the content and distribution industries — which are central to how almost everyone on the planet relates to society and those around them — gets shaped for future decades."
Time Warner was formed by the 1990 merger of Warner Communications and Time Inc., the magazine empire. In 1996, it bought Turner Broadcasting. At one point, the company was one of the largest entertainment conglomerates in the world, churning out popular movies, 24-hour newscasts and such popular magazines as Time, People and Sports Illustrated.
It also orchestrated one of the worst mergers ever: Time Warner's $165-billion sale in 2000 to AOL, the dial-up internet pioneer. A few months after the deal was finalized, the dot-com bubble burst and the company's value plummeted.
The company's roots date to 1923, when Polish immigrant brothers Harry, Albert, Sam and Jack Warner incorporated their pioneering film business in Los Angeles. Warner Bros. remains one of the industry's jewels with such film franchises as "Wonder Woman" and "Harry Potter" and television shows such as "The Big Bang Theory."
Separately, the first copy of Time magazine was published in 1923 and sold 9,000 copies. Time's founders, Henry R. Luce and Briton Hadden, thought there would be a market among the college-educated crowd. But the digital era has not been kind to magazines, and Time Warner four years ago spun off the titles.
The new name WarnerMedia was selected because "it tested very well externally," Stankey said, and also to avoid lingering confusion with Time Warner Cable, even though Charter Communications bought the cable operation in 2016 and changed the name to Spectrum.
"Our consumer research suggests this confusion isn't going away any time soon," Stankey said. "So, it is easier and more economical to change the name, than invest in advertising to resolve the confusion."
Earlier on Thursday, AT&T negotiated a settlement with the Justice Department to waive a waiting period for the closing, according to Bloomberg News. AT&T closed the deal about three hours later. AT&T was pushing to complete the transaction before a June 21 deadline, when its Time Warner merger agreement was due to expire.
AT&T's Stankey was raised in Los Angeles. His father was an insurance underwriter and his mom stayed home to care for their three kids.
Stankey, the youngest, attended Loyola Marymount University in the early 1980s, finishing with a degree in finance. He earned spending money by stringing tennis rackets at the now-defunct Oshman's Sporting Goods near Pico and Sepulveda boulevards. Later, he worked as a buyer for the store, purchasing tennis rackets and skis.
He went to work in 1985 for the phone company Pacific Bell and never left. He earned his MBA from UCLA in 1991, and went on to tackle increasingly complex assignments on a determined march up the management ranks at Pacific Bell and SBC Communications, which in 2005 acquired AT&T. He served as chief information officer, chief technology officer and, beginning in 2012, AT&T's chief of strategy.
Last summer, he was designated the new boss of HBO, Turner and Warner Bros. — but he had to wait nearly a year to take over his new turf because of the battle with the Justice Department.
---
UPDATES:
3:40 p.m.: This article was updated with information about executive changes and quotes from John Stankey.
2:20 p.m. June 15: This article was updated to include the new name of Time Warner.
This article was originally published at 8:40 p.m. June 14.
Inside the business of entertainment
The Wide Shot brings you news, analysis and insights on everything from streaming wars to production — and what it all means for the future.
You may occasionally receive promotional content from the Los Angeles Times.