Bill O'Reilly to leave Fox News with $25 million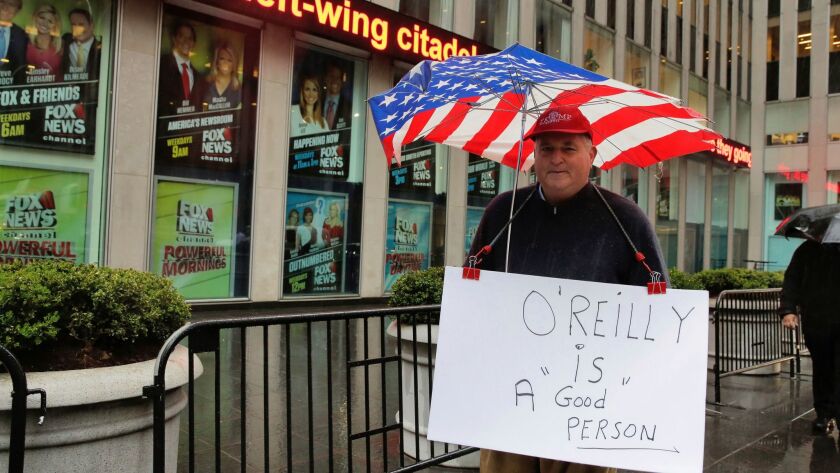 Former Fox News star Bill O'Reilly will leave the network with $25 million — the equivalent of one year's salary, according to two people familiar with the terms of his departure.
Parent company 21st Century Fox on Wednesday fired O'Reilly, 67, after investigators retained by the company began reviewing allegations of sexual harassment and payouts to women who brought grievances against Fox News' biggest draw.
O'Reilly's ouster came just 18 days after disclosures of sexual harassment complaints and settlements paid to multiple women, and a call last week to Fox's corporate hotline by Wendy Walsh. The radio personality has alleged that O'Reilly in 2013 promised her a coveted spot appearing on his show but reneged after she refused to have sex with him.
Terry O'Neill, president of the National Organization for Women, on Thursday called the payout for O'Reilly "obscene."
"Fox News needs to show Bill O'Reilly the door without a multi-million dollar payday," O'Neill said in a statement. "The Murdoch family must install leadership that actually will end the organization's culture of sexual and racial harassment. Until that happens, no advertiser should waste their money on this troubled network."
Last summer, the Murdochs fired Roger Ailes, the architect and former chairman of Fox News, after women complained that they were subjected to a hostile workplace. Several women alleged that Ailes suggested they provide sexual favors in exchange for career advancement. Ailes received $40 million when he left Fox.
Fox's board was briefed on the matter on Thursday. The company declined to comment. But in a memo to employees Wednesday, top executives Rupert, Lachlan and James Murdoch, said: "We want to underscore our consistent commitment to fostering a work environment built on the values of trust and respect."
O'Reilly's firing was an inglorious end to a spectacular career with Fox News. O'Reilly's opinion-based show "The O'Reilly Factor" was a tentpole of Fox News' prime-time lineup, supporting the suite of programs that surrounded it. He helped build Fox News into a $1-billion-a-year operation and the most successful cable news channel.
Viewers, particularly older men, reveled in O'Reilly's pugnacious, take-no-prisoners approach and his trademark "No-Spin Zone" version of current events. "The O'Reilly Factor" drew an average of 4 million viewers an episode, according to Nielsen.
In late February, O'Reilly negotiated a new four-year employment agreement that stipulated that he would receive the equivalent of one year's salary should he be forced out, according to people not authorized to comment.
O'Reilly learned from his attorney that he was being dismissed on Wednesday, as he was in a car in Rome with his family heading to the airport to fly back to the U.S. from vacation. There were no further negotiations about his exit package this week because his recently signed contract already had outlined the terms of his departure, one of the people said.
O'Reilly's tenure at Fox News became increasingly tenuous after the New York Times on April 1 detailed settlements to five women. Almost immediately, protesters began agitating for his ouster. Rupert Murdoch, the company's co-chairman and controlling shareholder, initially wanted to keep O'Reilly on the network but advertisers began bailing out of the program. Then, two additional women came forward, including Walsh, making the situation untenable for the Murdoch family.
Fox Chief Executive James Murdoch is said to have led the charge to dismiss O'Reilly. Fox is in the midst of trying to secure the British government's approval of its proposed $14-billion takeover of Sky, the profitable European pay-TV service. As part of its review, the British government will determine whether Fox is a "fit and proper" holder of a broadcast license. Dealing with charges of sexual harassment at Fox News would have complicated the company's efforts to secure approval for its Sky deal. Fox currently owns 39% of Sky but wants to fully control the satellite TV operation.
On Sunday, after Walsh's call to Fox's corporate hotline, senior managers brought in Paul, Weiss, Rifkind, Wharton & Garrison to investigate the claims. The law firm also investigated complaints against Ailes.
"If O'Reilly would have stayed in his position, there might have been other women who would have come forward," said Marlene Morris Towns, an adjunct marketing professor at Georgetown University. "They probably realized that it was just the tip of the iceberg."
O'Reilly maintains that the charges against him are untrue.
"It is tremendously disheartening that we part ways due to completely unfounded claims," O'Reilly said in a statement released Wednesday.
"But that is the unfortunate reality many of us in the public eye must live with today. I will always look back on my time at Fox with great pride in the unprecedented success we achieved and with my deepest gratitude to all my dedicated viewers."
ALSO
Ousted by Fox, Bill O'Reilly leaves a legacy of infuriating and influencing America and the news media
Bill O'Reilly's departure from Fox News draws divergent reactions from conservative media
He helped build Fox News into a juggernaut. What's next for Bill O'Reilly?
---
UPDATES:
12:55 p.m.: This article was updated with additional details, including a reaction from the National Organization for Women.
This article was originally published at 11:45 a.m.
---
Inside the business of entertainment
The Wide Shot brings you news, analysis and insights on everything from streaming wars to production — and what it all means for the future.
You may occasionally receive promotional content from the Los Angeles Times.