Bill O'Reilly's departure from Fox News draws divergent reactions from conservative media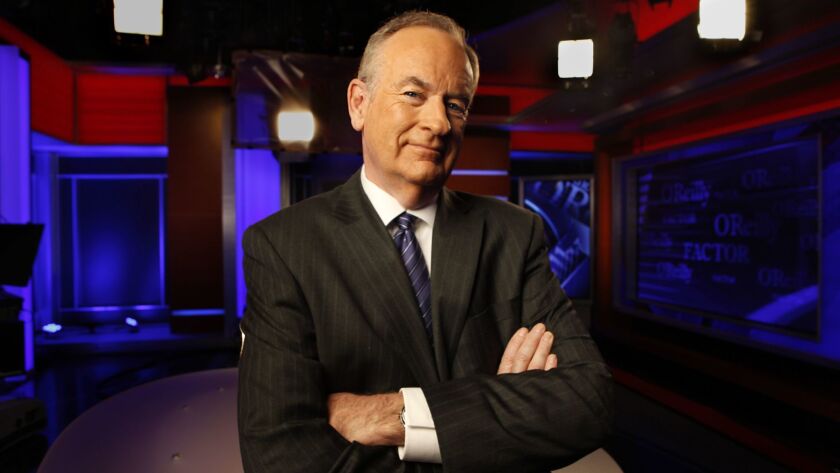 It was a smear campaign orchestrated by liberal activists bent on censorship. It was a predictable reckoning for an arrogant man. It's the latest sign that the old-guard conservative media need fresh blood to take on the left-wing establishment.
Following the firing of Fox News host Bill O'Reilly on Wednesday on the heels of numerous accusations of sexual harassment, leaders in conservative media were in unanimous agreement that his departure represents a key victory for liberals — a major scalp in a growing pelt of conservative voices that have been silenced since Donald Trump won the presidential election.
But opinions vary widely over what O'Reilly's downfall means for the conservative media in general and Fox News in particular. At a time when competing conservative news sites are attracting younger viewers and readers, the No. 1-rated cable news channel is at a crucial juncture over its programming and broader future.
The channel is betting big on Tucker Carlson, the conservative pundit whose nightly show on Fox News will replace O'Reilly's starting Monday. Carlson has become a popular hit for the network, almost doubling the ratings of his predecessor, Megyn Kelly.
Some see the O'Reilly drama as a partisan attack from activists who care little about the victims of sexual harassment.
"The motives are deeply political," said Alex Marlow, editor in chief at Breitbart News, the conservative, pro-Trump website. He said the advertiser boycott of "The O'Reilly Factor" — which saw numerous advertisers jump ship after the sexual allegations were made public — represents the creeping influence of corporate executives over what goes on in newsrooms around the country.
"It's creating an America where corporations decide what can and can't be said, and I don't like the idea where the corporations have so much control," Marlow said. "Corporations are under pressure to pull advertising from anyone who is right of center — it's an attack on free speech."
Advertisers, however, were responding to criticism and protests over persistent sexual harassment complaints at Fox News. The flight of advertisers from "The O'Reilly Factor" followed a report in the New York Times that Fox News and O'Reilly had paid $13 million to settle claims from five women who complained of sexual harassment and inappropriate behavior by the TV personality.
Corporations are under pressure to pull advertising from anyone who is right of center — it's an attack on free speech.
— Alex Marlow, editor-in-chief, Breitbart News
O'Reilly's departure marks the latest shake-up in Fox News' evening lineup, which has seen the recent exit of hosts Kelly and Greta Van Susteren. Carlson will take O'Reilly's 8 p.m. Eastern time slot, and Eric Bolling and Jesse Watters have also been promoted to more coveted slots.
"Fox's prime-time lineup is actually becoming more pro-Trump," said Marlow. "So the left is getting a Pyrrhic victory."
But the increasing partisanship among conservative outlets makes some media executives uncomfortable.
"There's a lot of room in the center and center right that's become ignored," said Christopher Ruddy, who heads Newsmax, a moderately conservative news site. "The more you go to these extreme niches, the better your business will be. But I think it's limited and short-term thinking. I'd rather grow to the center."
He said O'Reilly represented a relatively centrist voice among Fox's evening lineup, which includes Sean Hannity, who is overtly pro-Trump.
"Bill O'Reilly is really an independent," he said. "Culturally, he was conservative and that irked a lot of people in Hollywood. But he was also good at interviewing Obama and [Bill] Clinton."
The audience for "The O'Reilly Factor" skewed older, with a median age of 67, according to data from Nielsen. For many, he represented an older generation of conservatives and an old-fashioned way of doing the news.
"I don't watch his show," said Jack Posobiec, the Washington bureau chief of Rebel Media, a right-wing news site. Posobiec is one of a growing number of young, conservative news personalities who has embraced social media as a way to bypass traditional media that is reliant on advertising.
O'Reilly "should download a Periscope account, start digging up sources, and start bringing real news and hard-hitting journalism to the public like we do here at Rebel Media," he said.
Conservative media executives have expressed optimism over Carlson, whose Fox News show "Tucker Carlson Tonight" debuted in November and has seen its popularity grow steadily.
"Tucker is a serious guy and he's become a rock star," said Brent Bozell, president of the conservative Media Research Center. "Some people make tremendous hosts, some make tremendous guests. Tucker was a great guest and he surprised everybody that he was a better host. He has charisma and goes in-depth."
Carlson is more attuned to younger viewers, especially in the way he structures his show, Breitbart's Marlow said.
"He's structuring his show anticipating the viral YouTube clip that can appeal to a much broader and younger audience," he said. Producers post those clips to Carlson's Twitter account, where they are retweeted in the thousands.
"You can tell they are producing the show with that in mind."
ALSO
Bill O'Reilly to leave Fox News with $25 million
Ousted by Fox, Bill O'Reilly leaves a legacy of infuriating and influencing America and the news media
He helped build Fox News into a juggernaut. What's next for Bill O'Reilly?
---
Inside the business of entertainment
The Wide Shot brings you news, analysis and insights on everything from streaming wars to production — and what it all means for the future.
You may occasionally receive promotional content from the Los Angeles Times.