Byron Allen, the comedian-turned media mogul, explains why he wants to be in the movie business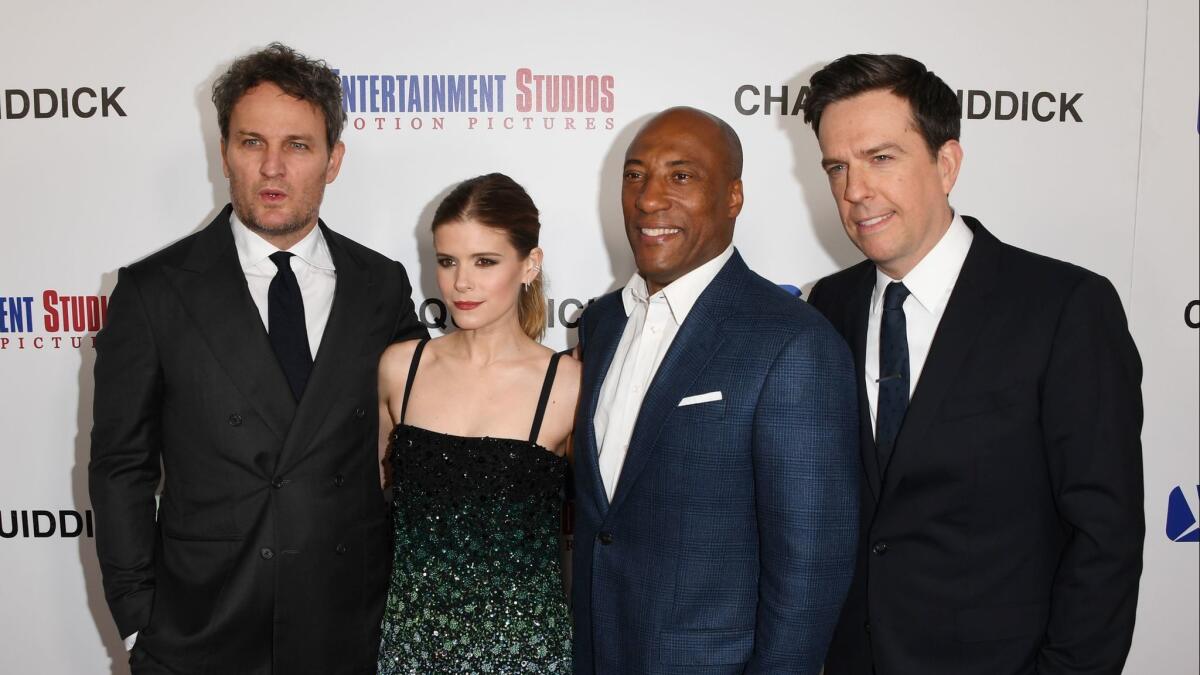 Entertainment Studios founder Byron Allen is known for unexpected bets, such as recently buying the Weather Channel's parent company for $300 million.
Even so, why would the comedian, who owns television channels such as Pets.TV and Cars.TV, want to get into the business of releasing big-screen features?
In remarks at CinemaCon in Las Vegas, the 57-year-old comic-turned media mogul explained his unconventional career arc to cinema owners, relishing his status as a Hollywood outsider trying to find a niche among the major established players.
In a 30-minute speech, he promised cinema operators he would release the kinds of mid-budget movies the studio system has largely abandoned, comparing his company to a lightweight boxer.
"What I'm seeing is that the big studios are getting bigger. They're going up in weight class," he said. "They are not chasing that $30 million in box office. That's a disaster for them. We are chasing that…. We see an opportunity."
Allen is part of a wave of independent distributors that have entered the film market to make lower-budget movies for specific audiences. His competitors include the likes of A24, Neon, Annapurna Pictures and Aviron Pictures, all relatively new players focused on specialty movies that rely on critical acclaim and awards buzz. This year, a record 11 studios and distributors are presenting footage during CinemaCon, including Amazon Studios, STX Films and now Allen's company.
Entertainment Studios entered the movie distribution business in 2015 when Allen bought Freestyle Releasing, an indie distributor known for "God's Not Dead," for an undisclosed amount. He sealed the deal over a lunch with Freestyle co-founder Mark Borde, he said.
"He gave me a number, and I said, 'OK, sold,'" he told the crowd. "We closed right there. And I found myself in the movie business."
Allen caught Hollywood's attention last year with the Mandy Moore shark movie "47 Meters Down," which grossed $44 million last summer to become a surprise indie hit. Allen said he bought the completed movie from his Malibu neighbor Bob Weinstein (brother of now-disgraced mogul Harvey Weinstein), who was about to release it directly to home video. Allen paid $3 million for the movie rights, he said.
Entertainment Studios' other recent releases include the Christian Bale western "Hostiles," and the controversial Ted Kennedy movie "Chappaquiddick." Entertainment Studios' March release "The Hurricane Heist" flopped in theaters, grossing just $6 million domestically.
Allen showed the trailer for his next film, the Keanu Reeves science fiction thriller "Replicas," produced by Lorenzo di Bonaventura of "Transformers." The film is set for an Aug. 24 release.
The comedian also regaled the CinemaCon crowd with stories from his unusual background.
A Detroit-born child of a teenage mother, Allen moved with his mom to Los Angeles when he was a child in 1968 at a time of social unrest in the city. His comedy career began when he was a teenager. He appeared on "The Tonight Show Starring Johnny Carson" when he was 18 and later joined the TV show "Real People." He founded Entertainment Studios in 1993, selling a weekly celebrity interview show to television stations.
Still somewhat of a film business outsider, Allen took pains to tell cinema owners that he's on their side in the fight over theatrical windows. He dismissed the idea of narrowing the time gap between a film's theatrical debut and its home video release, an idea theater owners have fiercely opposed.
"I don't like the whispers and conversations from big studios who say we want to make it shorter than 90 days," Allen said. "We're going to support it and we'll defend it. If anything, let's make it 120 days. Let's go in the other direction."
The issue remains a sensitive one for theater owners trying to preserve their business model in the face of competition from streaming and video games.
Instead, Allen proposed a potentially more radical way for theaters to adapt: by investing in movies.
"Maybe we should think about investing in content so we can protect the most important part of what we do as a business," he said. "There's nothing wrong with you being a part of everything…. Because you are helping to market and brand it."
He said the idea could be a way for theaters to better compete with streaming services that are attracting more filmmaker talent. Netflix, for example, has made lucrative deals with filmmakers such and Adam Sandler and the Duplass brothers.
"We're seeing other platforms at a very alarming rate gobble up talent and take it out of our sand box," he said. "We have to grow our business, and the only way to do that is to invest."
Inside the business of entertainment
The Wide Shot brings you news, analysis and insights on everything from streaming wars to production — and what it all means for the future.
You may occasionally receive promotional content from the Los Angeles Times.