CBS board is mum at annual meeting on Moonves' possible $120-million severance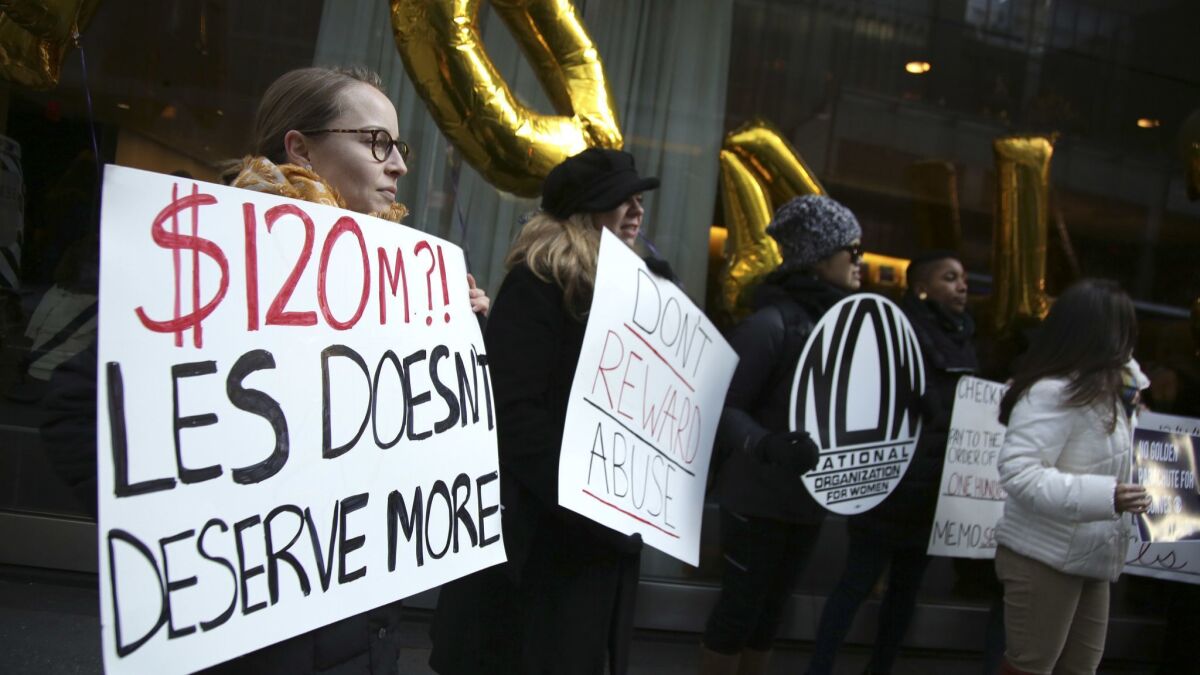 Reporting from New York —
CBS Corp. finally held its annual meeting with shareholders — a ritual that had been twice postponed this year because of corporate turmoil. But during Tuesday's 25-minute gathering there was no hint of the drama surrounding the company, nor any mention of the man who led it for 12 years: former Chief Executive Leslie Moonves.
Instead, the first question came from a former CBS News foreign correspondent, Steve Patten, who told board members he was fired in 1985 before he could file an expense report for $14,000. CBS, Patten said, owes him for those expenses, which, with interest and "late fees," now total $26 million.
It was a strange juxtaposition for a firm that had been shaken to its core twice this year: first, by boardroom divisions that prompted 11 directors in May to file and then abandon a lawsuit against controlling shareholder Shari Redstone and her family, and later by a growing sexual harassment scandal that prompted Moonves' ouster in September.
Several women have accused Moonves of trying to force himself on them decades ago. The September resignation of Moonves came amid a reshuffling of the CBS board, which has had three different chairmen presiding over it since August. Six new board members joined in September, replacing several longtime Moonves allies. On Tuesday, shareholders ratified the reconstituted board.
A handful of protesters gathered outside the Museum of Modern Art in Manhattan, where the meeting was held, to urge the board to deny Moonves a $120-million severance package. Inside the meeting, a second investor applauded Redstone, CBS' vice chair, for the "seamless reestablishment of her control and authority. … Way to go, Shari."
Strauss Zelnick, who is serving as CBS' interim chairman — a post formerly filled by Moonves — said Tuesday that the company has hired a search firm to recruit a new chief executive. In the interim, Moonves' longtime deputy, Joseph Ianniello, will serve as president and acting CEO.
CBS shares closed the day down 3% to $48.24. The stock is off more than 16% this year.
The board, in August, hired two high-profile New York law firms to investigate allegations of sexual misconduct by Moonves. The review also includes whether the former CEO has been forthcoming during interviews with investigators about his conduct.
Although the review is said to be nearing completion, investigators still are interviewing potential witnesses, according to two people close to the situation who were not authorized to comment. CBS board members met Monday night and Tuesday, during the shareholders' meeting, without making any pronouncement about Moonves' fate. The board has until Jan. 29 to determine whether Moonves should be fired for cause, which would deny him the severance package.
The New York Times last week reported that investigators believed Moonves was evasive in four meetings with the investigators, Nancy Kestenbaum and Mary Jo White. The paper also said Moonves deleted text messages and turned over an iPad used by his 9-year-old son rather than his own — an allegation that is now in dispute.
The New York Times said it had reviewed a draft report summarizing findings of the investigation — which includes the allegation about the iPad. Clouded by such disclosures, the investigation itself is now under scrutiny. Such extensive leaks have been troubling to some board members, according to one person close to the situation, and could give Moonves a legal opening to fight its eventual findings.
CBS — and the investigators — had pledged to conduct the investigation in a confidential manner, and the press leaks have undermined that promise. Now, the law firms handing the investigation — Debevoise & Plimpton and Covington & Burling — are trying to determine how such leaks occurred.
This week, investigators, through a representative, declined requests for comment.
Battaglio reported from New York and James from Los Angeles.
Twitter: @MegJamesLAT
---
Inside the business of entertainment
The Wide Shot brings you news, analysis and insights on everything from streaming wars to production — and what it all means for the future.
You may occasionally receive promotional content from the Los Angeles Times.