CBS' Leslie Moonves received $69 million in compensation last year; Richard Parsons nominated to serve on board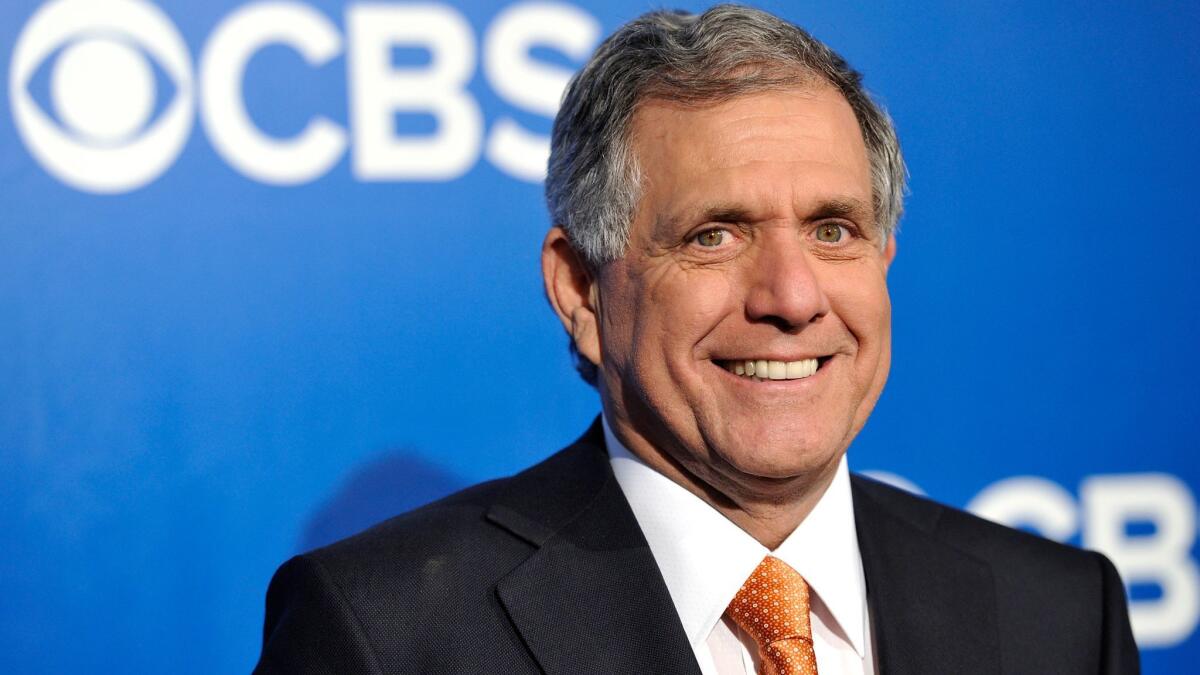 CBS Corp. Chief Executive Leslie Moonves once again is the $69-million man.
Moonves remained among the highest-paid executives in corporate America with a $69.3-million compensation package in 2017, down slightly from the previous year, according to CBS' proxy filed Friday.
Details of the fat compensation package come as CBS' controlling shareholder Shari Redstone is working to reunite CBS and Viacom Inc., the other media company her family controls. Negotiations have become tense because Redstone and Moonves appear to be at odds over the proposed management team for a combined entity.
Meanwhile, CBS nominated veteran media executive Richard Parsons to its board, bolstering the panel at a crucial time when the two companies might become one.
Both CBS and Shari Redstone have embraced the choice of Parsons, who served as chairman and chief executive of Time Warner Inc. from 2003 to 2008, after its turbulent takeover by internet upstart AOL. That is widely considered one of the most ill-fated corporate mergers of all time. Parsons was interim chief executive of the Los Angeles Clippers basketball team in 2014 amid the wrangling over the team's future.
Parsons, who also served as chairman of CitiGroup, has a reputation for being an adroit diplomat and consensus builder. Those skills could prove beneficial amid the wrangling between Moonves and Redstone and other independent members of the board.
The Redstone family controls nearly 80% of the voting stock of Viacom and CBS through their investment vehicle, National Amusements Inc. Shari Redstone — who serves as vice chairwoman of Viacom and CBS — has been calling the shots for the last two years after her famously fiery father, Sumner Redstone, 94, became ill.
It was Sumner Redstone who divided his family's empire into two companies in 2006 to generate more wealth and give his top two executives, then Moonves and former MTV boss Tom Freston, their own fiefdoms. But Shari Redstone has been pushing for more than a year to combine Viacom and CBS. She believes the two companies would be stronger together as traditional media companies face rising competition from technology companies such as Netflix, Amazon and Google's YouTube.
Parsons is expected to join CBS' board after an election of directors at the annual board meeting in mid-May. Parsons would replace longtime CBS board member and former filmmaker Arnold Kopelson.
Some observers were watching to see whether Redstone would offer a new slate of directors aligned with her objectives. But Parsons, 70, was the only proposed addition to the board.
Analysts believe the Viacom-CBS merger issue should be settled by early May, when the two companies next report their earnings.
"We see significant risk resulting from prolonged public discord," Guggenheim Securities media analyst Michael Morris wrote in a report Thursday.
Wall Street has become concerned that Shari Redstone, Moonves and others on CBS' board seem to be at odds over key terms of the proposed merger. CBS recently made an all-stock offer that valued Viacom at less than its current trading levels, and Viacom promptly rejected it this week. Company representatives would not say Friday whether Viacom has submitted a counteroffer to CBS.
"We don't see a scenario where there is NO deal," Wells Fargo Securities analyst Marci Ryvicker wrote in an investor note Friday. In addition, "We do NOT think CBS will pay a discount" for Viacom.
The stumbling block has become whether Shari Redstone and Viacom will stick to its demands that Viacom Chief Executive Bob Bakish be installed as the No. 2 executive at a combined Viacom-CBS. Redstone has been impressed with Bakish's ability to make tough calls in the nearly 16 months that he has been running the company. But Bakish hasn't been able to boost Viacom's share price due to prolonged ratings struggles at key cable networks and box office misfires from Paramount Pictures. (The studio has a hot prospect, "A Quiet Place," hitting theaters this weekend)
Moonves wants his current second-in-command, Joseph Ianniello, to remain in the chief operating role should CBS swallow the smaller Viacom. Moonves has a strong track record managing the broadcasting company, and he has many fans on Wall Street.
"We believe that continuity in the CEO role is a key component to company success and investor confidence," Morris said. "We do not see substantial evidence to support replacing a successful COO who has collaborated with the future CEO with a new leader and an unproven track record."
Despite a drop in profits at CBS last year, Moonves' 2017 compensation was boosted by $43.7 million in stock awards, which came in part when he extended his employment agreement last May. His contract now runs through June 2021. Moonves also received a $20-million bonus. His base salary is $3.5 million.
The year before, Moonves collected $69.6 million in compensation, which included a $32-million bonus because CBS' stock performance.
---
UPDATES:
4:35 p.m.: This article was updated with new information and analyst commentary.
This article was originally published at 2:40 p.m.
Inside the business of entertainment
The Wide Shot brings you news, analysis and insights on everything from streaming wars to production — and what it all means for the future.
You may occasionally receive promotional content from the Los Angeles Times.