CBS board knew about Leslie Moonves' sexual harassment allegations, sources say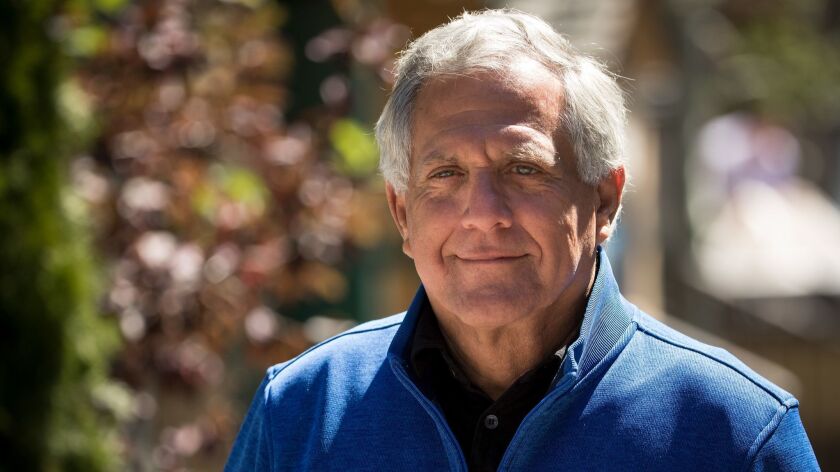 CBS board members learned several months ago that the Los Angeles Police Department had investigated an alleged sexual assault by CBS Chairman and Chief Executive Leslie Moonves, according to two people familiar with the matter who were not authorized to speak publicly.
Although no charges were filed, Moonves disclosed the existence of a police investigation to a committee of the board, which then hired an outside law firm to investigate the matter, the knowledgeable people said.
The outside firm reviewed information about the allegations and police inquiry and concluded that "no further investigation was warranted," according to one of the sources.
Questions surrounding what CBS board members knew about allegations of misconduct by the longtime chief executive — when they learned of the claims, and the action they took — could further fuel the controversy over their handling of the matter.
Board members have faced criticism from corporate governance experts and others for not taking more aggressive action — such as suspending Moonves — in the wake of last week's New Yorker magazine article, which contained allegations of six women who said that Moonves sexually harassed them. Board members on Monday said they would select an outside counsel to "conduct an independent investigation."
The board has hired two high-powered female attorneys to oversee the investigation into the allegations involving Moonves as well as executives within CBS News. Mary Jo White, a former Securities and Exchange Commission chairwoman, and Nancy Kestenbaum will head the investigation, CBS announced Wednesday night.
"The board has to separate the noise from the reality," said Charles M. Elson, director of the John L. Weinberg Center for Corporate Governance at the University of Delaware. "Allegations alone are not a reason to take action: There has to be something serious — and credible — for them to act."
Moonves on Thursday is expected to address the allegations during a conference call with analysts to report the broadcasting company's second-quarter earnings.
"The Board noted that it takes these allegations seriously and is committed to acting in the best interest of the Company and all of its shareholders," CBS said in a statement Wednesday night.
The police investigation began in November after an 81-year-old woman told detectives that Moonves sexually assaulted her three decades ago when they both worked at then-television powerhouse Lorimar Productions, the studio behind such shows as "Dallas" and "Knots Landing." The woman claimed the TV executive, during a 1986 meeting in his office, demanded oral copulation. She told police about another incident, in 1988, when he allegedly exposed himself and assaulted her, sources said.
Los Angeles County prosecutors said they declined to file charges in the case, saying the alleged incidents occurred more than 30 years ago and were thus beyond the statute of limitations. Prosecutors opted not to pursue the case in February.
It is not clear precisely when CBS board members learned of the police inquiry, but they were aware that the district attorney had decided not to pursue the matter, one of the sources said.
The New Yorker article detailed allegations of several women who said Moonves' "forcibly kissed" them, and that they believed their careers had suffered after they spurned his advances.
"I recognize that there were times decades ago when I may have made some women uncomfortable by making advances," Moonves said in a statement last week. "Those were mistakes, and I regret them immensely. But I always understood and respected — and abided by the principle — that 'no' means 'no,' and I have never misused my position to harm or hinder anyone's career."
Moonves, who has been chief executive since 2006, has long enjoyed the support of most of the 14-member board.
One knowledgeable person who was not authorized to comment said not all board members were aware of the short-lived police investigation.
Informing the full board may not have been a necessary step, Elson said.
"But if the allegations are serious and credible, then it certainly should be a matter for the full board," Elson said.
The controversy comes at a time when CBS' board already is deeply divided over the management and future of the company. Since January, Moonves has been at odds with controlling shareholder Shari Redstone over the board's composition and whether CBS should merge with Viacom Inc., the other media company that the Redstone family controls.
CBS board members were aware late last year that multiple news organizations were looking into Moonves' conduct in the wake of the Harvey Weinstein scandal, which exploded in October. The #MeToo movement began after the first wave of stories, which contained allegations that Weinstein had sexually assaulted dozens of women, dating back decades.
Women came forward with their stories of past abuse, and reporters at multiple outlets began chasing tips about various Hollywood figures. CBS learned of such reporting efforts after journalists reached out to female executives and asked about their experiences with Moonves, a person close to the company said.
---
Inside the business of entertainment
The Wide Shot brings you news, analysis and insights on everything from streaming wars to production — and what it all means for the future.
You may occasionally receive promotional content from the Los Angeles Times.