CBS makes low-ball bid for Viacom and stipulates that Moonves must be in charge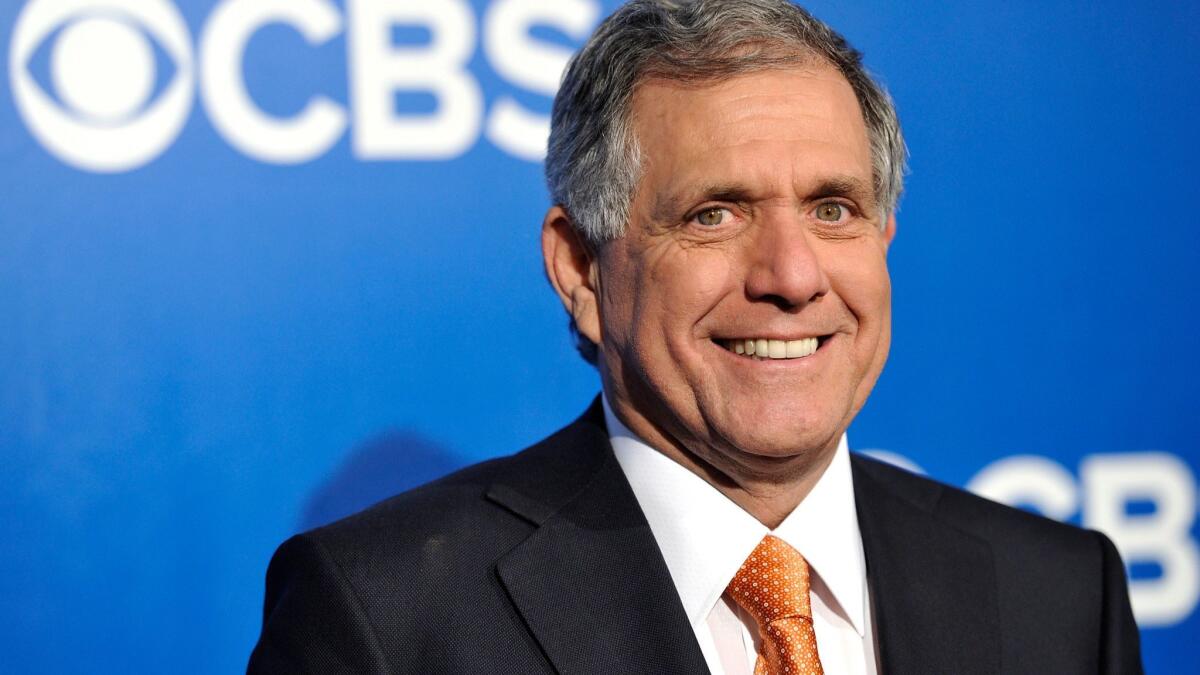 Venerable broadcaster CBS Corp. has submitted a low-ball bid to buy cable programming company Viacom Inc., kicking off high-stakes negotiations to hammer out an agreement to unite two traditional media companies.
CBS' all-stock offer placed a lower valuation on Viacom than its current market capitalization of about $12.2 billion, according to a person familiar with the matter who was not authorized to discuss it. It was not immediately known how much CBS has offered, but the bid was recently sent to Viacom's special committee overseeing the potential merger, the knowledgeable person said.
In addition, CBS stipulated that its chairman and chief executive, Leslie Moonves, would run the combined company for at least two years, the knowledgeable person said. Moonves' contract with CBS goes through mid-2021.
Companies typically offer a generous premium, 30% or more, when trying to buy another firm. CBS' demands suggest the New York broadcasting giant is determined to drive a hard bargain despite the unusual backdrop for the talks.
Both CBS and Viacom are controlled by the Sumner Redstone family. Shari Redstone, daughter of the ailing 94-year-old mogul, has been keen to unite the two companies at a time of growing uncertainty in the media business. Technology giants Netflix, Google and Amazon.com have invaded the space and are spending heavily to create original TV programming that appeals to viewers who prefer video on demand.
Viacom declined Tuesday to comment.
Viacom's current market value is $12.2 billion. Its shares closed Tuesday at $29.42, slipping nearly 4% on news that CBS was preparing a lowball bid. CBS' market value is $20 billion; its shares rose 4.3% to $52.87.
Medium-sized players such as CBS and Viacom are under pressure to bulk up at a time of rapid consolidation. Earlier this year, Discovery Communications acquired Scripps Networks Interactive, which include the Food Channel and HGTV. Walt Disney Co. plans to take over 21st Century Fox, and AT&T is attempting to buy Time Warner Inc.
CBS and Viacom announced in February they had formed special committees composed of independent directors to evaluate whether a consolidation would benefit shareholders.
Although most analysts expect a deal will eventually emerge, there could be several hurdles to bringing together two companies that haven't always gotten along.
Shari Redstone tried to merge the two entities in the fall of 2016, but her efforts collapsed over a valuation for Viacom. CBS' Moonves also had been demanding autonomy to run the company as he saw fit, according to several knowledgeable people. CBS' board also resisted reunification out of concern that Viacom's problems would weigh on CBS.
After the CBS talks ended, Viacom's former international chief, Bob Bakish, was tapped to run Viacom, and Shari Redstone appears impressed with Bakish's collaborative style and his early results.
Details of the proposed bid, which were first reported Monday by Reuters, suggest that CBS has not backed down from its 2016 demands. And Moonves, 68, appears to have leverage: His company is stronger than Viacom, and Wall Street respects his long track record in managing CBS.
"While the proposal for Mr. Moonves to run the potential joint entity is unlikely to be very controversial...given Mr. Moonves's track record, it is not clear if the Redstone family is on board with this decision," Kannan Venkateshwar, media analyst with Barclay's Research, said in a report.
A second person familiar with the process concluded that CBS' planned low-ball offer would probably be "a starting point" for the negotiations. Otherwise, a below-market offer would be a "non-starter" for Viacom's board, this person said.
Analysts, in recent weeks, have suggested that Viacom is worth more than $30 a share.
"We conclude that Viacom will likely get some premium because … CBS management cares more about control than price (within reason), and wants to get the deal done and move on," RBC Capital Markets media analyst Steven Cahall wrote in a report last week.
Viacom was once one of the most formidable television programmers because of its stable of cable TV channels, including Nickelodeon, MTV, VH1, Comedy Central and BET. The company also owns the Melrose Avenue movie studio Paramount Pictures, which has been mired in a prolonged box-office slump.
"Certainly, Viacom's management has taken steps to stabilize the company, cut costs and show the value of investments, but we don't think media investors are necessarily convinced that Viacom is worth more on its own than it is in a takeout scenario given its troubles," Cahall wrote.
Needham & Co. media analyst Laura Martin said, in a separate report, that Viacom already trades at a 15% to 30% discount to other media companies. She concluded that Viacom is probably worth about $40 a share.
"Viacom has strong brands and deep penetration," Martin said.
CBS and Viacom were one entity until Sumner Redstone in 2006 divided his empire into two companies in a bid to generate more wealth.
In recent years, Viacom has struggled with ratings challenges at key networks and box-office flops at Paramount Pictures. The movie studio — which has racked up hundreds of millions of dollars in losses in recent years — currently has a negative valuation. Paramount's library alone should be worth more than $6 billion, Martin argued.
CBS has been able to boost its value on the strength of its programming, but its stock has dropped 12% since investors learned of a potential merger this year. CBS has substantially increased revenue through the fees it charges cable and satellite television distributors that want to include CBS in their pay-TV bundle.
But the storied company faces its own challenges, including a reliance on advertising at a time when viewers are turning away from commercials.
---
UPDATES:
April 3, 1:45 p.m.: This article was updated with news that CBS has submitted a bid for Viacom. Additional information, including Tuesday stock trading figures, was added.
This article was first published April 2, 2018 at 3:40 p.m.
Inside the business of entertainment
The Wide Shot brings you news, analysis and insights on everything from streaming wars to production — and what it all means for the future.
You may occasionally receive promotional content from the Los Angeles Times.