Charter and Tribune Media extend contract deadline; L.A. Spectrum subscribers can watch Rose Parade on KTLA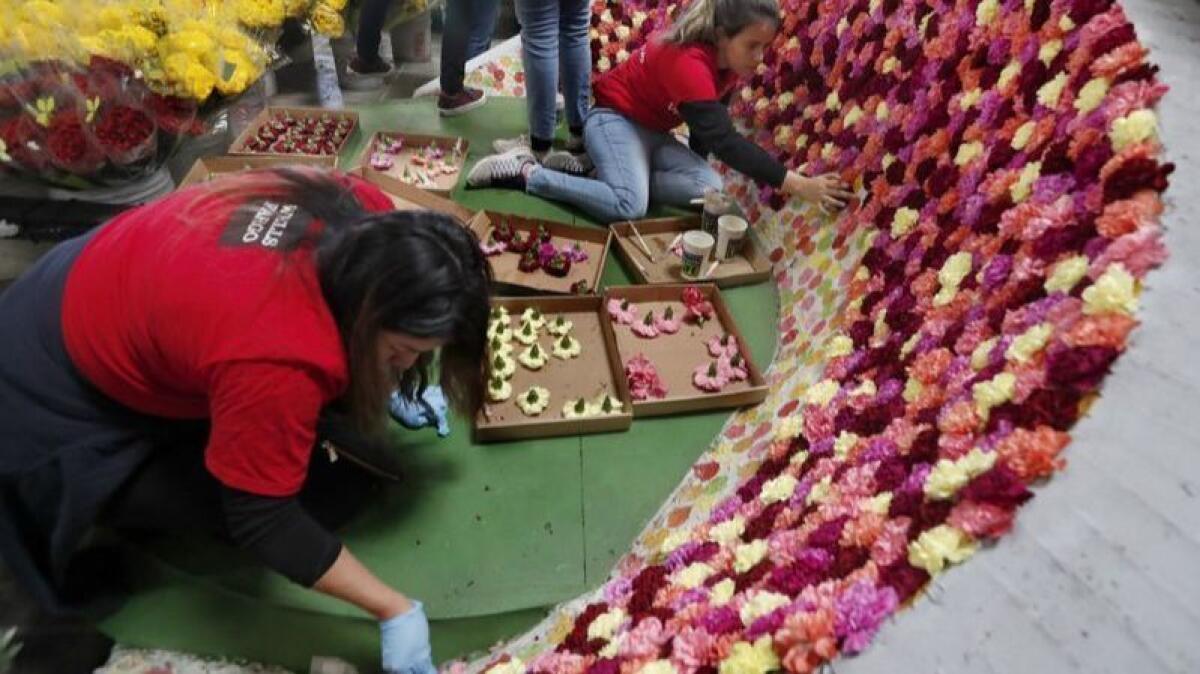 A contract dispute that had threatened to disrupt a New Year's Day tradition in Los Angeles was averted late Monday when Charter Communications and Tribune Media agreed to a short-term contract extension to give the two companies more time to hammer out a new distribution deal.
Facing a looming New Year's Eve deadline of 9 p.m. Pacific time, the 11th-hour truce delayed at least until Wednesday afternoon the threat of a blackout of Tribune stations, including KTLA Channel 5 in Los Angeles, from Charter's Spectrum cable television service. Without a deal, hundreds of thousands of Spectrum customers in Southern California could have missed seeing KTLA's popular broadcast of the Tournament of Roses Parade — a tradition in many Southern California homes.
The new deadline for a contract is 2 p.m. Wednesday, according to the two companies. The deadline extension suggests that both sides have made progress in the negotiations.
Stamford, Conn.-based Charter and Chicago-based Tribune Media — which owns KTLA and 32 other television stations in Charter markets, including KSWB Channel 5 in San Diego — have spent the last few days in a tense standoff as they haggled over details of a new agreement to allow Charter to transmit Tribune Media's station signals. The companies have been wrangling over a proposed fee hike by Tribune Media.
Charter has an estimated 1.5 million Spectrum customers in the Los Angeles region. Spectrum is the brand name for Charter's pay-TV, internet and phone service.
Negotiations have been fraught. Tribune Media over the weekend complained about a lack of "meaningful" progress in the talks. On Monday, callers to KTLA, who wanted to hear an update on the situation, were routed to a Spectrum customer service center. Tribune Media urged viewers to demand that Charter provide their local station as part of their Spectrum packages.
Like other cable operators, Charter has been struggling to control programming costs in an effort to stanch a migration of customers to lower-cost streaming services. Pay-TV operators had a tough year in 2018: The industry was projected to lose 1.1 million customers during the year, including more than 200,000 cable TV subscribers from Charter, according to recent estimates from MoffettNathanson Research.
"Charter is committed to holding down the cost of programming and, in turn, the cost our customers pay for cable television service. Charter's intention is to continue to provide Tribune programming to our customers," the company said in a statement Monday.
There were at least 140 television blackouts in 2018, including a lingering stalemate between satellite-TV provider Dish Network and Spanish-language media giant Univision Communications. On Monday, an impasse between Verizon Communications and TV broadcaster Tegna Inc. resulted in an outage of network affiliate stations in Washington, D.C., Baltimore, Norfolk, Va., and Buffalo, N.Y. on Verizon Fios systems.
Still, the number of outages was down substantially from a record of 213 in 2017, according to the American Television Alliance, a Washington-based lobbying group that represents pay-TV operators.
Walt Disney Co. and Verizon Communications came to an agreement Sunday on a comprehensive distribution deal that averted an ESPN blackout for 4.6 million Verizon Fios customers in the Northeast and Mid-Atlantic states. Verizon was determined to avoid an outage that would have frustrated sports fans who watch ESPN's coverage of college football bowl games. The previous Disney-Verizon contract also was set to expire on New Year's Eve.
The conflict has been over so-called retransmission fees — the money that cable, satellite TV and telephone companies must pay to broadcast local TV station signals as part of their cable channel lineups. Television station owners this year will collect a combined $10 billion in such fees, up from $9.3 billion in 2017, according to the alliance.
Twitter: @MegJamesLAT
Inside the business of entertainment
The Wide Shot brings you news, analysis and insights on everything from streaming wars to production — and what it all means for the future.
You may occasionally receive promotional content from the Los Angeles Times.