Three CNN journalists resign over retracted Trump-Russia story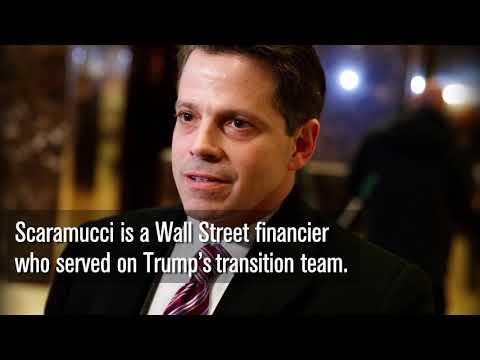 It said Senate investigators were examining a meeting between Anthony Scaramucci and the Russian Direct Investment Fund. (June 27, 2017) (Sign up for our free video newsletter here http://bit.ly/2n6VKPR)
Three journalists from CNN's investigative unit are leaving the network after the retraction of their June 22 story connecting an ally of President Trump to a Russian investment fund.
The story, citing an anonymous source, said Senate investigators were examining a meeting between Wall Street financier Anthony Scaramucci and an executive for the Russian Direct Investment Fund. The $10-billion fund makes direct investments in Russian companies.
Scaramucci, who founded hedge fund specialist SkyBridge Capital, served on Trump's transition team.
The retracted story appeared on CNN's website and did not air on television.
CNN removed the story and all connecting links to it late Friday, saying the story did not meet its editorial standards. CNN also issued an apology to Scaramucci, who accepted it with a tweet on Saturday. "Everyone makes mistakes," he wrote. "Moving on."
Scaramucci had said on Friday that the story is not true.
Thomas Frank, who wrote the piece, Eric Lichtblau, an editor in the investigative unit, and Lex Haris, an editor at CNN since 2001 who oversaw the unit, are all departing following a management review of the story.
"In the aftermath of the retraction of a story published on CNN.com, CNN has accepted the resignations of the employees involved in the story's publication," a spokesman said Monday evening.
The swift investigation and departure of the three journalists is interpreted as a sign that CNN wants to protect itself against allegations of "fake news" from Trump and his supporters.
CNN's website reported that an internal review by the company's management found that some "standard editorial processes were not followed when the article was published."
The site added that, although the investigation found the story "wasn't solid enough" for publication, CNN has not said the story is false.
All three of the exiting journalists are seasoned veterans.
Frank is a longtime Washington political reporter, who joined CNN's investigative unit after stints at Newsday and USA Today. Lichtblau, who joined CNN in April, was recently hired away from the New York Times. He had been a key player in the newspaper's reporting on the relationship between the Trump campaign and Russia.
"On Friday, CNN retracted a story published by my team. As executive editor of that team, I have resigned," Haris said in a statement. "I've been with CNN since 2001, and am sure about one thing: This is a news organization that prizes accuracy and fairness above all else. I am leaving, but will carry those principles wherever I go."
CNN has beefed up its staffing in recent years to do more investigative reporting. The network's aggressive journalism, particularly on the campaign's alleged Russian ties, has led Trump to harshly criticize the network.
Trump took the news of the resignations as an opportunity to attack CNN and its other competitors (with the exception of Fox News) in one of his Tuesday morning tweets.
"So they caught Fake News CNN cold, but what about NBC, CBS & ABC? What about the failing @nytimes & @washingtonpost? They are all Fake News!" he posted.
Trump also tweeted that CNN is looking at "big management changes now that they got caught falsely pushing their phony Russia stories. Ratings are way down."
No executive changes are expected in response to the retracted story, according to people at the network familiar with the matter. CNN's ratings are pacing ahead of last year; last month the network had an average audience of 822,000 viewers, up 40% over May 2016.
BuzzFeed reported Sunday that CNN is imposing tighter restrictions on the online publication of stories about Russia in response to how the Scaramucci piece was handled.
Twitter: @SteveBattaglio
ALSO
Sergey Kislyak, D.C.'s most famous — or infamous — ambassador, on his way out
Trump scores a partial win for his travel ban. What comes next?
Senate healthcare overhaul hits trouble as Republicans hesitant to proceed to vote
---
UPDATES:
June 27, 7:55 a.m.: This article was updated with President Trump's reactions posted on Twitter.
This article was originally published June 26 at 6:05 p.m.
Inside the business of entertainment
The Wide Shot brings you news, analysis and insights on everything from streaming wars to production — and what it all means for the future.
You may occasionally receive promotional content from the Los Angeles Times.