Comcast outbids Fox and Walt Disney Co. with $40-billion offer for Europe's Sky TV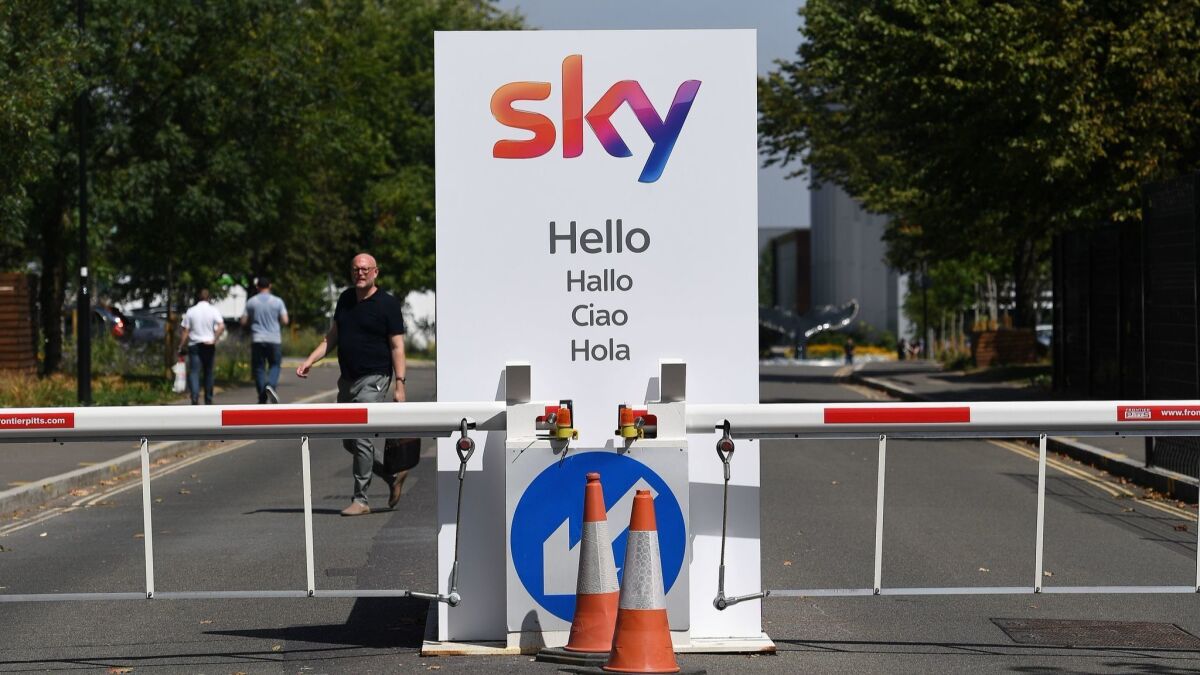 Comcast Corp. triumphed over 21st Century Fox and the Walt Disney Co. in a hard-fought battle for Sky television by offering nearly $40 billion for the satellite-TV service that boasts 23 million customers in five European countries.
The Philadelphia cable company captured the prize during a rare auction conducted Saturday by British regulators. Britain's Takeover Panel announced the results a little after 7 p.m. in London after three rounds of sealed bids. It marked the first time in a decade that the London-based regulatory body presided over a corporate auction.
Sky's independent board members quickly approved Comcast's winning bid of $22.75 a share.
"The Independent Committee unanimously recommends that Sky shareholders accept the Comcast offer, and … urges shareholders to accept immediately," the committee said in a statement.
Now Sky shareholders must ratify the deal and tender their shares to Comcast, a process that is expected to be completed next month.
Rupert Murdoch's Fox, which handled the bidding for Disney, offered about $35 billion — or $20.63 a share.
"It wasn't close," British media analyst Alice Enders said. "There was the possibility that the bids would be so close the board would have difficulties in its recommendation — but no."
Winning Sky is a huge boost for Comcast and its chief executive, Brian Roberts. His company, which started as a small Tupelo, Miss., cable system a half-century ago, has steadily grown through acquisitions and should soon boast more than 50 million customers worldwide. Comcast will have a presence in some of the most prosperous countries in Europe — Britain, Ireland, Germany, Austria and Italy.
"This is a great day for Comcast," an ebullient Roberts said in a statement. "Sky is a wonderful company with a great platform, tremendous brand and accomplished management team. This acquisition will allow us to quickly, efficiently and meaningfully increase our customer base and expand internationally. We couldn't be more excited."
Traditional media companies, including Comcast, have been scrambling to fortify their businesses as they face the existential threat posed by video streaming businesses such as Netflix and Amazon.com. In addition to its satellite TV service, Sky offers a video streaming option called Now TV, which has about 2 million subscribers. It also provides broadband internet and cellphone service.
The Sky victory is a relief for Roberts, who was twice spurned by Rupert Murdoch when Roberts tried to buy much of 21st Century Fox. Instead, Murdoch made it clear that he wanted most of his entertainment empire to go to Burbank-based Disney.
Comcast's repeated overtures forced Disney Chief Executive Bob Iger to spend nearly $18 billion more than he initially planned, or $71.3 billion, to purchase the Fox assets. But with help from Fox, Iger succeeded in driving up the price that Comcast ended up paying for Sky.
Comcast in February offered $32 billion for Sky, but Fox — which handled the bidding on behalf of Disney — came back with a counteroffer. Comcast quickly upped its bid to $34 billion. Because neither camp would surrender, the British Takeover Panel stepped in and established the rules for Saturday's bidding process, which began at noon London time.
Sky shareholders benefited from the intense interest of the two U.S.-based media companies eager to expand their international footprint. Just two years ago, Sky was trading at less than half the amount that Comcast ultimately agreed to pay.
"Sky shareholders have benefited from seven months of competitive tension," Sky's independent directors said.
Disney declined to comment.
For the 87-year-old Murdoch, the sale of Sky to Comcast brings an end to his broadcasting ambitions in Britain. Murdoch co-founded the satellite TV service in 1989 to compete with the venerable British Broadcasting Corp., and Sky grew into a beloved service with original programming and popular soccer matches. Just two years ago, Murdoch's 21st Century Fox, which already owns 39% of Sky, was gearing up to buy the remaining stake in the pay-TV company to fortify its base in Britain.
The Murdoch company had previously attempted to buy all of Sky but, in 2011, it was forced to retreat amid an embarrassing cellphone hacking scandal at its now-defunct London tabloid, News of the World. Then, in December 2016, Fox tried again to buy the 61% of Sky that it currently does not own. But that sale became bogged down as various regulators in Britain chewed on the deal and raised questions about Murdoch's control.
It was not immediately clear whether Fox would quickly unload its stake in Sky. Comcast simply needs 51% of the outstanding shares to achieve control. Fox, in a statement, said it was "considering its options."
"Sky is a remarkable story and we are proud to have played such a significant role in building the incredible value reflected today in Comcast's offer," Fox said.
The Australian-born media magnate has long been influential in British politics, and he is not a popular figure among Britain's Labor Party. Activists complained that Murdoch already has too much sway over Britain's media because the family's publishing company, News Corp., controls several newspapers.
During the regulatory slog, Murdoch last year decided to unload much of his U.S.-based Fox businesses. Among them: the prolific 20th Century Fox television and movie studios in west Los Angeles, cable channel FX, regional sports networks and its stakes in Sky and the streaming service Hulu. The Murdochs will keep Fox News Channel, national sports networks and television stations, including KTTV-TV Channel 11 and KCOP-TV Channel 13 in Los Angeles.
Sky is one of the most popular TV brands in Europe. Last year, the satellite TV broadcaster produced $18.5 billion in revenue. It creates its own original programs, runs the popular Sky News channel and maintains exclusive partnerships in Europe with HBO, Showtime and Warner Bros. studio. Showcasing the top sports has long been key to Sky's success, and it is heading into a three-year deal with English Premier League of soccer that begins next year.
Roberts was determined to buy Sky, which contributed to his decision to withdraw Comcast's offer for the Fox businesses in July, ceding that contest to Disney.
Twitter: @MegJamesLAT
---
UPDATES:
4:25 p.m.: This article was updated to include a comment from 21st Century Fox.
1:55 p.m.: This article was updated with a revised sale price and comments from Sky directors and Comcast Chief Executive Brian Roberts.
11:35 a.m. This article was updated with additional details including the share price.
This article was originally published at 11:20 a.m.
---
Inside the business of entertainment
The Wide Shot brings you news, analysis and insights on everything from streaming wars to production — and what it all means for the future.
You may occasionally receive promotional content from the Los Angeles Times.